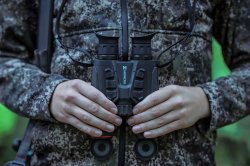 According to the manufacturer, the new Habrok series from Hikmicro is a "powerful and innovative handheld thermal imaging and digital day and night camera multispectrum binoculars". The devices in the Habrok serier feature a 12-μm infrared thermal sensor with a thermal sensitivity of up to less than 20 mK (NETD). A total of 4 different Habrok models are available. The two Habrok models H35L and H35LN have a thermal sensor with a resolution of 384x288 px and the models Q35 L and Q35LN use a thermal sensor with a resolution of 640x512 px. In addition, all Habrok models have an optical 2560x1440 HD resolution digital camera as well as an adjustable integrated IR illuminator and a built-in laser rangefinder with a range of up to 1,000 meters. The buyer can choose between an IR illuminator with a wavelength of 850 nm or one with a wavelength of 940 nm. The "N" at the end of the model name indicates whether the latter emitter is installed in this Habrok device and the "L" stands for the laser rangefinder. According to Hikmicro, the Habrok series offers excellent image quality in true color in combination with thermal imaging during day and night observation, even under adverse weather conditions with a maximum detection range of up to 1800 m. The Habrok supports the hunter in forest and field hunting as well as the nature lover in bird watching and game search. It can also be used for all kinds of outdoor adventures and, of course, in rescue scenarios. The standard color palettes and a picture-in-picture mode are available for this purpose. Hikmicro has dispensed with a fusion mode to combine the thermal image with the optical image in the Habrok. According to Hikmicro, this is because user experience with other models has shown that the fusion mode is not relevant in practice. 
Hikmicro launches the Habrok series with the H35L, H35 LN, Q35L and Q35LN models – all with 35-mm thermal imaging lens
With its new all-in-one binoculars in the Habrok model series, Hikmicro is focusing from the outset exclusively on devices with a 35 mm objective lens diameter on the thermal imaging channel side. There will be no versions with 50 mm thermal imaging lenses in this series, which is based on conventional stalking binoculars in terms of dimensions. The Habrok, named after the "best of hawks" in Norse mythology, is intended to make the additional carrying of stalking binoculars obsolete. Speaking of binoculars: in the Habrok, Hikmicro is using round 0.49" OLED displays for the first time instead of the rectangular displays previously used in thermal imaging devices and the like, making the viewing experience here more reminiscent of classic binoculars than an optronic device.
Interpupillary distance can be adjusted just as easily by moving the eyepieces on the housing, as well as diopter compensation on each eyepiece. The complete menu navigation can be made using a total of 6 control buttons on the top of the housing, each arranged in two rows with three rubberized and easy-to-read pictograms. The buttons can be quickly identified even in the dark.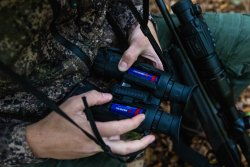 Power is supplied by two commercially available 18650 Li-ion rechargeable batteries, the battery compartments of which are located on the underside of both tubes. The rechargeable batteries provide a runtime of up to 6 hours and can be changed silently if required. A total of four such batteries are included in the scope of delivery, so that the hunter should easily be able to survive a complete night session or an extensive stalking trip through the hunting ground. It should even be possible to replace individual batteries during operation without having to switch off the device. There is also the option of attaching a tripod adapter to the underside of the device between the two tubes and, under a protective rubber cap, there is also a USB-C port that can be used for the external power supply to charge the batteries or for data transfer. The Habrok also features an integrated hotspot that allows the device to be connected to the Hikmicro sight app on the smartphone via Wi-Fi. The app is available to download free of charge for Android and IOS devices. In addition to a remote control function, it can also be used to update the firmware and, of course, to manage the photos and videos stored in the Habrok. In keeping with the times, the new handheld devices have an integrated digital compass and GPS as well as a position sensor that deactivates or reactivates the display when the binoculars tilt changes in order to save energy.  
According to Hikmicro, the first devices will be available in stores from the beginning of December 2023. The Habrok H35L and H35LN models have an RRP of €2,699, while the Q35L and Q35LN models – the ones with the larger thermal sensor – will cost €3,499 (actual prices may differ in your own contry). As soon as the manufacturer provides us with one or more devices from the new series, we will test the Habrok in detail and let you know our impressions here on all4hunters.com. 

Range of applications of the individual Hikmicro Habrok models
Technical specs and prices of all four new Habrok models from Hikmicro
Model:

Habrok H35L

 Habrok H35LN

 Habrok HQ35L

 Habrok HQ35LN

Price (RRP in Germany):

 €2,699

 €3,499

Thermal Detector Resolution:

384x288 px

640x512 px

Pitch:

12 µm

NETD value:

≤20mK

Focal Length/Aperture:

35 mm / F1.0

Field of View (HxV) at 100 m:

13.2 x 9.9

22.0 x 17.6

Max. Detection Range:

1,800 m 

Day/Night Vision Sensor Resolution:

1.88" CMOS with progressive scan, 2560x1440 px

Focal Length/Aperture:

31 mm / F1.2

IR Emitter Wavelength:

850 nm

940 nm

850 nm

940 nm

Field Of View (HxV) at 100 m:

24.4 x 13.6

Display:

0.49" OLED-Display mit 1920x1080 px

Magnification:

5.0x (thermal)

2.9x (optical)

Range LRF:

 Up to 1,000 m (± 1 m) (wavelength 905 nm)

Max. Operating Time:

Up to 6 hrs with 2x18650 Li Ion battery (4 batteries included)

Dimensions:

138.3 mm x 68.4 mm x 212.9 mm

Weight:

850 g
---
Further information on the manufacturer and its current thermal imaging devices can be found on the Hikmicro website.