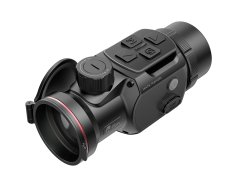 With the new Mate series, the manufacturer InfiRay-Outdoor (known simply as InfiRay) aims to offer the hunter a level of image quality and precision never before achieved. Many well-known optics manufacturers are currently launching various thermal imaging clip-on devices. These now include the new Mate models MAL25, MAL38 and MAH50.
With the top model of its new Mate series, the MAH50, InfiRay now wants to set a new standard in the field of these thermal imaging cameras with clip-on function, also known as attachments. The new MAH50 is said to be the market leader in image quality and precision. Reason enough for us to take a closer look at this device.
It combines and incorporates features from InfiRay's years of experience in clip-on development. According to InfiRay, the device is said to offer ultra-precise adjustability in the X and Y axes and score a guaranteed value of 1 MOA in terms of accuracy, surpassing all previous devices from the manufacturer. The Mate MAH50 Clip-On is a multi-function thermal camera that comes equipped with two types of eyepieces – either as a monocular or as an attachment on a daylight optic. Unlike night vision devices based on light amplification, Mate MAH50 does not require an external light source and is not affected by strong light. It can therefore be used at night or in poor weather conditions such as fog, rain snow and through obstacles such as branches, tall grass, dense bushes. The Mate MAH50 offers a wide range of applications including night hunting, observation and terrain scanning in search and rescue operations. 

In terms of image quality, the new Mate devices can be used with a scope magnification setting of up to 10x. The manufacturer promises that there will then be no significant image blurring. Previously, such a blurring effect often occurred at 6x or 8x magnification, even with devices from renowned manufacturers. In terms of contrast and, in particular, image quality, the new MAH50 is again expected to stand out clearly from predecessor models in the CH50 series, making these optical factors the major strengths of the new thermal imaging camera. Of course, the device has a video function. The MAH50 has an internal memory of 32 GB, which can be read out via an integrated USB-C interface or a WLAN function, also with the InfiRay Oudoor app. The USB port is also used to charge the internal battery. This is convenient when you do not have a removable battery with you and use a power bank instead.
The new MAH50 has an internal battery that is supposed to ensure an operating time of up to 4 hours. According to the manufacturer, the operating time can be extended by up to 7 hours, i.e. up to 10 hours in total, with an optionally available additional battery kit in the form of a powerbank. 
The control panel of the InfiRay Mate MAH50 can be removed and used as a remote control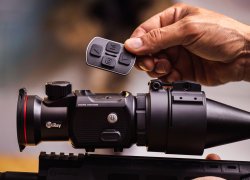 The MAH50 again has the option of storing four zeroing profiles. The device can thus be used with several guns or various ranges. The new keypad on the Infiray Mate MAH50 is particularly innovative: thanks to an innovative clck system, the control element on the device can either be used as a keypad on the top of the thermal imaging camera or separately as a wireless remote control. For this purpose, InfiRay supplies a suitable mounting base at the same time. The user can then attach this base to the gun stock, for example, using velcro straps or an adhesive pad according to his or her individual preference. The hunter can therefore choose the place on the gun where he can best reach the control panel with the four buttons or where he/she would like to have it.
A monocular accessory, i.e. an additional component that magnifies the display and allows the device to be used efficiently as a pure optic scope, and a laser rangefinder with integrated battery are also available as options. The rangefinder can be mounted directly to the MAH50 using a Picatinny rail and, thanks to its internal battery, can also be used there as a power bank for the thermal imaging camera at the same time. 
In conclusion, according to InfiRay the Mate clip-on is the most powerful and best-equipped clip-on currently available on the market.
If the manufacturer's statements about its new clip-on model seem too optimistic, you should take a look at the MAH50 at a retailer to convince yourself of the device's advantages – InfiRay promises that this is definitely worth the necessary time and that an "absolute WOW effect is certain". We are of course excited and look forward to our test device. And yes: premium products have premium prices. After our test, we will be able to say whether this is the new reference – we are curious.
The device is offered at a recommended retail price of 4,299 euros – however, the price may differ in your country due to import duties and VAT rates. The Mate MAH50 can be ordered immediately from specialist dealers and should be available shortly. However, the optional accessories described here (rangefinder, viewfinder, battery kit) are currently not yet available. 
InfiRay Mate clip-on devices specs and prices
Model:


InfiRay MATE MAL25

InfiRay MATE MAL38

InfiRay MATE MAH50

Price:


€2,699 


€2,999 


€4,299


Thermal Sensor Resolution:


384x288 px

640x512 px

Pitch:


12 µm

NETD Value:


≤ 30 mK

≤ 25mK

Frame Rate: 


50 Hz

Lens:


25 mm

38 mm

50 mm

Magnification:


2.5-10x

              3.7-14,8x

3-12x

Field of View (at 100m):


18 m

12 m

16 m

Max. Detection Range:


1,298  m

1,948 m

2,597 m

Recognition Range:


216 m

324 m

432 m

Display:


OLED 1024x768 px


Max. Operating Time:


4.5 h (+7.5 h with optional battery kit )


4 h (+6 h with optional battery kit)


Dimensions (mm):


132x62x68

138x62x71

146 x 62 x 73

Weight:


460 g

520 g

530 g