The Strasser RS 700 – What do you need to know about the rifle?

Much of what you need to know about the RS 700 from Strasser can be found in the article by our colleague Carola Rathjens. She had already reported on the Strasser RS 700 in a test in the spring of 2023. Short summary: the action of the Strasser RS 700 is based on the Remington 700, in the photo with an "Evolution" stock from the Irish company PSE. You can choose from 6.5 Creedmoor, 6.5 PRC (Mag), 6.5x47 Lapua and .308 Winchester calibers. There are three barrel lengths: Standard (22-inch) , Semi-Weight (24-inch) and Long Range (26-inch) barrel.
We used our chance to take a Strasser RS 700 for a short time test at the 15th anniversary of DDoptics in Chemnitz, Germany, and equipped the rifle with a 5-30x56 Long Range scope from DDoptics DDMP series. We used it for a night boar hunt and of course wanted to see how the accuracy of this combination looked at 300 meters.
Our first impression of the RS 700 from Strasser: "Good product design" should be self-explanatory. That's what Steve Jobs once said when it came to what constitutes good product design. That's pretty much how I felt the first time I held the Strasser RS 700 in my hands. The handling of the gun is very simple. It has only two operating modes: chamber closed and chamber open. You can actually open and close it quietly and it looks damn good.

The DDoptics DDMP 5-30x56 long range riflescope – a wolf in sheep's clothing? Or a "Ferrari in a BMW costume"?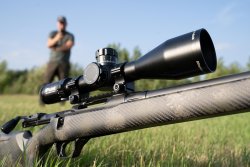 Phew, that's quite an introduction to the next paragraph! But seriously, dear fans of all4hunters.com and all4shooters.com: how can you describe something figuratively if you can't think of any better words? There is more to DDoptics products than meets the eye. Axel Drescher, owner and CEO, said it quite clearly: "You can also spend 1,000 euros more, but you will still not get more in optical performance".
That's why I chose the comparison with the car, because you get a lot of optical performance at DDoptics at a good price. This plays a special role in the DDMP series in particular, because the inner workings from Japan were used to hit targets with consistent accuracy up to 2.2 kilometers in Namibia. The shoulder-to-shoulder relationship between Germany and Japan in the optics industry has existed for a very long time. The Japanese are leaders in the development of high-performance optics, but these also have their corresponding price. One more reason to get to know DDoptics a little better, because as a young company, the DDoptics brand has to reach its customers through quality, service and ultimately price. The technical components are first class. Great optics, high performance, good prices and an independent company from Germany that is fighting for more and more market share in the optics segment. That's what DDoptics stands for. Axel Drescher puts it very clearly what his brand is all about: "DDoptics is pure understatement, with badass performance for the money charged".
What does the firearms dealer think about the Strasser RS 700 and DDMP riflescopes from Ddoptics?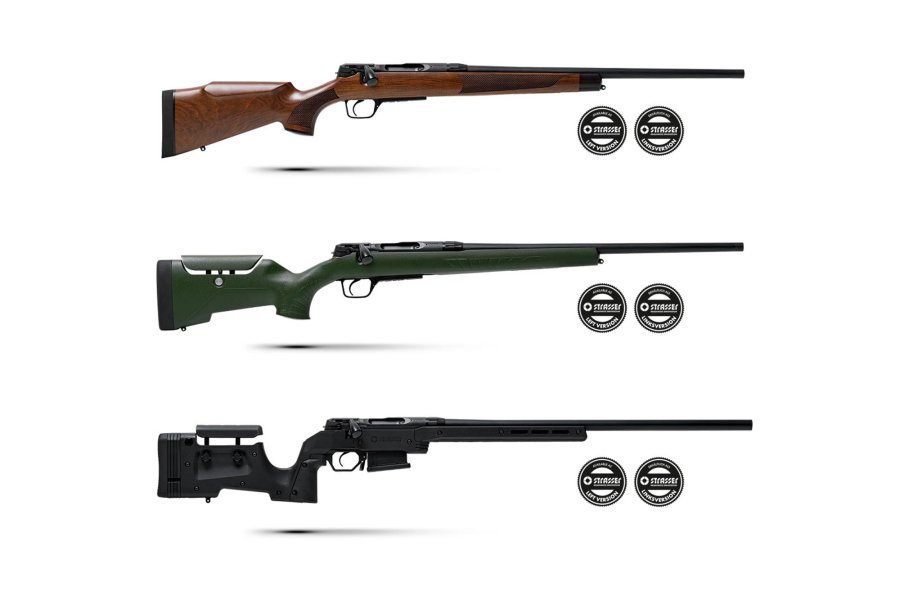 © HMS Präzisionstechnik GmbH
Of course, I also talked with Gert Mürmann from the Wittenberg armory about the Strasser RS 700 and the DDMP 5-30x56 from DDoptics, and when I saw his big eyes, I thought: "If a dealer makes such big eyes, this combo will definitely sell well". Now, I'm not a dealer and one should always be a little cautious with assumptions in regards to sales anyway. But if I'm not mistaken, Gert was a little annoyed that he couldn't keep the gun and optics setup for a longer test. He was at least very fond of the RS 700 and the long range scope from DDoptics.
A small side note: the Strasser RS 700 will fit well in your gun cabinet at just under 3,300 euros (MSRP in Germany), and the DDoptics scope is also in a league of its own at a price of under 2,000 euros. This gun/optics combo is interesting in any case. With the Strasser there are variants for left- and right-handed shooters, and the manufacturer provides a voluntary 12-year manufacturer's warranty on the RS 700 after product registration. The rifle's shooting behavior is very good, accuracy in .308 caliber was top at 300 meters, and considering that we only had the RS 700 available for a short-term test, that already shows the rifle's potential. It is interesting for both hunting and sporting purposes.
How did it go with night boar hunting? And how did the DDMP 5-30x56 from DDoptics perform?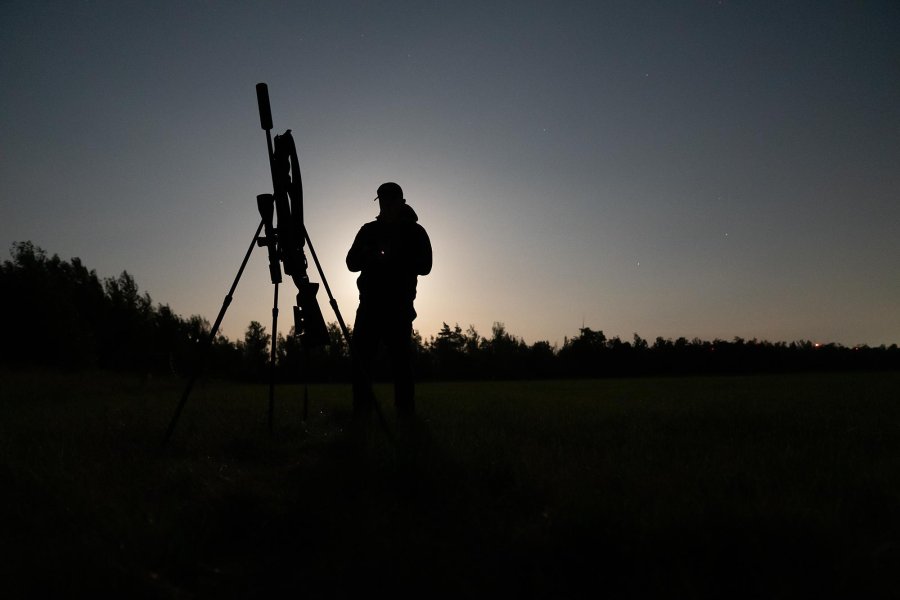 We had the opportunity to test the DDMP from DDoptics at the shooting range and on the hunt in our short-term test. As already emphasized, we believe that you are more than amply equipped with the DDoptics riflescope. In fact, I'd still argue it's a bit oversized for hunting in terms of optical performance. Nevertheless, you can go hunting with it and if you want to get sporty with it, the DDMP 5-30x56 is definitely a very good option. After all, we saw it with some long range shooters in Poland at this year's Long Range Experience. So the model is very well known and appreciated among sport shooters.
Evening shooting with the DDMP 5-30x56 from DDoptics: how long can you hunt with it in the dark?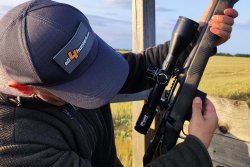 For our test, I had to create another scenario, of course, and I remembered that there was a time without clip-ons. I asked Gert if I could take a look at the DDMP 5-30x56 at his place. Gert said "yes" and added: "But only if you also bring a boar home" and dismissed me in the direction of Renneritz, where boars had been showing up on the game camera for days. By the way, Gert uses REO Link, a kind of app that transmits live images from the installed game cameras to his phone. Unfortunately, it didn't work with the boars this time, but now I know that – if the weather is right – you can go hunting with the DDMP 5-30x56 well past midnight. There is, of course, a limitation, as you can imagine, because even this scope eventually reaches its technical and optical limits. Especially when you take the reticle into areas that do not have a strong contrast (for example, a green meadow in front of a forest). If the colors are more or less the same, it will also be difficult to target game cleanly with the DDMP at some point. I tested the scope in mid-summer. Under overcast skies, the setup delivered very good results for me and my eyes until shortly before 22:00, even in the areas where there was less contrast. In summer wheat, on the other hand, where there was high contrast, one could have hunted until well after midnight. The prerequisite in this scenario would of course have been that a hand-held thermal imaging device would have been used to search through the spring wheat to find the sows and then bring the DDMP 5-30x56 with the Strasser into position in order to hit them up to a distance of 70 meters. At least that was my conclusion from two night stalks without a clip-on in the hot month of July 2023.
Conclusion to our practical test: DDoptics DDMP 5-30x56 and Strasser RS 700 with carbon PSE "Evolution" stock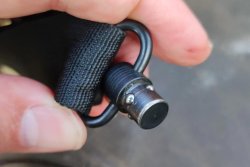 I must confess, it was not easy for me to send the package back. First of all, I would have been very happy about a somewhat longer test, of course, considering the many possible uses of the Strasser RS 700 in combination with the DDMP 5-30x56. But even in the short time, the equipment left a lasting impression. The only thing that perhaps bothered me a little about the rifle was the sling swivel mount. For such a high-quality gun and the ingenious scope from DDoptics, I would prefer something more secure, because the small ball bearings on the mount left me subjectively a rather unsafe impression. This was probably also due to the fact that I experienced it once that such a mount did not hold up and the rifle landed in the dirt. But as I said before, this combination gave excellent results in the field test and is a good option for demanding hunters or sports shooters who value high performance, good design and a good price / performance ratio.
---