The fact that the research and development department is one of the flagships of the Italian ammo specialist for shotshells Baschieri & Pellagri is nothing new. This year, in order to offer enthusiasts products that are not only high-performance but also in line with the market and the general trends imposed by strict regulations, the company has invested its resources in the design of new biodegradable wads to be used in hunting and shooting cartridges, as well as new specific products to achieve maximum satisfaction for the environment and on the shooting platform.

Baschieri & Pellagri Green Core - biodegradable components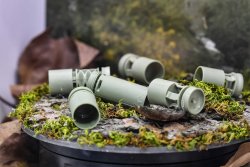 Franco Palamaro, © F.PALAMARO
With the Green Core project, in collaboration with academic research institutes,  Baschieri has developed a range of 100% biodegradable components: wads for lead and special alloy loadings with cups and core seals for fiber loadings. These new components can ensure equal or superior ballistic performances than the plastic materials used up to now, also guaranteeing consistent performance in different environmental and climatic conditions. Let's see now the new range of cartridges featuring Green Core components for the next hunting season.
Baschieri & Pellagri 12 gauge Privilege: new line for mixed hunting with lead and steel loads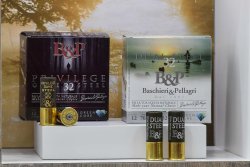 Franco Palamaro, © F.PALAMARO
The new line of Baschieri 2022 hunting shotshells is called Privilege. It has been designed for prized game and for those who practice walked-up hunting with dogs and, at different times during the season, need cartridges capable of providing safe shots at short and medium ranges, as well as high-performing cartridges even for the most demanding shots when hunting different game and in different scenarios. For this reason the loads change and the complete line includes three different options. The Green Core wad is a constant that we find in these cartridges as well as the Gordon hull that, as it is well known, reduces the negative effects of felt recoil to the shoulder. Available with 30, 32 and 34 g lead shot loadings and with 28 and 32 g of steel shot, the Privilege line aims to meet the different needs of hunters engaged in different environments, including aquatic ones. In the cartridges loaded with lead shot, the white graphite surface treatment makes them smoother and faster for more effective and accurate shots. Privilege cartridges with steel shot are instead intended for steel-proofed guns. As we were saying, the different versions are also distinguished by felt wadding for close-range shots and by biodegradable container cups for longer range shots. The velocity that characterizes the Privilege line is maintained at high and consistent levels in the different versions of the cartridges that on the test bench showed an average of more than 405 m/s. These 12-ga cartridges, as specified, are designed for prized game and are available in shot numbers ranging from number 6 to number 3.
Baschieri & Pellagri: Dual Shock, Dual Steel, Dual Bismut and MG2 Tungsten: four new leadfree shotshells for waterfowl hunting

More specifically designed for waterfowl hunting enthusiasts are the new shotshells that Baschieri & Pellagri has revisited or developed from scratch. The Dual Shock cartridge belongs, for example, to the classic products appreciated for years by duck hunters, featuring a double layer of different diameter copper and zinc-plated copper shot designed to ensure tight and lethal patterns even at long ranges. Equipped in this 2022 with a biodegradable wad, this cartridge is able to maintain a consistent performance even when facing different environmental and climatic situations.

Baschieri & Pellagri: The 12 gauge Dual Steel cartridge with high stopping power
Designed for shooting at short and medium ranges, the Dual Steel with 32-gram payload is loaded with iron and zinc-plated iron shot in two overlapping layers of pellets of different size to provide greater stopping and killing power. The special Green Core wad protects the barrel bore guaranteeing optimal functioning even in the most demanding and humid environments. The same cartridge is available in lighter 28-g and heavier 36-g loadings. These cartridges have a high velocity of 435 m/s and feature shot number combinations of 4+3 / 3+2.
Dual Bismut 12-ga cartridge from Baschieri & Pellagri for longer distances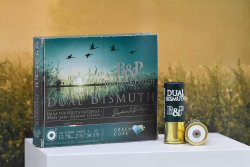 Franco Palamaro, © F.PALAMARO
The Bismuth is ballistically a heavier material than copper and its density is a guarantee of penetration power even at long distances and on the most tough wildlife such as ducks in winter. Softer than steel and copper, this material allows for the use of cartridges also with standard shotguns, just as lead. Also with the Dual Bismut cartridge we find the same modern ballistic features and the same components, that is two layers of pellets of different size and Green core wads. Available in 12 gauge, the Dual Bismut shotshell has a 34-gram payload with shot of numbers 4+3 in the two ovelapping layers.
B&P: MG2 Tungsten cartridges with Green Core Wads
The Baschieri & Pellagri MG 2 Tungsten cartridge needs no further introduction. It has been made famous for the velocity and consistency of MG2 powder combined with the performance of tungsten, which has a specific gravity 10% greater than lead, making it even more lethal at 50 meters. New for 2022 is the new Green Core wad that inside the classic Gordon hull will again improve the performance and consistency of this cartridge in different weather conditions.
---
For more information about the new Green Core cartridges for 2022: Please visit the Baschieri & Pellagri website. We will asap inform you about the availability in international gun-shops.