Baschieri & Pellagri MB Super Star with biodegradable plastic wad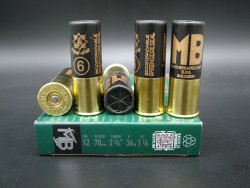 In the new edition, the historic MB Super Star 12/70  cartridge from Baschieri & Pellagri features a brass-headed type 4 black cardboard shell casing  to differentiate itself from the green, red and blue colors of the old cartridges. The MB powder brand is always clearly recognizable in the monogram of the graphic. The standard payload for the 12 gauge is 36 grams of special hardened  silver-colored, nickel-plated shot. 
The cartridge is faithful to the original having a star crimp and is assembled with a biodegradable plastic wad using the brand new Baschieri Green Core Couvette and a vegetable fiber wad. The available lead shot numbers 6 and 5 to make the MB Super Star a cartridge that can be used as in the past for hunting pheasant, wood pigeon, partridge and typical resident and mountain game where the velocity and reliability of the MB powder do not betray the expectations of hunters.
Baschieri & Pellagri Privilege line - options with lead and streel shot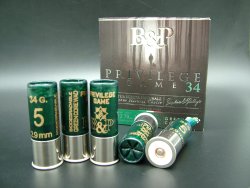 The new Privilege line by Baschieri in 2022 is designed for prized game and for those who love walked-up hunting with dogs. The complete line is made up of three different options with different respective loads. The Green Core wad is a constant that we find in these cartridges, as well as the Gordon hull that reduces the negative effects of felt recoil to the shoulder. Available with 30, 32 and 34 g payloads of lead shot and 28 and 32 g payloads of steel shot, the Privilege line is also a solution for keen waterfowl hunters. 
In cartridges loaded with lead shot, the white graphite surface treatment of the latter makes the pellet smoother and faster for more effective and accurate shots. Privilege cartridges with steel shot are instead intended for steel-proofed shotguns, of course. As were saying, the different versions are also distinguished by felt wadding for close-range shots and by biodegradable container cups for longer range shots. The velocity that characterizes the Privilege line is maintained at high and consistent levels ​in the different versions of the cartridges that on the test bench showed an average of more than 405 m/s. These cartridges that provide high velocities are available for now in 12 gauge in shot numbers from 6 to 3.