From June 1st-3rd the 2018 edition of the Blade Show, the most important world-wide knife exhibition organized by the American "Blade Magazine", took place in Atlanta (USA).
During the exhibition, a jury of experts and industry journalists evaluate knives and tools, awarding prestigious awards in various categories that include both industrial and custom products.
Fox Suru, Knife of the Year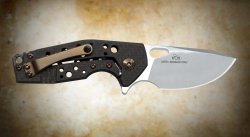 This year Fox Knives of Maniago (Italy) won the prestigious "Overall Knife of the Year 2018" award with its Suru model, an interesting frame lock knife designed by the Danish knifemaker Jesper Voxnaes (VOX).
The main feature of the Suru knife is its composite construction frame that is 90% carbon fiber, 10% TPI stainless steel.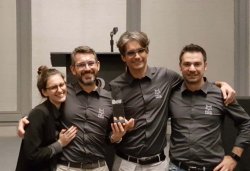 The clip is made of titanium with a zirconium oxide ball, all the screws are made of titanium while the spacer is carbon fiber.
The blade is made from M390 steel hardened to 59-60 HRC and measures 2.3 in / 59 mm for an overall length of 5.8 in / 148 mm. The weight is only 1.82 oz / 52 grams.
The Suru is also available in a version featuring titanium handle, screws and spacer. In this case the weight is 3.17 oz / 90 g. The blade finish can be satin or stone-washed.
The third version, with aluminum handle and spacer, wire clip and N690Co steel blade with Black Idroglider stonewashed finish, weighs exactly 2.99 oz / 85 grams. For the time being we do not yet know the retail price of the different versions, but as soon as we receive this information we will share it with our readers.
Our congratulations to the Fox Knives Team for the prestigious award that confirms how "Made in Italy" products are more and more winning.