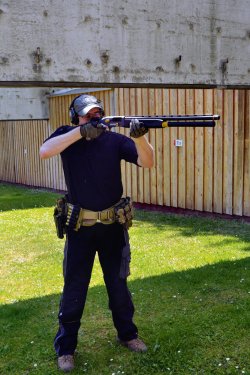 Archer, shooting instructor and gunsmith, as well as holder of various world records in shooting and winner of a multitude of national and international titles – that is Jerry Miculek. It is easy to say that this American is a legend even in his lifetime. When asked how one could become so good, he once replied that you have to be the first shooter on the shooting range in the morning and the last in the evening. If you take a look at the track record of the Texan-born shooter (b. 1954 in Freeport), it quickly becomes clear that he is one of the best shooters in the world and above all, he knows his craft. So a product that bears his sonorous name must be correspondingly good. After a well-known gun manufacturer named a revolver after him, the Mossberg company launched a thoroughbred sport shotgun, in the development of which another member of the Miculek family was involved. 
Mossberg 940 JM Pro – Premiere at the SHOT Show 2020
At the SHOT Show 2020 in Las Vegas, Nevada, the time had come to introduce the new Mossberg gun to the international public. The shotgun, christened the Mossberg 940 JM Pro, is a fast-cycling autoloading shotgun in 12 gauge. A total of two years of work went into this development, in which Lena Miculek, Jerry Miculek's daughter, was also involved. Lena, who was born in 1995, also won several titles and gold medals in shooting. But now what makes the new Mossberg shotgun with the initials "JM" so special? The editorial staff of all4shooters.com was one of the first in Europe to get a practical and intensive impression of the gun.
Is the 940 JM Pro ready to go "out of the box"?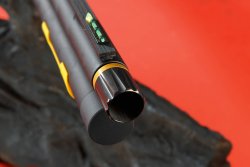 Plain, with a few visual accents – that's how the first impression turned out. The 940 JM Pro is offered as an "out-of-the-box competition ready shotgun". The core is a new and particularly reliable gas system, around which the shotgun was built. There is also a stepped and vented-spacer component that keeps the gas system running fast by shedding any moisture or carbon build-up every time it cycles. The new 940 JM Pro is expected to fire up to 1,500 rounds between cleanings – more than enough for a competition or two. The internal parts have a nickel-boron coating to ensure smooth operation. Stock is user-adjustable for length of pull from 13 to 14.25 inches (33 to 36 cm) and for drop at comb and cast using incremental stock shims. Both forend and the stock are provided with Mossberg's signature texturing for a comfortable grip. Mossberg engineers designed the loading port of the 940 JM Pro in such a way that the user can quad-load the magazine tube without modifying the receiver. The receiver is anodized to ensure a long service life. Controls (charging handle and bolt release button) are oversized to ensure safe handling – even under tough competition conditions.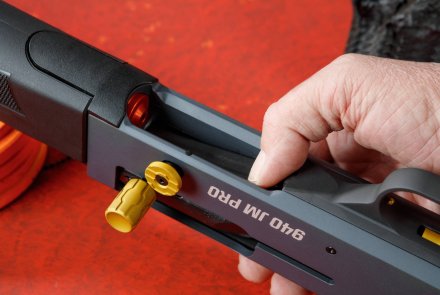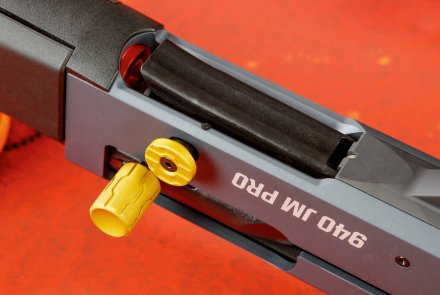 Further modifications to the Miculek Mossberg shotgun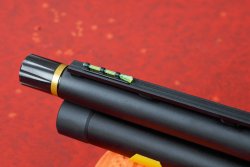 Mossberg engineers also worked on a new barrel-making process for the 940. The aim was to allow the user to maintain an accurate point-of-aim/point-of-impact when using high-quality, factory-made ammunition. As far as sighs are concerned, the Mossberg 940 JM Pro uses a fiber optic HIVIZ TriComp sight that offers nine user replaceable LitePipes in three colors and three shapes of varied height. The safety button is located in front of the small of the stock and is easy to operate. Apart from that, a set of Briley extended chokes (Cylinder, Improved Cylinder and Modified) comes with the shotgun, together with some merchandising accessories like Mossberg's dog tags.
Mossberg 940 JM Pro – Specs and price at a glance
| | |
| --- | --- |
| Model: | Mossberg 940 JM Pro |
| Price: | 1349 euro (price may vary in your country) |
| Gauge: | 12/76 |
| Magazine Capacity: | 9 + 1 rounds |
| Overall Length: | 44.76"/113.7 cm |
| Barrel Length: | 24"/61 cm |
| Stock Length: | 13"-14.25" / 33 to 36.2 cm |
| Trigger Pull Weight: | 5.5 lb/2.5 kg |
| Weight: | 7.7 lb/3.5 kg |
| Left/right Version: | Right |
| Features: | Semi-automatic sport shotgun with synthetic stock, ventilated rib, rubber recoil pad, Briley ext. chokes set and oversized controls. |
Mossberg 940 JM Pro: our test conclusion

The Mossberg 940 JM Pro is a striking gun: where it says Jerry Miculek, there's Jerry Miculek in it. And that is a quality feature per se. With the shotgun, you can go to the shooting range immediately and practice sport shooting. Workmanship is great, the trigger is a treat. Controls are good and also in terms of price you get a lot of Mossberg for your money. In one sentence: price and performance go together in Jerry's fast-cycling sport shotgun from the USA. Therefore there is a clear recommendation to buy.