The new platform was offered as a fast "competition-ready shotgun" and was built around a new durable gas system that allows for up to 1500 rounds between cleaning. Now the 940 family grows with the addition of the new 940 Pro Field Autoloader, an all purpose 12-gauge expressly designed for hunters.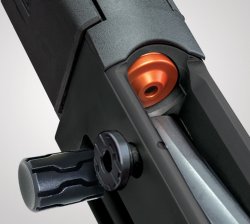 Inside, the same durable gas system mentioned above that allows faster and more reliable cycling, plus performance-enhancing features such as nickel boron-coated gas piston/rings, magazine tube, shell stop and hammer sear, while the return spring plunger is made from hard-anodized aluminum. 

Moreover, the 940 Pro Field Autoloader features an enlarged/beveled loading port, an elongated pinch-free elevator, and an anodized bright orange follower for smooth operation. 
Synthetic furniture includes a slim-profile forend coupled to a user-configurable stock for length-of-pull (13-14.25 inches), drop, and cast using incremental stock shims – all with Mossberg's signature texturing for a secure grip. Stock is self-draining too. 
Magazine capacity is 4+1 rounds.
Mossberg 940 Pro Field Autoloader, an all purpose hunting 12-gauge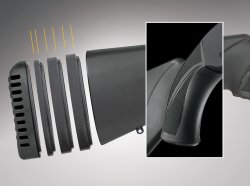 The 28"/71 cm vent rib barrel with a 3"/76 mm chamber and front fiber optic sight is threaded for Mossberg's AccuChoke system and includes Full, Modified and Improved Cylinder choke tubes. 
Metal surfaces have a matte blue finish to complement the black synthetic forend and stock. The receiver is drilled and tapped, and safety is ambidextrous. An oversized and contoured charging handle and bolt release provide quick manipulation.
What can the 940 Pro Field Autoloader be used for? According to Mossberg, the new shotgun is ideal for hunting doves, quail, pheasants, ducks or small game. MSRP in the US is $868, a tad bit less than the competition-ready 940 JM Pro model.
Mosseberg 940 Pro Field Autoloader specs and price



| | |
| --- | --- |
| Gauge: | 12 |
| Magazine Capacity: | 4+1 |
| Chamber: | 3"/76 mm |
| Barrel Type: | Vent rib |
| Barrel Length:  | 28"/71 cm |
| Overall Length:  | 47.5"/120.6 cm |
| Sights:  | Front fiber optic |
| Choke: | Accu-Set |
| LOP Type:  | Adjustable (13"-14.25") |
| Weight: | 7.75 lb/3515 g |
| MSRP: | 868 USD |