Mossberg is mostly known for its pump-action and autoloading shotguns. But in the past they also offered over-unders. For 2021 they are launching the renewed Reserve line, with the all-new Gold Reserve Sporting Series and Silver Reserve Field Series models available in 12ga, 20ga, 28ga, and .410 bore and with different barrel lengths.
Mossberg Gold Reserve Sporting Series – Performance and refined features

According to the manufacturer's claim, the Gold Reserve models are "durable, reliable, and affordable break-actions loaded with performance options and a set of refined details traditionally reserved for high-end double guns". Features include competition-ready shell ejectors and polished receivers, a distinctive 24kt gold inlay on the underside of the receiver (Silver or Black), polished blue barrels and a 5-choke Sport Set of extended and checkered tubes. Decorative accents also include a scroll engraving on the safety/ barrel selector and on the action release. Gold Reserve stocks all feature Grade-A satin black walnut and adjustable for length-of-pull (2 inches), cast, and comb height. Standard Gold Reserve models are available in a 12ga version with 30" barrel, 20ga with 28" barrel and .410 bore with 28" barrel; the 12-gauge Gold Reserve Black Label version sports a 30" barrel. Front sight is bead type for all the mentioned models. The Super Sport model also comes with a fiber optic front sight and an elevated 12mm tall x 10mm wide vent rib – barrel is 30" long.
All the Gold Reserve series models have a price tag of $983, except the Super Sport version that is offered at $1221.
Mossberg Silver Reserve Field Series –  At home in upland fields or shooting clays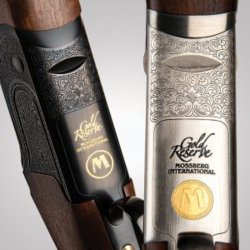 Silver Reserve over-unders, on the contrary, are presented as "equally at home in upland fields or shooting clays or 5-Stand". Features include shell extractors, select black walnut or synthetic stock, matte blue barrels, and 5-Choke Field Set. A tang-mounted safety/barrel selector and a Mossberg logo-engraved receiver available in Satin Silver (paired with Walnut stock) or Matte Blue finish (paired with Black Synthetic stock) round off the package. Select black walnut stocks have checkering on the grip and forend. Silver Reserve break-action shotguns are available in 12ga (28" barrel), 20ga (26" barrel), 28ga (26" barrel) and .410 bore (26" barrel). 
A .410 bore Youth Bantam model in 20ga is also offered, with a reduced-LOP (13.25″) stock and 26" barrel. All the aforementioned guns have bead type front sights. The 12ga Silver Reserve Synthetic version with a durable black synthetic stock, matte blue receiver and 28" barrels is fitted with a fiber optic front sight instead.


Prices for the Silver Reserve shotguns range from $636 to $692.
Las but not least, all Reserve Series shotguns have chrome-lined bores and chambers and dual-locking lugs. 
The Mossberg Reserve Series shotguns will be made available in Europe by the European distributor Ferkinghoff International, together with all other Mossberg products.