Obviously, the Browning B725 Sporter, modified in detail, is as rugged and reliable as the legend. The developers worked hard to achieve this. And, of course, the new model not only works reliably, but also offers excellent shooting performance in trap and skeet.
The new over/under shotgun in 12/76 gauge with steel receiver is available in three barrel lengths: 28"/71 cm, 30"/76 cm and 32"/81 cm. The barrels with 10-mm wide sigh rib come with five interchangeable chokes (Cyl, 1/4, 1/2, 3/4, Full) and are "back-bored". This means that bore diameter has been increased beyond standard specifications, which should result in several advantages:

When firing the friction of the shot charge against the barrel wall is reduced
The powder gases expend more energy on the wad base, resulting in an increase in shot velocity
Less constriction or pressure from the barrel walls on a shot charge and therefore fewer deformed shot pellets, with a uniform pattern and higher hit probability
Reduced recoil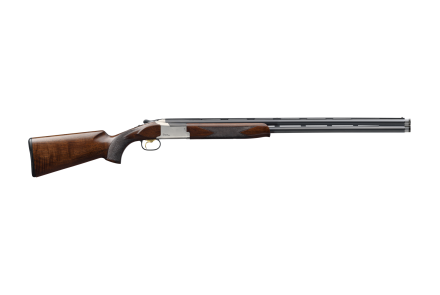 In the latest B725 Sporter versions, the oil-finished furniture made from American Grade 2/3 walnut wood features a slimmer butt stock with ergonomically optimized pistol grip and a Schnabel-shaped forend. The 375 mm long stock is ready to accommodate counterweights (not included). 
The new Browning B725 Sporter shotgun is scheduled to be available from specialist dealers from April 2020. Left-hand versions are also available. The standard version with 28-inch barrels costs 2849 euro, the version with height-adjustable cheek piece is priced at 3149 euro.