The range of Browning's B525 over-and-under shotguns is composed of several models intended for hunting and sports shooting. The main feature of the Browning B525 series lies in the fact that it is the only shotgun on the market in this price range to be hand-fitted, and this explains the not-so-light cost – namely around 2000-2200 euros for the model we present here, the Game One Light.

The suffix Light immediately tells us that this is a lighter version compared to the basic model. Thanks to the action body made of aluminum instead of steel, the Browning Game One Light weighs 109.35 oz/3100 grams, 7 ounces, or two hundred grams, less compared to the model with steel action body.

Browning B525 Game One Light, a lighter and technological version
The B525 Game One Light is chambered in 12 gauge with a 76mm (3") chamber, and is available with 26"/66 cm or 28"/71 cm Back-Bored barrels, a technical solution first introduced by Browning: the inside bore diameter is increased to its ideal, maximum allowable specification. This reduces friction between the shot cup and the barrel, allowing the energy developed by the powder to propel the shot pellets to a higher velocity and therefore with greater effectiveness on the target. The chokes are internal Invector Plus type, optimized to work best with Back-Bored barrels.
The barrel has a 6 mm wide ventilated rib with anti-glare checkering that leads the shooter's eye to the bead sight.
Even the stock, made of walnut, offers interesting details such as the Inflex II rubber recoil pad that provides excellent recoil absorption. The design and the exclusive material used promote a downward deviation of the direction of the recoil forces, thus pulling the buttstock slightly away from the shooter's face in order to reduce the recoil and upward motion of the gun. The wood of the stock is grade 2, oil-fineshed walnut with tulip forend.
The Browning B525 Game One Light over-and-under is also available in 20 gauge Magnum and in that version – with a 28"/71 cm barrel – it weighs only 95.2 oz/2.7 kg.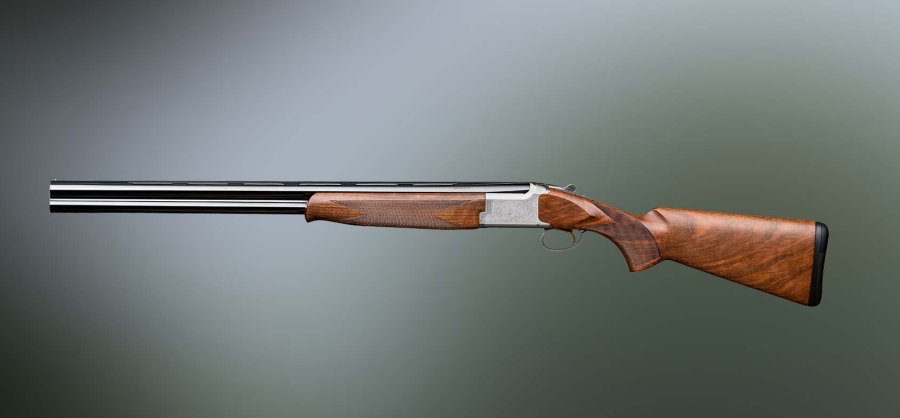 Browning B525 Game One Light specs

| | |
| --- | --- |
| Manufacturer: | Browning |
| Model:  | B252 Game One Light |
| Gauge: | 12 with 3"/76 mm chamber |
| Barrel: | Back-Bored, 26"/66 cm or 28"/71 cm long |
| Chokes: | Inv+ 1/4, 1/2, 3/4, full |
| Rib: | 6 mm |
| Barrel finish:  | Blued |
| Action Frame:  | Aluminum |
| Wood:  | Grade 2, oil finished |
| Stock:  | Pistol grip  |
| Total Weight: | 109.35 oz/3.1 kg |
| Price: | around 2000-2200 euro (price may vary in your country) |