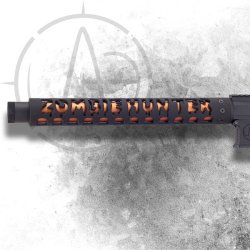 Modern hipsters, metalworkers, bikers, and rockers have come a long way from the youth subculture of a couple of decades ago, which was viewed with a mainly negative attitude. Today these people are very respectable and law-abiding. They also have a healthy amount of disposable income, because a good bike costs a lot of money. 
Many practice shooting as a hobby and would like to have a firearm that matches their image. However, there are also those shooters who would just like to have a firearm with an unusual "feature" that no one else has.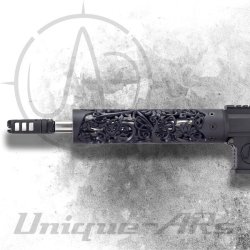 Unique-ARs specializes in this type of alteration to AR-15/M16 rifles in order to make them "the most unique weapons on the planet," to quote them. The company from Idaho mainly decorates firearms by fashioning custom metal rifle hand guards. It offers more than 30 different options in assorted colors and with carved metal patterns or inscriptions. 
However, the company offers more than just this accessory: starting last year, customers have been able to order both hand guards together with the barrel of the upper part of the receiver ("uppers") as well as entire rifles. 
As you would expect from a gunshop with this type of specialty, its craftsmen are open to custom orders. As they say, "you can buy any design that strikes your fancy".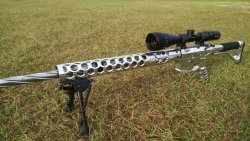 Unique-ARs got the idea of making artistic hand guards from life itself. Perforated metal hand guards and cowls have been in use for a long time. They perform an important function: ensuring the removal of the hot air and providing air circulation when the barrel becomes hot.
These guards also protect the shooter from burning his hands. With the introduction of a wide range of various optics, optoelectronics, and tactical accessories for these weapons, the hand guard has become one of the most important elements that allow the mounting of these additional devices on the rifle. 
The introduction of Picatinny rails and the KeyMod alternative interface, which provides a system of standard shaped holes, not only gives the hand guard a multifunctional design, but it also gives it a unique and spectacular appearance.
It becomes a kind of cool feature for the firearm. But why not go further and make the hand guard beautiful by designing it in the form of an openwork design with decorations and inscriptions? Three cousins who had a common interest in guns and machining metal asked themselves this question in 2012. This is how the family enterprise Unique-ARs was born.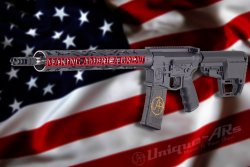 All Unique-ARs hand guards are made as "free-floating" pieces, that is, they do not come into contact with the barrel. They are milled out of high-strength aviation-grade 6061 T6 aluminum alloy. Optionally, they can be manufactured with MIL-STD-1913 Picattiny rails for the mounting of accessories.
The standard version of the hand guard comes in a black or Cerakote finish, but for an additional $35, you can choose from another 100 coating options, or even a design that combines two, three, four, five, or six colors. And you can also opt for no coating, in which case the hand guard will be "bare" aluminum. 
The hand guard comes in 9, 12 or 15 inch lengths. It can either cover the barrel partially or completely hide it. In the latter case, a threaded muzzle is screwed onto the end of the hand guard, which functions as a muzzle cover. The choice of weapon caliber is not limited to 223 Rem (5.56 x 45 mm). In addition to being able to be mounted on the military standard AR-15 (mil-spec), the hand guard can also be installed on a rifle that is chambered in 308 Win (7.62 x 51 mm). Appropriate barrel adaptors can be provided for this purpose.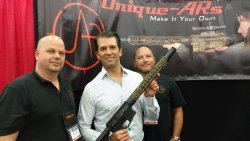 Well, it probably doesn't make sense to try to describe Unique-ARs products in detail using words. It's best to see everything with your own eyes by looking through the company's catalog or web page, or by visiting the company's stand at one of the gun expos that they attend. Believe me, it's worth it. 
Moreover, the fact that the cousins make their own products and take a lot of quality photos from different angles and perspectives is worthy of praise. However, this should be self-evident for a company that professionally designs and decorates weapons. 
For further information, please contact: 

Unique-ARs
401 S Mission St A
PO Box 463
McCall, ID 83638
Тел.: (888) 982-8386
E-mail: Sales@Unique-ARs.com
Website: https://unique-ars.com