U.S. manufacturer ZEV Technologies prides itself on manufacturing rifles and AR Pistols "born of innovative design, the highest quality materials, state-of-the-art manufacturing processes, and rigid standards for impeccable quality and finish work". 

Their latest product, the Core Elite folding AR15 pistol, looks to fit the description nicely.  
Chambered in 5.56 NATO and intended as a weapon system for discreet carry, the new firearm shares components from the ZEV's Core rifles and AR pistols series such as the ZEV muzzle device, ambi charging handle and Talon safety selector, but also includes an installed Law Tactical Folding Stock Adapater that allows for the brace to fold to the side. 
ZEV Core Elite folding AR15 pistol, low profile for transport and storage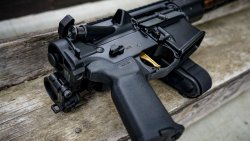 The Law Tactical Folding Stock Adapter is proudly designed, built, and assembled in the USA from CNC machined, 4140 steel and is ideal for any situation that requires a smaller profile weapon for transport and storage. To fold it, you have to operate a simple one-button release. Once unfolded, the SBA3 brace by SB Tactical is 4-position adjustable.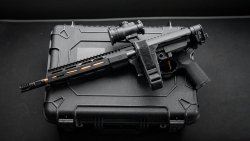 With regard to the AR pistol itself, the folding Core Elite AR15 pistol has a 10.5" match barrel featuring a bronze PVD coating which can be glimpsed through the fenestrated ZEV Wedge Lock hand guard. The hand guard provides a full length continuous top rail with M-LOK mounting system, while the integrated anti-rotation pin ensures a consistently aligned and continuous top rail with the upper receiver. The barrel has a 1:7 twist and carbine length gas system with low profile fixed gas block. The above-mentioned ZEV Muzzle Device was designed to provide the dual benefit of flash suppression and muzzle rise reduction.
Upper and lower receivers are precision machined from 7075-T6 aluminum for strength and light weight, finished in true black type III class 2 hard coat anodize. An H3 carbine buffer increases dwell time and reduces port pressure to ensure reliable extraction and a smooth recoil impulse. The bolt carrier group is Mil-spec chrome lined, with a manganese phosphate finish for improved lubricity and corrosion resistance.
The flat face AR trigger from ATC with its gold finish pleasantly matches the barrel bronze coating. Pull weight is 2.5 lb, with a short reset and clean break.
Complete with Magpul furniture and one PMAG magazine, the new Core Elite folding AR15 pistol in 5.56 NATO has a price tag in the U.S. of $2,164.