Article also available in other languages
Electronic triggers on sports weapons have been around for a relatively long time, actually since 1977 when Carl Walther GmbH launched its Model FP – the world's first small caliber, free pistol with an electronic trigger. The advantages of the electronic trigger are obvious: absolutely even and lightning-fast shot discharge, also the option to set a very low pull weight. But the mechanism's reliability remained imperfect for a long time, so initially at least, electronic triggers did not receive any widespread use. Now the situation is turned on its head: compact energy storage and modern electronic components enable the development of electronic triggers that match the mechanical trigger assemblies in terms of their faultless operation. 
Steyr Sport GmbH has strong links with the city of Steyr, known throughout the world thanks to Josef Werndl, Ferdinand Ritter von Mannlicher and Otto Schönauer. The Sports Weapon Department was part of Steyr Mannlicher up to 2001, when it became an independent company. Steyr Sport GmbH specializes in match air pistols and rifles, among which the Steyr LP10 pistol deserves a special mention. Developed in 2000, its owners have won numerous medals at Olympic Games and World Championships. The LP10 was equipped with an electronic trigger in 2009, whereupon Jin Jong-oh, a sport shooter from South Korea, proceeded to set a new world record, elevating the air pistol to top of its model class. Indeed, ten of the 16 finalists at the ISFF-World Cup in Fort Benning used this very model.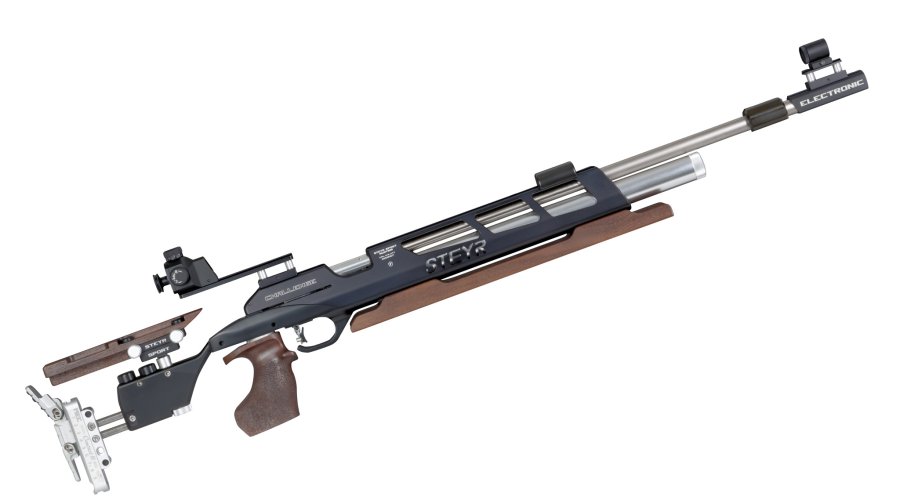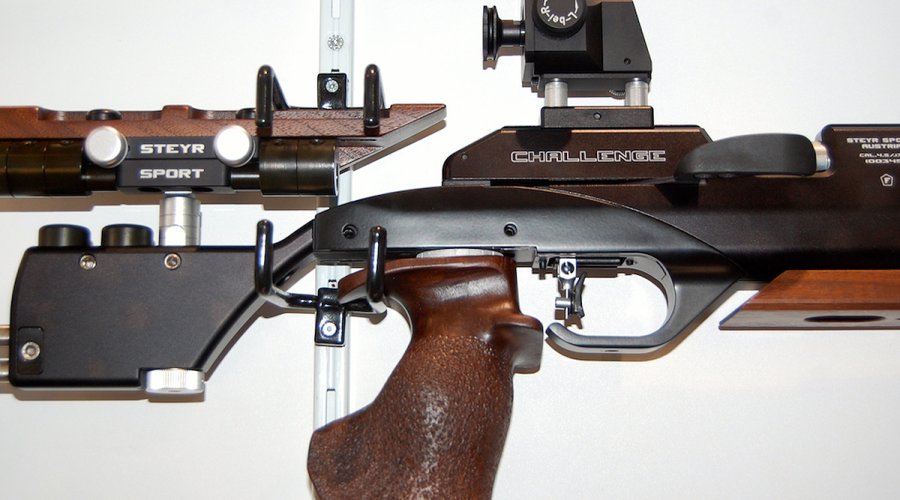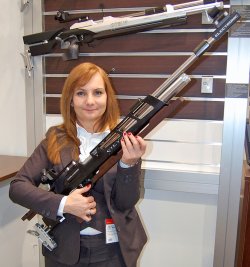 Karl Egger, an engineer, CEO and Design Manager at Steyr Sport GmbH, is building on the LP10's success by adding the STEYR CHALLENGE air rifle, simply a logical extension of the Model LG 110. Coming in with a length of 1140 mm length and a weight of 4420 g, the single-shot rifle in 4.5 mm caliber (.177) has a 450 mm match barrel with a 16 mm diameter. The length of sight line is adjustable between 750 and 890 mm. The rifle's special features include a patented STEYR stabilizer which minimizes even the slightest vibrations while shooting; a redesigned loading area for better access; external muzzle velocity adjustment; and detachable buttstock for easy transport. The electronic trigger is a revolutionary innovation (in this version the rifle bears the name STEYR CHALLENGE E), the first air rifle in series production to come fitted with this technology. Shooting itself is exactly the same as with pre-travel, or alternatively without. The trigger pull is adjustable from 15 g to 250 g with the electronic trigger activated, while the range in mechanical mode is from 50 g to 250 g. And despite the low trigger pull, the rifle is practically impossible to discharge accidentally because the electronic trigger remains unresponsive to external vibration and impact, making the weapon absolutely safe to handle.
The rifle also comes with longer housing for bench-rest shooters. The Steyr Challenge E is already on sale in Europe, for instance from Frankonia.