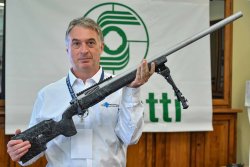 Franco Palamaro, © F.PALAMARO
The Sabatti Tactical EVO is a completely new gun and not a simple restyling, hence the name Evolution. It is a long-range sports rifle for professional use, with top-level features and world record potential. It uses a new fully floating dedicated action, suspended above the stock by means of two supports which eliminate stress. The bolt is also new, with a three-lug head, a 60° fast opening and an interchangeable knob. The barrel features the MRR multiradial rifling and a threaded muzzle, so it's suppressor-ready. The composite Nylon stock has been redesigned to accommodate the Tactical EVO action, with adjustable recoil pad and cheek rest.

The Sabatti Tactical EVO is available in three versions: Black, Chrome and US – barrel lengths are 22" / 56 and 28" / 71 cm
The Sabatti Tactical EVO rifle will be available in three versions, the Tactical EVO Black, the EVO Chrome and the EVO US. The latter, instead of the Sabatti standard magazine, uses an AICS-compatible magazine and features a 22" / 56 cm long barrel, compared to the 28" / 71 cm of the other two versions.

The available calibers of the Sabatti Tactical EVO are:

.308 Winchester
6.5x47 Lapua
6.5 Creedmoor
6.5x55 S
.300 Win. Mag
.284 Shehane
Prices of the new Sabatti Tactical EVO:

The Black version is available from 1570 euro.
The Chrome version costs from 1630 euro.
The price for the US model is not yet determined and will be announced when the model is launched in Europe.
All prices have been announced during the press conference and may vary depending on product configuration and VAT rate in your country.

Video: Fire test of the new Sabatti Tactical EVO rifle at the shooting range
We were able to briefly live fire test the new Sabatti EVO Tactical Chrome rifle at the Galleria del Tiro indoor shooting range in Lograto (BS), Italy, on its 300 meter line, using Fiocchi Perfecta cartridges with a Sierra 175 grain HPBT Match bullet in .308 Winchester and a 15 -50x52 Vortex riflescope.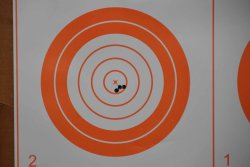 Franco Palamaro, © F.PALAMARO
After a couple of adjustment shots, to get used to the gun and its features, we were able to print a great 13mm group. The three-lever trigger, set with a release weight of 6-700 g, is absolutely excellent, breaking like glass; recoil is relatively mild and not too tiring, also due to the considerable weight of the gun. The bolt handle is comfortable to use and the bolt travels in the action with a silky and buttery feel, yielding a smooth spent case extraction and sure fresh round feeding. Soon we will receive a sample and be able to perform an in-depth test and review of this new rifle, but we can already tell that the Sabatti EVO Tactical is one darn fine gun.