The Remington 700 Magpul rifle presents itself in a very professional way. I wouldn't be surprised to see it issued to a SWAT team or in the hands of one of our sharpshooters. The packaging is spartan, however: a long cardboard box contains the gun, the additional stock components and nothing else. There are not even the scope mount rings – you have to provide by yourself.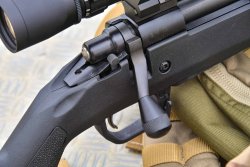 Franco Palamaro, © F.PALAMARO
Thankfully, the screws that close the threaded holes on the action are not glued and mounting the bases by yourself protects you from other people's mistakes. 
In the Leupold-brand base package the Torx screws are included – you must use the larger threaded ones. A drop of Loctite Blue 243 threadlocker is recommended.
Remington 700 Magpul rifle: technical features
The carbon steel barrel features a Cerakote treatment which provides a hard and resistant surface and is broach-rifled with the 5R rifling , consisting of five right-handed grooves with 1:10 twist . The 5R rifling was devised by Barrett Obermeyer, and then adopted by Remington for the SWS M24 Sniper Weapon System, a 7.62x51mm sniper rifle based on the Remington 700 action, since then used by the US military. The rifling was then used on some Remington XB rifles and gradually became very popular. The solution of the odd groove number has been widely debated and many assure that it is better than even number grooves. I don't want to go into it because I haven't done enough experiments, but the fact is that this barrel is accurate.
The muzzle is threaded for mounting accessories such as muzzle brakes, or sound moderators where allowed by law.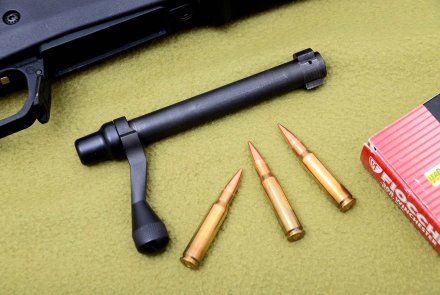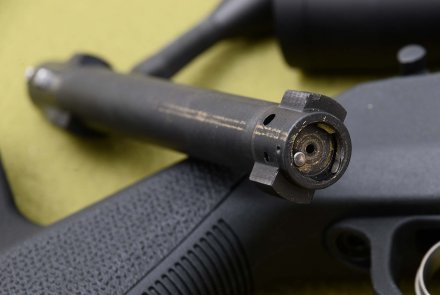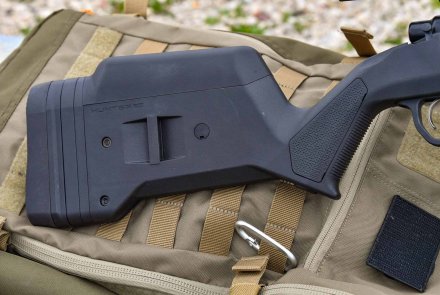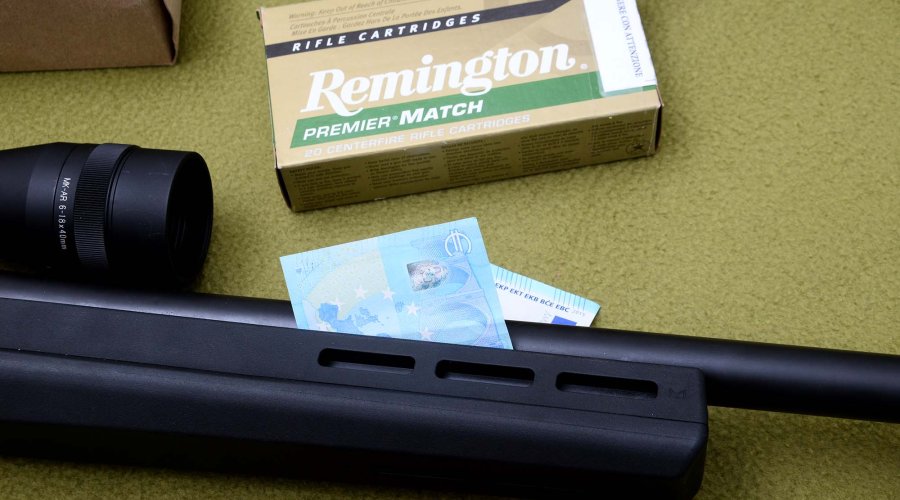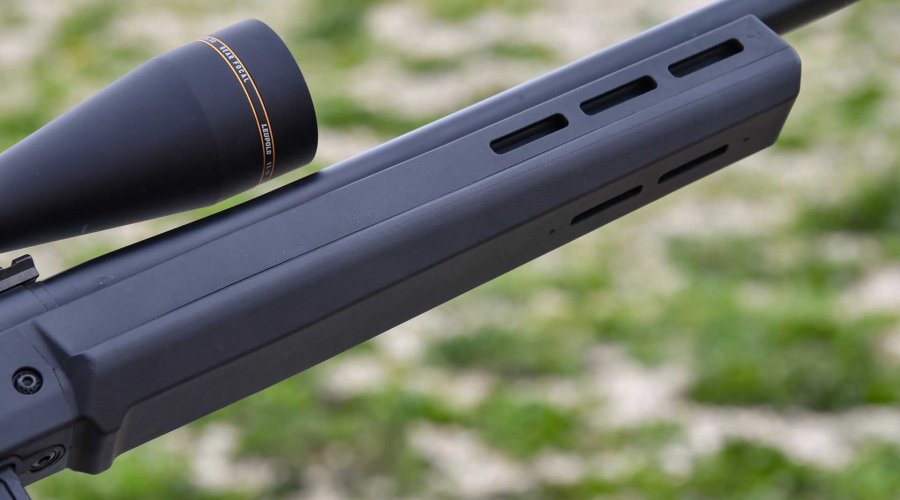 This video has been hidden because of an external service (YouTube) that could potentially collect personal data.Allow video services for the duration of the visitAllow video servicesStop allowing video services
The Magpul stock leaves the barrel fully floating . This solution – combined with the rigidity of the material that involves a very solid bond between action and stock, thanks also to the standard aluminum bedding – certainly influences accuracy just as much as the heavy barrel. The stock is adjustable in length and three cheek pieces of different heights are available : this allows for a perfect fit to the shooter's build.
The stock also features a series of eight M-LOK compatible slots (three on each side and two below) for mounting accessories such as Picatinny rails.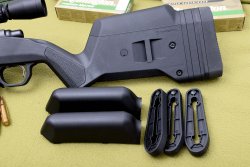 The single stage direct pull trigger is fully adjustable Its travel starts smooth and crisp, and breaks like glass; factory adjustment may pit a few noses out of joint but personally I found it very good, probably the best among the non-accurized triggers I had the chance to try. I found better factory triggers only in guns intended for academic shooting, which, however, are all equipped with Stecher triggers.
The rifle has no iron sights and a scope is essential.
Remington 700 Magpul action
Franco Palamaro, © F.PALAMARO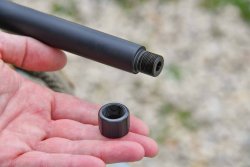 Franco Palamaro, © F.PALAMARO
The rifle action is the classic Remington type with a spring-loaded piston ejector; unlike other 700 series rifles, the base of the case is fully supported and the extractor is housed in a groove within the same support. It's likely that the fully supported cartridge bottom contributes to accuracy. The safety is a two-position lever and in the safe position it is possible to move the bolt to remove the cartridge from the barrel chamber, the magazine is a Magpul PMAG 5 7.62 in AICS compatible polymer, with a capacity of five shots. Feeding is smooth and cartridge presentation is very good.
The magazine release paddle is in front of the trigger guard and is very easy to manipulate.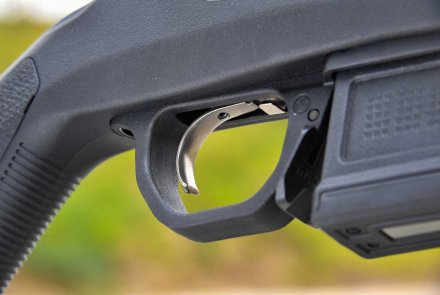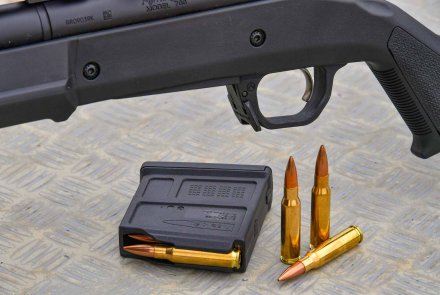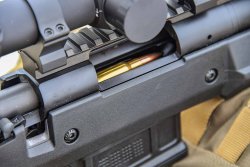 Franco Palamaro, © F.PALAMARO
Once selected the gun and stock condition – Magpul must be proud enough to see its own stock chosen by a world-known manufacturer such as Remington, and even more to see its name associated with a specific model – it only remains go to the range to see if the promises that can be perceived from the whole thing are actually maintained.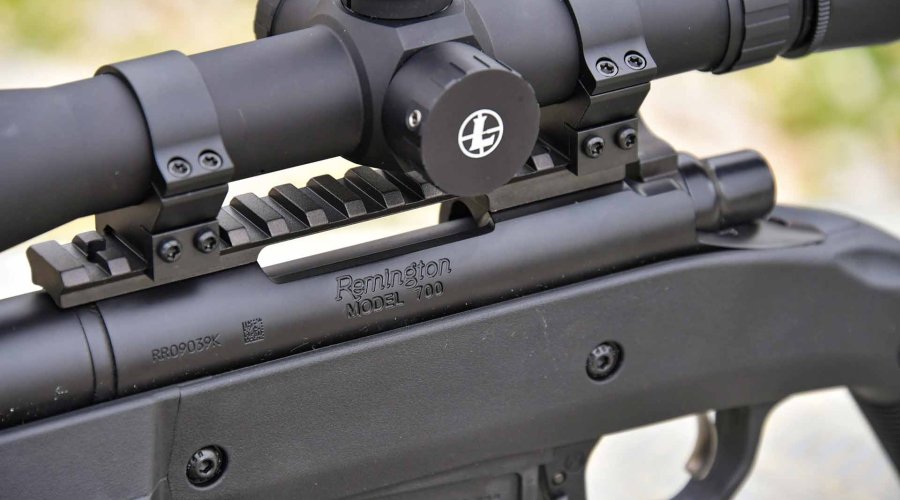 La prova a fuoco si è svolta in poligono con linee fino a 300 metri, in una mattinata serena e con poco vento; temperatura 25 gradi. Dopo i colpi per la taratura dell'ottica alla distanza di 100 metri, ho deciso di portare il bersaglio a 200 metri e renderne abbastanza difficile l'acquisizione utilizzando un bersaglio da pistola libera. Abbiamo montato due cannocchiali Leupold ad ingrandimento variabile per la prova: un Mark AR Mod-1, che consente fino a 18 ingrandimenti con il reticolo sul secondo piano focale, che consente una collimazione accurata ad ogni ingrandimento; ed un cannocchiale Leupold VX-3i LRP 6,5-20x50 con reticolo T-MOA, entrambe con anelli e basetta monolitica Leupold.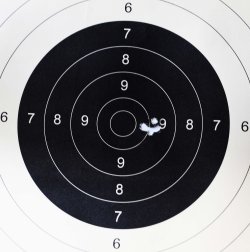 The result of the test was no surprise, since I have yet to see a Remington 700 that shoots badly.
I used Sellier & Bellot, Geco and Remington Premier Match cartridges. The extremely cheap 147-grain Sellier & Bellot behaved very well but, as was to be expected, Remington ammunition on which the rifle prototypes were probably set up in the factory gave the best results ever, with the grouping you can see. A maximum group diameter of 20 millimeters, which corresponds to 14 millimeters between the center of the two furthest shots and less than a third of a minute the angle, needs no further comment.
I didn't touch the trigger, that was set rather hard with a pull – I guessed – of over a kilo and a half. Although it seems a lot, it allows you to comfortably rest your finger on the trigger, then gradually increasing pressure without jerking. The barrel is narrow and gets hot very quickly; the rifle kicks with determination to be a .308 Winchester. Nothing special, and you can face long shooting sessions without any problems, but given the weight of the gun I would have almost expected not to feel it on my shoulder.