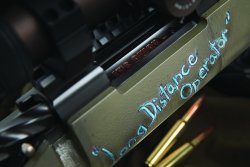 With this special model, the Remington Custom Shop wanted to surpass itself, creating a terrific rifle in terms of both technical research and aesthetics.  And it's the look and feel that in fact impress first in the Remington 40-X Long Distance Operator. The aesthetics of the rifle are similar to those of the American fighter planes of World War II, often decorated by pilots with handmade paintings (usually on the aircraft nose) and mottos. On the green background of the synthetic stock, starting from the butt we find a pin-up on the phone, then before the bolt handle a cluster of bombs (which alluded to the number of missions) and the name of the gun in italics. Finally, on the forend we find the "star and bars" roundel adopted by the USAF during the conflict.
Remington 40-X – A very refined action
A Remington 40-X action is essentially a version of the 700 action in which the manufacturing tolerances and precision of mechanical couplings are much stricter. A further refinement, called "blueprinting" is then carried out by the Custom Shop.
Also called trueing, this operation consists in truing up rectifying all the surfaces involved to ensure that the receiver face, threads, and lug seats are perfectly square with the action center line. Barrel and recoil lug are also affected by the operation. The 40-X trigger is different from a normal standard assembly because of the possibility to set the release weight externally. Last but not least, the Remington 40-X action is available in a single-shot version (40-XB versions), with a much higher structural rigidity due to the closed bottom of the action.
The Long Distance Operator takes the Remington 40-X performance rifle to an even higher level. The Remington Long Distance Operator rifle is available in .308 Winchester, .300 Winchester Magnum and .330 Lapua Magnum. For all three versions the stainless steel floating heavy barrel is 26"/66 cm long. A very efficient brake is mounted on the muzzle. The bolt body features spiral fluting, the charging handle has a tactical-type knob.
Since it is a limited edition rifle manufactured by Remington's custom shop, retail price is just as exclusive, coming close to 12000 euro.