After going through a tumultuous start to the 21st century, Remington Arms is back to manufacturing guns and ammunition with renewed commitment and unveiled a new version of its hugely popular bolt-action rifle built on the 700 platform that raises the performance bar yet again.
In fact, the new Remington 700 Alpha I Hunter, while based on the tried-and-true 700 action introduced back in 1962, offers the enthusiast some highly sought-after features, starting with the round receiver with enlarged ejection port and the factory-adjusted Timney Elite Hunter trigger with a pull weight of 1,360 grams (3 pounds).
Remington Alpha I Hunter, light and rational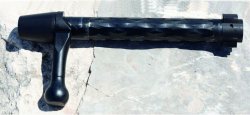 The Remington Alpha I has a cold-hammer forged and fluted barrel, 56 or 61 centimeters long, with right-handed 5-groove rifling and a recessed crown with an 11-degree angle featuring a 5/8x24" thread that allows the mounting of compensators and muzzle brakes with standard mounts. Barrel finish is Cerakote satin black.
The bolt is one-piece, with a spiral-fluted body and changeable bolt handle, and can be disassembled by simply pressing a button on the left side of the receiver. The firing pin can be removed without tools for easy cleaning and maintenance. The Remington Alpha I Hunter comes with no iron sights, but there is a standard Picatinny-type optics mounting rail (8-40 screws) on top of the receiver. Trigger guard is made of aluminum, Oberndorf style.
The Remington Alpha I Hunter's stock comes from American specialist AG Composites and is gray-speckled black carbon fiber and is fitted with a recoil pad from Pachmayr, another prestigious U.S. accessorizing brand.

The Remington Alpha I Hunter rifle is available  in .223 Remington, 22-250 Remington, .243 Winchester, 6.5 Creedmoor, .270 Winchester, 7mm Remington Mag., 7mm-08 Remington, .30-06 Springfield, .308 Winchester and .300 Winchester Magnum calibers.

The weight of the Remington Alpha I Hunter is approximately 3,350 grams with a 22"/56-cm barrel and 3,500 grams in the 24"/61-cm barrel version. 
Remington 700 Alpha I Hunter specs
| | |
| --- | --- |
| Model: | Alpha I Hunter |
| Calibers: | ..223 Remington, 22-250 Remington, .243 Winchester, 6.5 Creedmoor, .270 Winchester, 7mm Remington Mag., 7mm-08 Remington, .30-06 Springfield, .308 Winchester and .300 Winchester Magnum |
| Barrel length: | 22"/56 or 24"/61 cm |
| Receiver Material: | Steel |
| Finish: | Blued |
| Overall Length: | 1,060-1,111 mm |
| Magazine Capacity:  | 3 rounds |
| Weight:  | 3,350/3,500 g |
| Sights: | None, Picatinny rail |