Originally, the Swivel Barrel rifle was produced by Pedersoli from 1994 up to around 1999 and mainly intended for the American market. Now, after twenty years, this very special rifle could once again be available on the market

Swivel Barrel: Pedersoli replica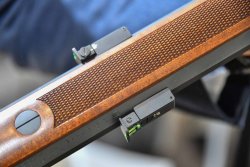 It is a gun that was originally introduced into the United States by immigrants from Germany. This is a .54 caliber percussion rifle with two independent barrels, each of which has its own sights. Once the barrels are loaded and a percussion cap is placed on the nipple, it is possible to shoot normally as with a single-shot gun. Once fired you must half-cock the hammer: this unlocks the barrel group that can be rotated 180 degrees. Once rotation is complete, the hammer is fully cocked and the second shot can be fired.

The advantage offered by this gun is obvious: the follow-up shot takes a few seconds; the disadvantage is that the additional barrel increases the weight of the firearm (151.6 oz / 4.3 kg in total). This same weight, however, helps to control the muzzle-flip and recoil. The stock is walnut, with a pistol grip.

The barrels of the Swivel gun are rifled, bored in .54 caliber and 23.6 in / 600 mm long. For the moment the Pedersoli Swivel is intended for the American market only, and as Stefano Pedersoli told us: "The Swivel Barrel rifle has been shown at the SHOT Show only to test the public reaction, which I must say responded favourably; if we decide to revive it, it could also undergo some minor changes, such as a modification of the barrels external profile, so as to reduce the overall weight."
Pedersoli 1886 Sporting Classic lever rifle in .45-70
But there are also other novelties: presented for the first time in the US, the 1886 Sporting Classic model with round barrel and straight stock, the prototype of which had already been exhibited at IWA 2018 and we had talked about at the time. In short, it is a lever rifle in .45-70 caliber with 18.1 in / 460 mm barrel, fitted as standard with open sights consisting of a blade front sight and a Buckhorn back sight. The frame, machined from forged steel, is ready to fit a peep sight both on the left side and on the tang. Magazine has a capacity of 8 cartridges. The rifle will be available for the global market starting in March. The price on the Italian market is 1823 euro.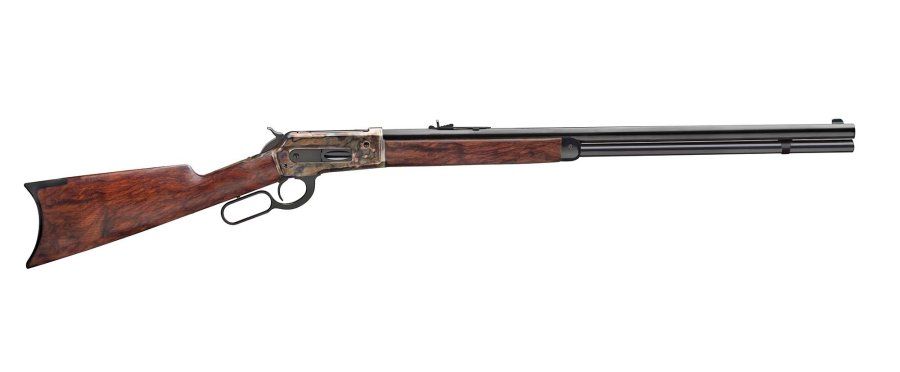 Pedersoli Howdah in a new chromed version
Finally, another product that – at least for now – is intended for the US market only: it is a new version of the Pedersoli Howdah gun called Alaskan, characterized by a modern finish, chrome for metal parts and "soft touch" black rubber overmold wood for stock and fore-end. The Howdah Alaskan will be distributed in the US by IFG - Italian Firearms Group.