MLAIC, or the Muzzle Loaders Associations International Committee is the world governing body for competitions with muzzle-loading firearms. Established in 1971 to bring together under one umbrella the various historical shooting associations that had sprung up independently in Europe and the rest of the world, MLAIC today is the single point of contact for antique and replica gun shooting and organizes official championships, such as the European championship to be held in Châteauroux, France from July 30 to August 6, 2023. Since the MLAIC is also in charge of determining which firearms can be used in target or clay shooting competitions, it is easy to imagine how closely replica companies follow the evolution of rules and regulations. Among these companies, the most important in the world is surely Davide Pedersoli based in Gardone Val Trompia, Italy, whose catalog is a veritable anthology of world gunmaking history, encompassing handguns and rifles ranging from the 1730s to the late 1800s.
As we will see in the following video, a recent change in the MLAIC regulations affects precisely some successful models produced by Pedersoli.

Underhammer guns and the MLAIC rules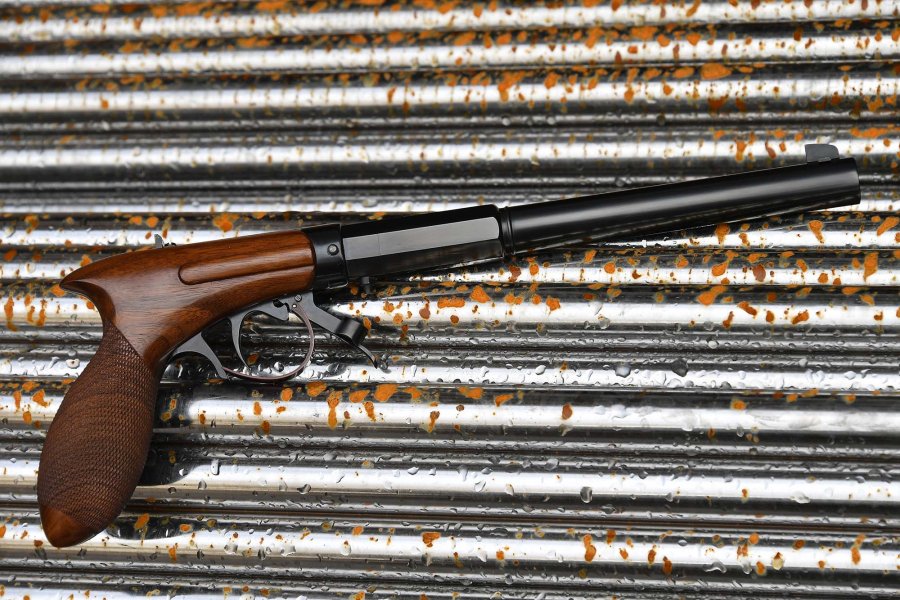 Franco Palamaro, © F.PALAMARO
The most recent revision of the MLAIC rules made in 2022 contains an interesting distinction – the following was added to the description of the Kuchenreuter category: "Replica underhammer and replica side-lock pistols shall compete in separate divisions at the World Championships, and at any Zone Championship or Grand Prix event with more than 20 competitors in Kuchenreuter R. If there are fewer competitors, or at other competitions held using MLAIC rules, the division into separate underhammer and side-lock divisions shall be at the option of the match organizers."  The rules can be downloaded here in PDF format and the paragraph we are interested in is on page 38 of the document.
This new division had now become necessary and required by shooters to resolve an issue that was becoming problematic: shooters with muzzle-loading pistols with Underhammer design – that is, with the hammer placed centrally and below the bore axis – were at a distinct advantage thanks to the inherent greater accuracy and trigger quality of these pistols compared to side-locks (featuring standard locks with side-mounted hammer). Being perfectly symmetrical, underhammer type pistols are also popular with left-handed shooters. 
Video: the Cook Underhammer pistol (and others) in a separate division

During a visit to the Davide Pedersoli in Gardone Val Trompia, we shot a short video to summarize this interesting novelty, which also testifies to the goodwill of the MLAIC in making the experience of sport shooting with historical firearms more inclusive, fair, and fun, by smoothing out some of the rough edges of the rules that had favored one type of gun over the other. 
This video has been hidden because of an external service (YouTube) that could potentially collect personal data.Allow video services for the duration of the visitAllow video servicesStop allowing video services