Let's be honest, who among hunters and classy gun enthusiasts today does not know the Boarbuster series with which Pedersoli established the new state of the art in lever action rifles a few years ago, with its interpretation of 1886-inspired action?
Sure, we can say: in the beginning was the Boarbuster, and then its various characterizations as variations on the theme dedicated to rangers, hunters and sport shooters; covering all possible uses allowed by the one ammunition common to all versions: the classic .45/70 Government.
Droptine arrives where Boarbuster stopped, taking full advantage of all the potential now offered – and impossible in the past – by the cartridge around which it was knowingly built: the new .30-30 Winchester. Faster, more accurate, flatter and thus more muscular by at least 35-40% than it was in the past, and thus decidedly more effective and fascinating in every way. A key factor that makes the Droptine in its essence, a true all-rounder, with a broad spectrum of use.
Pedersoli Droptine: the meaning of a name
In fact, the gun takes its name from Droptine, a word indicating a projection from the deer's antler usually outside of the ears that projects downward, typical of those individuals who by instinct, genetics, adaptive intelligence and a pinch of luck have managed to reach a very advanced age by managing to feed and evade the attack of any predator. Obviously they constitute prized trophies: and indeed, it was with all American Wapiti and Withetail enthusiasts in mind, too, that the project was born and developed. As it is equally obvious that Pedersoli chose the term Droptine to name this very modern variant of the 1886 platform: a rifle that in every respect proves to be a majestic, elegant, beautiful and smart & clever "tool," that is, perfectly suited to deal with the worst conditions in the world, with game ranging from small deer to wild boar, through the entire varmint world up to animals the size of fallow deer and almost all American deer. A perfect tool, where nature gests serious and you have to be strong and precise, rugged and reliable like an old deer, or you are nothing...
Video: testing the Pedersoli Droptine .30-30 Winchester lever-action rifle
This video has been hidden because of an external service (YouTube) that could potentially collect personal data.Allow video services for the duration of the visitAllow video servicesStop allowing video services
Pedersoli Droptine rifle in .30-30 Winchester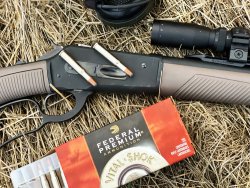 Please, enough of the Old Wild West! There is nothing old here: quite the contrary! In fact, this is an ultra-modern firearm carefully crafted in every component by ultra-specialized CNC machines, which of the original retains just the action type, i.e. the lever, and the magazine type: tubular, below the barrel. Otherwise, it is 100 percent a rifle of today (and tomorrow) designed and conceived for today's (and tomorrow's) hunting needs: period!
Even the caliber it is chambered in is no longer the same: the .30-30 Winchester, even if it retains the same designation. In fact, today's .30-30 cartridges, thanks to the excellent work done recently by the RD departments of the world's leading manufacturers, have all been enhanced by at least 40 percent in every functional aspect: from accuracy to velocity to terminal ballistics. All aspects that exponentially increase their versatility of use. The rifle fully reflects that. 
Pedersoli Droptine: let's take a look at some details
Stock: it's all techno polymer in a really attractive green/brown color. Stylish, dare I say.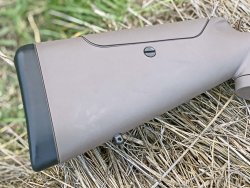 Busttstock: equipped with a micro-cell rubber recoil pad for effective recoil damping, it has three unique features of paramount technical importance:
a particular grip shape with smoother edges, to ensure absolute speed, comfort, and precision when reloading;
a raised comb, for dual use with standard iron sights for stalking or driven hunting, or with optics of any kind: from red dots to night vision, through conventional long focal lengths;
height- and horizontally-adjustable cheek piece, still for absolute versatility of use. All standard equipment!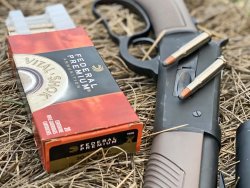 Forend: enlarged and thickened, to ensure a very firm grip in all conditions and aesthetic harmony of the whole of a firearm that makes ruggedness and elegance, as well as reliability, its strong points.
All checkering are rows of parallel grooves, with outstanding gripping properties both with bare hands and with the use of gloves of different thicknesses and materials.
Receiver: machined from a tri-alloyed steel billet with a matte black finish, it houses the classic 1886 action revisited and improved with minimal tolerances; loading gate on the right side, upper ejection port, and ready for the mounting on the left side of a special Picatinny base that can accept almost any type of optics, 4-cm off-center from the ejection port.
Hammer, safety and lever: the hammer is as classic as it gets, and it characterizes with the lever more than anything else the entire silhouette of the rifle: an integral part not only of its appeal, but of its absolute safety of use. That's right, because even if "dummies" don't know that, no firearm is safer than a lever action rifle. Because with the hammer down, even with the safety off and a chambered round it is completely incapable of firing, no matter what! The same applies to the lever, not without reason called a cocking lever: it must be operated to reload, or the chamber will remain empty! With a deliberate and positive action, yet smooth and natural after a very short time of practice at the range. Here on the Droptine, to facilitate all types of use, a lever with slightly increased profile and volume is fitted as standard: it always guarantees more ease and comfort of operation, and perfect operation with gloved hands at any time of the season.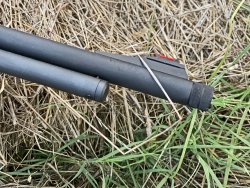 Barrel: placed above the classic five-shot tubular magazine, it is broach rifled from a solid billet, a full guarantee of accuracy and reliability, and is 19 inches (483 mm) long. Like the receiver, it has a beautiful as well as hard-wearing matte bluing, with two basic features that make the Droptine, as we said, a modern and super-functional firearm: just above the receiver in fact, there is the Picatinny rail; fitted with traditional multipurpose sights for driven hunting/stalking, or ready for optics or red dots. At the muzzle, on the other hand, in addition to the classic fiber-optic ramped front sight, under the protective steel cap is the thread, most useful for mounting after-market muzzle brakes, or silencers of whatever kind (in smart countries, where such devices are not only allowed, but mandatory for night-time hunting). As mentioned, an almost unlimited spectrum of use in relation to the rfile chambering is guaranteed.
These are all the reasons why I chose it to be my rifle: the perfect tool for those who, like me, live hunting not only as a passion, but as a real job.
Pedersoli Droptine field test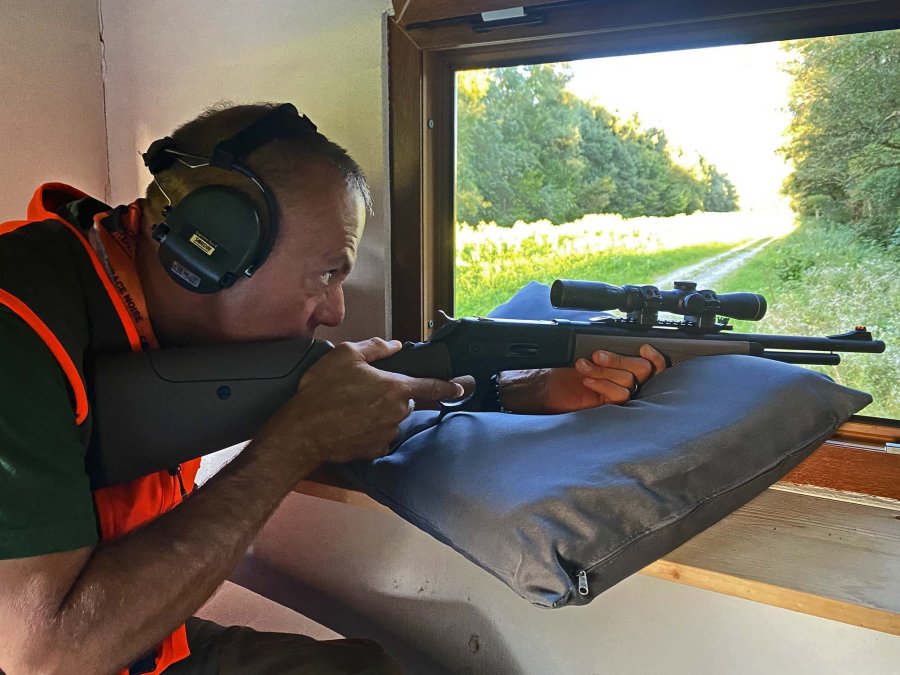 The first time I got it in my hands, it was at EOS 2023. And I immediately realized that it could be what I was looking for when I happen to practice rifle hunting in my own way: that is, some varminting – jackals and foxes – some wild boar hunting (when I am invited), and for the rest, selection hunting from the high blind, mainly roe deer, fallow deer and not-too-large wild boars (middle sized ones are to be preferred, both from a management and... culinary point of view!), always shooting at ranges between 15/20 m and 80/100 m, at most! The certified performance of the new .30-30 Winchester, as a guarantee of full reliability for clean kills without risk of wasting any kind of prey. The lever, the certainty of shooting and rechambering and always shooting again: plus the incomparable charm of the firearm type itself, common to all 86/71 derivatives.
Now, I have already carried it twice unsuccessfully in wild boar hunting from the high blind, trying it really only in the Pedersoli in-house shooting range in exciting accuracy tests, and then in the empirical test that is the subject of the video, where the efficiency of the gun-ammo combination and the full smoothness and rapidity of the ejection and reloading system are shown, which can be acquired with a really minimal exercise: definitive tests from real hunting are thus lacking... But it is late August as I write, and the season is not even in its infancy: time will come when we will see some good things, as far as I am concerned.
As for you, well: ...play your game, knowing that all this stuff here "go over the counter" (that is, can enter your gun cabinet) for just over 1,600 euros. No kidding – I never kid with passions.
Pedersoli Droptine specs and price
| | |
| --- | --- |
| Manufacturer: | Pedersoli Davide |
| Action: | Lever action |
| Caliber: | .30-30 Winchester |
| Magazine Capacity: | 5 rounds |
| Weight: | 3.8 kg |
| Barrel Length: | 19"/483 mm |
| Overall Length: | 950 mm |
| Stock: | Polymer with adjustable cheek piece |
| Loading Lever: | Oversized |
| Sights: | Picatinny base (U.228) with integrated rear sight, ramped front sight  |
| Safety: | On the hammer |
| Price: | 1,640 euro approx. |