They are called backpack guns and are semi-automatic or single-shot carbines that are so short – or easily foldable – that they can be actually carried in a backpack. While in some countries such firearms are viewed with suspicion and often labeled hastily as "poacher's guns", in the U.S. and other countries where hiking means immersing oneself in the contaminated and potentially very hostile wilderness, being able to rely on a firearm to defend oneself or to get proteins they are genuinely needed. Let's not forget that according to a study published by the University of Utah in 2019, nearly 50,000 people are injured each year in the U.S. by wild animal attacks, with snakes, birds, rodents and opossums topping the list. Brown bears are only 15th on the list of potential killers, so it's not exactly true that a survival gun has to be chambered in a super-powerful caliber.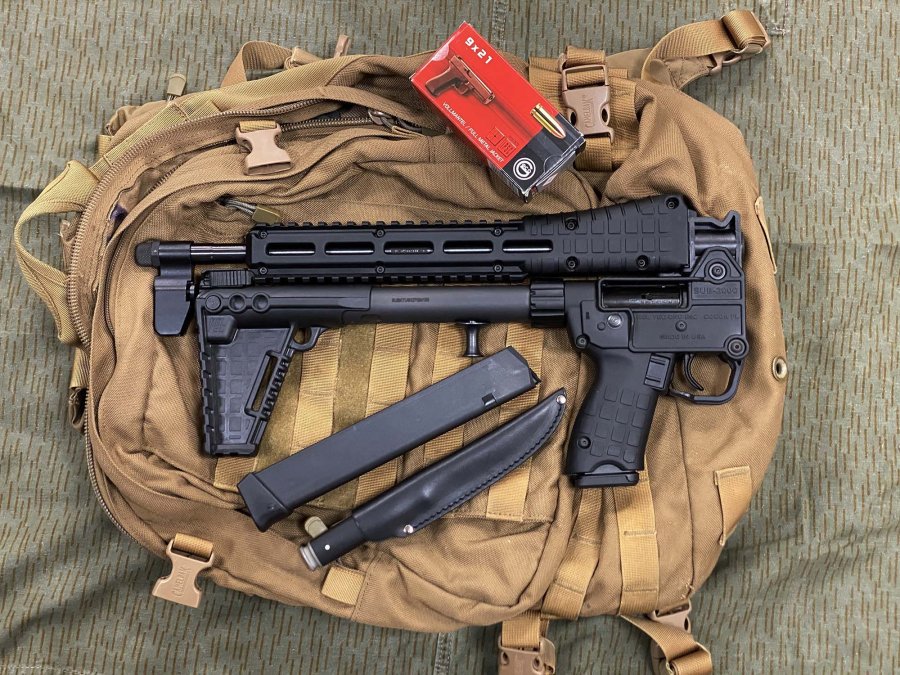 KelTec SUB 2000 G17: an unconventional pistol caliber carbine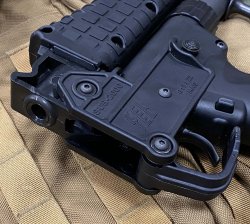 KelTec is a U.S. company founded by Swedish engineer George Kellgren, who gained his experience first at Husqvarna in his native country, and later working for companies such as Grendel and Intratec. In particular, working with these two companies, he developed his own style based on building original, no-frills guns made with extensive use of polymer. Among the latest products to come out of the company headquartered in Cocoa, Florida, we would like to mention the KelTec P50 pistol in 5.7x28 caliber, fed from a magazine with a capacity of as many as fifty rounds. But let's come to today and the SUB 2000 G17 carbine. The gun immediately presents itself with an almost sci-fi appearance, characterized aesthetically by the tubular stock and the barrel shrouded by a super-technological-looking handguard. In the middle of these two straight lines we find embedded what appears, at least aesthetically, to be a pistol with a double-stack magazine and polymer frame.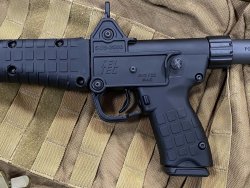 Mechanically the SUB 2000 is even simpler, since it is in fact a tried-and-true blow-back operating system with a steel bolt that moves inside the receiver and is actuated by a coil spring placed inside the metal tube that serves as a stock. In addition to being a now entirely reliable system, it allows for an operation that is critical, given the particular architecture of the carbine: the cocking handle is located on the rear tube and slides in a straight milling fitted with an off-center holding notch. You can rack the cocking handle all the way back, locking it at the end of its travel with a very short side movement. In case of need, a slap on the cocking handle will be enough to release the bolt, which will move forward and lock, chambering the first cartridge strip from the magazine. This is basically the same system we find on the H&K MP5 submachine gun, but instead of being in the forward position on the forend, it is behind the grip. The carbine is fed from Glock G17 pistol's double-stack magazines. The carbine's other controls are very basic, with a cross-bolt safety located behind the grip and a non-reversible magazine release button in the usual position on the left side.
Video: KelTec SUB 2000 G17, carabina in calibro 9
This video has been hidden because of an external service (YouTube) that could potentially collect personal data.Allow video services for the duration of the visitAllow video servicesStop allowing video services
KelTec SUB 2000: foldable and stowable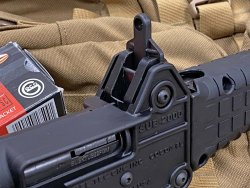 As you may have guessed, the most striking feature of this type of carbine is that it can be easily folded in two, reducing the length from 775 to 413 millimeters. You can easily carry the SUB 2000 inside or outside a small backpack. The carbine comes standard with a flip-up rear aperture sight that automatically folds along with the gun. This solution is not completely without side effects: although the SUB 2000 G17 is fitted with a long Picatinny rail on top of the fore-end, if a conventional or red dot optic is mounted on it, folding the carbine completely in two becomes impossible. Given the care with which guns are designed at KelTec, this factor was certainly taken into consideration, and probably deemed marginal. Given the caliber for which the carbine is chambered and the intended ranges of use, mechanical sights were evidently considered adequate. Nothing prevents you from carrying the carbine extended and equipped with optics using a sling, for which attachment points are provided. In this case you will appreciate the possibilities offered by the double Picatinny rails at 12 and 6 o'clock on the handguard. Back to the stock, contact with the shooter's shoulder is stable and comfortable thanks to a polymer buttstock that can be adjusted to three different lengths to suit the user's body size.
For the time being, our first contact with the KelTec SUB 2000 G17 carbine, which costs around 780 euros in Europe (price may be different in you country), was only static. But we are already arranging to do an in-depth field test. In the meantime, we invite you to watch our clip – stay tuned.
KelTec SUB 2000 G17 specs and price
| | |
| --- | --- |
| Manufacturer: | KelTec - USA |
| Model: | SUB 2000 G17 |
| Caliber: | 9mm Luger |
| Type: | Semi-automatic carbine |
| Operating System: | Blow-back |
| Barrel Length: | 16.25"/413 mm |
| Length Deployed/Folded: | 775/413 mm |
| Weight: | 1,900 g |
| Feed: | Glock-type double-stack magazines |
| Sights: | Post front, aperture rear, Picatinny rail |
| Stock: | Polymer buttstock and handguard |
| Price: | 780 euro approx. |