KelTec is an American company based in Cocoa, Florida, founded in 1995 by George Kellgren, an engineer of Swedish origin who had previously worked for Husqvarna and – after moving to the USA – for other companies such as Intratec and Grendel. The guns designed by Kellgren are immediately recognizable for their original, sometimes extreme aesthetics and technical solutions that are never trivial.
KelTec guns are highly appreciated by the public and critics alike, and this year the experts committee called by the US magazine American Rifleman to select the best products of the year decided to assign the 2020 "Shotgun of the Year" award to the KS7.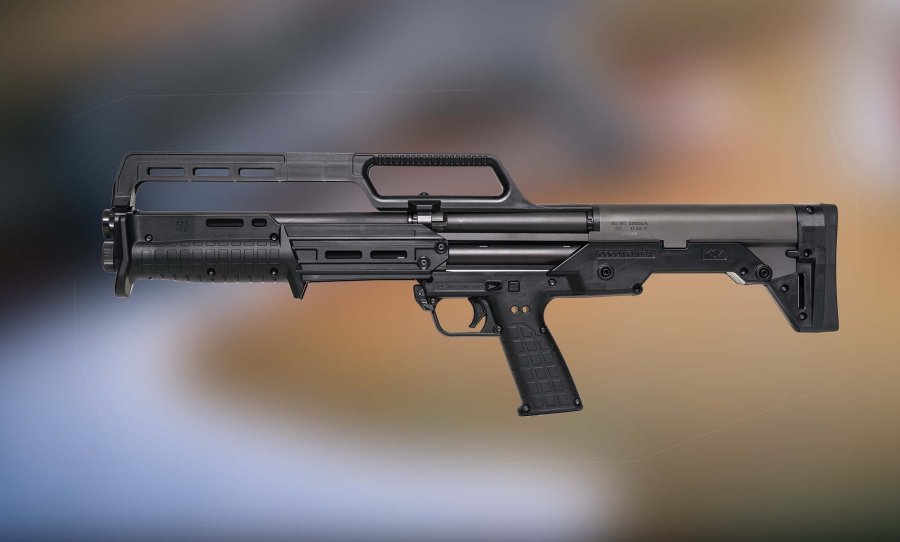 12-ga KelTec KS7 in detail

The KelTec KS7 is a 12 gauge, 3" chamber, pump-action shotgun featuring a bullpup configuration. Despite its very compact size - it's in fact only 16"/66 cm long – it has a 18.5"/47 cm barrel to maximize the performance of full power cartridges; the tubular tank above the barrel holds 6+1 12-ga Magnum (3") cartridges or 7+1 standard cartridges. The carry handle, with its vaguely retro look, also also doubles as a sighting solution and support for the fiber optic front sight. For those who want it, a kit is also available that replaces the carry handle with a Picatinny-style mounting rail.
Compact and very easy to handle, with a weight of just 5.9 lb/2.7 kg the KelTec KS7 is particularly suitable for home defense and back country hicking, as it can fire any type of 12-gauge cartridge, including non-lethal cartridges. The high-strength polymer stock is available in black, sand or olive green. The pistol grip features a push-button safety and the stock has sling attachment points. Thanks to its small size, the KelTec KS7 is very well suited for use inside vehicles. 
Finally, retail price  is very attractive: 495 USD, or around 450 euro.

---
For more information about the KS7: www.keltecweapons.com