KelTec joins the trend towards the 5.7x28 mm cartridge with a quite unique-looking gun called P50. For a long time, the 5.7x28 mm has been a sort of exotic caliber. It was developed by FN Herstal in Belgium some thirty years ago in response to NATO requests for a replacement for the 9×19mm Parabellum cartridge for the Personal Defense Weapons (PDWs) class of compact firearms – FN also designed two guns to fire it, the very innovative P90 submachine gun and the Five-seveN pistol. Yet, it was considered mere "military stuff" by many. Until some popular US manufacturers began to show interest in it, at least. Ruger was one of them, for example, with the Ruger-57 pistol introduced in late 2019. Other followed, and gradually the long-neglected cartridge has risen to a role of prominence in the world of ammo.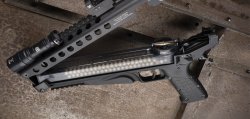 The new KelTec P50 pistol is a further proof of that, and is actually something special in itself. Starting from its retro-futuristic appearance, somewhat reminiscent of sci-fi movies of the 1950s, and its top-mounted magazine with an impressive capacity of 50 (correct: fifty) rounds. If the latter reminds you of something, you are right: it's the same detachable box magazine patented by Rene Predazzer in 1989 and used for the P90, featuring a translucent smoke finish polymer body. In this magazine the cartridges lie in two rows offset 90° from the bore axis. They are then fed as a single row into a spiral feed ramp and rotated 90 degrees, aligning them with the chamber.
KelTec P50, a "large format handgun"
With an overall length of 15"/38 cm, the gun is actually quite long, and its design hints to the possibility of having some kind of folding stock, even if none is provided for now. Anyway, the manufacturer says that "Although the P50 is a large format handgun, with some sling creativity, controlling this pistol allows for better efficiency downrange for varmint hunters and bullseye shooters alike".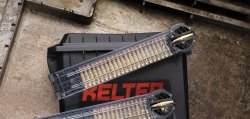 The barrel is 9.4"/244 mm long, which should enhance the cartridge's intrinsic accuracy and distance capabilities, to the benefit of both target shooters and hunters. Plenty of Picatinny rail space on top and front bottom allows for the mounting of optics and accessories such as flashlights.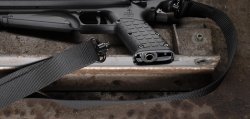 MRSP is $995: for that price the gun comes with two 50-round magazines. The gun will start shipping in the first quarter of 2021. Looking forward to testing it, it's hard to predict the future of the P50: who will it appeal to? Too large to be a pistol, too short for a carbine, certainly not a "carry" gun, chambered in a cartridge that's unfamiliar to many, more than on the hunting ground its place is probably on the range. And considering its most unusual features, this 5.7 chambered handgun won't go unnoticed there.
KelTec P50 pistol specs and price
| | |
| --- | --- |
| Caliber:  | 5.7 x 28mm |
| Weight Unloaded:  | 3.2 lb/1.43 kg |
| Magazine Capacity:  | 50 rounds |
| Overall Length:  | 15″/380 mm |
| Barrel Length: | 9.6″/244 mm |
| Barrel Threads:  | 1/2-28 TPI |
| Height: | 6.7″/170 mm |
| Width: | 2″/50 mm |
| Trigger Pull Weight:  | 5lbs/22 N |
| Price (MSRP):  | 995 USD |