One look at the Browning A-Bolt Target's barrel will tell buyers that this model is produced by the group subsidiary Miroku in Japan. The US-branch in Morgan/Utah manufactures it there especially for the domestic market. The match rifle comes to Germany via The Duke in Remscheid, specialized in US-weapons. 
The test rifle chambered to .223 Remington presented impeccable credentials for the shooting range: the match barrel with recessed muzzle crown, 71 centimeter long and 23 millimeter thick at the muzzle. In addition a satin finish gray laminate wood stock, with a wide fore-end and height-adjustable comb at the butt. Non-slip checkering on the contact surfaces of the hand protection and pistol grip, pleasantly soft rubber butt plate, sling swivel studs for attaching a bipod.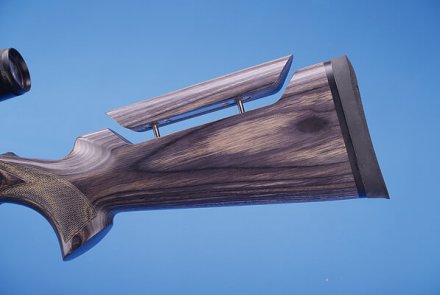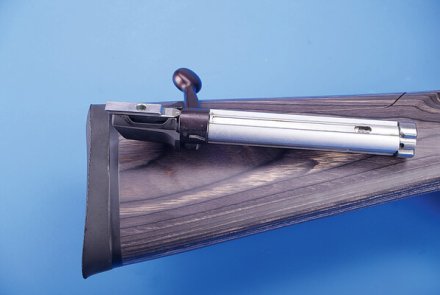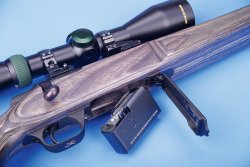 The magazine takes five cartridges and represents a combination of a hinged cover and removable box magazine. Once swung out, the cartridge box clipped to the cover is withdrawn, making for easier loading and unloading. 
The three-lug bolt slide moved with minimal resistance through the sleeve into which it also locks. Requiring merely a short and velvety soft travel, the trigger was crisp and clean. The trigger weight felt significantly less than the almost 3 kilos measured
The trigger can be reset to 1500 grams after dismantling the guard. The "heavy beast" was calm and shot like a small bore match rifle.

The buyer gets an excellent match rifle here for less than €1,700. 

Range of uses for the Browning A-Bolt Target

The Browning A-Bolt Target meets all the expectations of a good match rifle. The BROWNING A-Bolt is less suited for hunting, for police and military


The Browning A-Bolt Target Overview:
| | |
| --- | --- |
| Model | Browning A-Bolt Target  |
| Price:  | € 1.690 |
| Caliber: | .223 Remington |
| Capacity:  | 5 + 1 cartridges |
| Barrel lenght:  | 710 mm (rifling 1:8") |
| Total lenght: | 1.217 mm |
| Trigger weight: | 2.930 g |
| Weight:  | 5.150 g |
Features: three-lug bolt, match stock with adjustable comb, 28" match barrel, hinged cover magazine with removable box, mounting holes
Shooting test Browning A-Bolt Target 
| | | |
| --- | --- | --- |
| No. | Factory cartridge | Grouping  |
| 1 | 52 grs Remington MK BTHP | 20 mm |
| 2 | 52 grs Sellier & Bellot Match | 21 mm |
| 3 | 55 grs GECO Target | 23 mm |
| 4 | 69 grs Lapua HPBT | 19 mm |
| 5 | 69 grs RWS Target Elite Plus | 15 mm |
Remarks: Grouping = five-shot groups, shot sitting from the bench rest support at 100 m distance, reported in millimeters, measured from the shot-hole centers. Bracketed values after subtraction of an outlier
Abbreviations / bullet codes: BTHP: Boat Tail Hollow Point, HPBT: Hollowpoint Boat Tail
Visier Evaluation of the BROWNING A-Bolt Target
| | |
| --- | --- |
| Visier Evaluation | Points  |
| Precision (max. 50 points) | 50 points |
| Stock (max. 10 p.) | 9 points |
| Trigger (max. 10 p.) | 8 points |
| Magazine/Handling (max. 5 p.) | 5 points |
| Sight (max. 5 p.) | 4 points |
| Receiver/Function (max. 10 p.) | 9 points |
| Finishing (max. 10 p.) | 9 points |
| Total points (max. 100 p.) | 94 points |
| Test result | excellent |
| Commendations | 6 of 6 commendations |