Remington claims it is "built for speed, made for tight spaces": the Model Seven was designed specifically for hunting in the woods. For this reason it features a short 16.5" / 42 cm barrel that allows for excellent swinging, making this rifle perfectly sized for small-statured shooters and dense cover hunting situations. The Model Seven is in fact a 2 3/8" shorter overall length than the Model 700. It's also pretty lightweight, at 5.5 lb. / 2495 g. Available in .308 Winchester or .300 AAC calibers, it offers the best at short and close ranges – and with excellent accuracy even at long ranges, too. 
At the SHOT Show 2019 Remington introduced a version with a modern Kuiu Vias camo stock and a threaded barrel. The rifle is not equipped with iron sights but a practical one-piece Picatinny scope base to facilitate the mounting of red dot optics is included. 
Remington Model Seven: "three-rings-of-steel"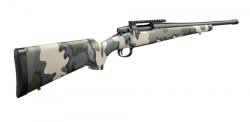 The Model Seven retains the same Model 700's "three-rings-of-steel" concept, referring to the steel bolt face, barrel and receiver encasing the cartridge head, for increased strength. Moreover, the cylindrical receiver design provides a consistent bedding area in the stock.
The Remington Model Seven Kuiu sports a matte blue carbon steel barrel and action. With its peculiar muzzle swell, the barrel as mentioned is threaded for mounting of muzzle brakes. The adjustable X-Mark Pro trigger, utilizing advanced technological manufacturing processes and extremely tight production tolerances, delivers enhanced accuracy and great shot control with virtually no creep and a crisp "breaks-like-glass" feel. The trigger can be externally adjusted within a range of 2 pounds (3 to 5 pounds) with the included tool.
The Kuiu Vias synthetic stock with camo finish and gripping inserts is coupled to a SuperCell recoil pad to reduce felt recoil. All in all, this is a very handy yet powerful rifle, easy to carry and stil comfortable to use, ideal for quick shots even in the densest woods.

Magazine capacity is 4 rounds for the .308 version, and 5 rounds for the .300 Blackout. They both retail at 795 USD, with the usual caveat that it can vary in your country due to VAT and import duties.