Big Horn Armory was founded in 2008 with the declared intention of designing a Browning-type lever-action rifle chambered for the .500 Smith & Wesson Magnum cartridge. The American-made Big Horn Armory Model 89 closely follows John Browning's design with some refinements courtesy of modern metallurgy and machining techniques. The first rifles left the Cody, Wyoming, plant in September 2012 and since then, BHA has added the Model 90 Carbine in 460 S&W, the Model 90A in .454 Casull, the Model 90B in .45 Colt, the Model 89A in .500 Linebaugh and the Model 89B in .475 Linebaugh to its large caliber rifle line-up. In 2017, Big Horn Armory distanced itself from its lever-action gun series and developed the AR500 Rifle, the most powerful semi-automatic gun based on a .308 caliber AR platform.
A new compact version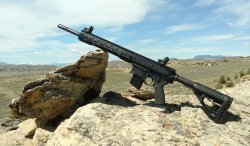 The new AR500 Pistol carbine is also chambered in .500 Auto Max, a rimless version of the .500 Smith & Wesson Magnum cartridge. This gives the gun an unparalleled power but also a very pleasant firing behavior, even with quick shot strings, but in a compact size. The new "pistol" (actually, a compact carbine) has been updated with a new Blade pistol brace and an M-Lok handguard. Moreover, it now features an ambidextrous safety and a perfectly ambidextrous charging handle to make gun handling and shooting even more enjoyable.
Watch the AR500 Pistol in video here
This video has been hidden because of an external service (YouTube) that could potentially collect personal data.Allow video services for the duration of the visitAllow video servicesStop allowing video services
"The original pistol version of our AR500 was great, but we knew we could improve upon it and make it even better," says Greg Buchel, president of Big Horn Armory. "After listening to our customers, and performing tests on our end of the new M-Lok handguard and Blade pistol brace, we knew we had created an even better version of our compact AR500 without compromising on the quality our customers expect out of our big bore firearms. We believe our customers will enjoy what the new AR500 Pistol can achieve."

A Black Rifle with unstoppable power
Built using lightweight black hard-coat anodized aluminum receivers and featuring a 10-inch (25.4 cm) nitrated barrel, full-length Picatinny rail, M-Lok handguard and a blade pistol brace, the new AR500 Pistol delivers full power with a perceived recoil comparable to that of a .308 Winchester caliber semi-automatic rifle. It comes standard with a five-round magazine, but a nine-round magazine is available for purchase through the manufacturer's website. Its size makes it ideal for professionals and private security operators or the military. It is easy to carry in a vehicle and can be used to break through any obstruction, including bulletproof glass.
A powerful and very versatile cartridge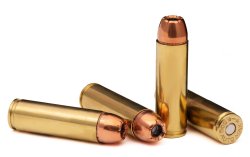 The 500 Auto Max cartridge was developed by Big Horn Armory using a .500 S&W case that was simply made rimless, keeping its ballistics intact. The gun is capable of properly feeding and firing any .500 bullet between 200 and 700 grains. The AR500 has an adjustable gas block to allow the use of subsonic loads using a suppressor. Commercial .500 Auto Max ammo is currently manufactured in the US by Buffalo Bore, Steinel Ammunition and Underwood Ammo, with brass for home reloading available from Starline Brass. In the Steinel Ammunition JHP load, the 350-grain ball exits the muzzle at a velocity of 680 meters per second, with a muzzle energy of 5261 joules. Given the wide range of bullets available, it would be an excellent cartridge for wild boar hunting too.