From February 28 to March 1, 2023 the Enforce Tac 2023 opens its doors. Those who would like to participate as an exhibitor at the trade fair for government operators with security tasks and armed forces only have until October 31 2022 to register! Only a few places are still available and in order to ensure planning security for the trade fair and exhibitors, the registration period ends then. This is because the trade fair is facing a planning challenge.
Currently, it is being decided what will happen in the event of overcrowding: if there are many registrations, Enforce Tac 2023 will consider opening Hall 8 in addition to Halls 9 and 10. If there are only a few places overbooked, a waiting list will probably be set up.
How exhibitors can register for Enforce Tac 2023
Those wishing to showcase their products at Enforce Tac 2023 have two different options to register for the show through the end of October:
More background on Enforce Tac 2023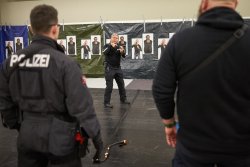 © NuernbergMesse / Frank Boxler
Already six months before Enforce Tac 2023 – the trade fair for mission-relevant solutions for internal and external security – opens its doors again, the organizer, NürnbergMesse, announces a new record: it is already clear that the exhibition area will probably be even larger than at the previous record event in 2022.
The increase is due to highly satisfied exhibitors and visitors in 2022 – but also to major new challenges. "Exhibitors are fully behind the trade show. Strict participation criteria and careful legitimization ensure high visitor quality, which is highly appreciated," said Isabelle Teufert, Director of Enforce Tac.
The particularly demanding tasks of security experts from the police, judiciary, border guards, customs, military police and armed forces require state-of-the-art equipment and training so that the forces are protected against injuries in the best possible way. In addition to weapons, weapons accessories, communications- and optoelectronics, as well as tactical equipment and special vehicles, exhibitors at Enforce Tac will also present operational clothing such as plate carriers, protective vests, body armor and helmets, as well as education and training systems.  
Enforce Tac originally emerged from the so-called Official Agencies Days at IWA and now has a completely independent character of an international trade show for security experts.
Enforce Tac Feb. 28-March 01, 2023: more space, larger offer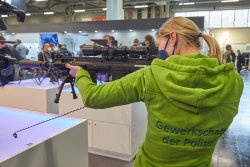 © NuernbergMesse / Frank Boxler
In 2023, the trade audience at Enforce Tac can look forward to 17,520 square meters of exhibition space and thus significantly more room. At the last show, by comparison, there were only 13,730 square meters. And something else is changing: in future: the exhibitors' highly specialized range of products and services will be accessible at the Nuremberg exhibition center via the Main Entrance instead of the West Entrance.

As in previous years, practical workshops and high-profile trade congresses will accompany the restricted exhibition area, which is only accessible to professional firearms users. Enforce Tac has been held in the run-up to IWA OutdoorClassics since 2012 and has also been the venue for the European Police Trainers Conference (EPTC) of PiD (Polizeitrainer in Deutschland e.V.,  the German association created with the aim of reviewing, developing and improving the quality of police service.), which cooperates here with NürnbergMesse. The exhibition program also offers proven products as well as new highlights. The trade fair is responding to the great variety of exhibitors and products by expanding the Demo Area: in addition to exciting product presentations, Enforce Tac 2023 will also feature practical demonstrations of products in order to combine theory and practice.
A special offer for exhibitors at Enforce Tac 2023
Exhibitors are currently being encouraged by the organizer – NürnbergMesse – to take advantage of the offer and, if necessary, even provide further impetus for the design.
"If, for example, an exhibitor needs a course to be able to stage a vehicle appropriately, we will be happy to make this possible," assures Isabelle Teufert, Exhibition Director of Enforce Tac at NürnbergMesse. 
Online, the industry also benefits from the video presentation of some product highlights. The YouTube format Enforce Tac TV will go into the second round in 2023. This will also bridge the gap to the online world.
The law enforcement industry faces major challenges
The security of all of us is at stake. Who would have thought that these issues would hit us again with such vehemence after the end of the Cold War? It's about our partners in NATO and in Europe and in the U.S., but ultimately it's about nothing other than peace, freedom and security. 
That is why the trade fair organizer is also looking forward to playing its part. After all, the law enforcement industry needs Enforce Tac for the international exchange of experience that only an on-site trade show can offer. Exhibition manager Isabelle Teufert explains: "Exhibitors, visitors and media representatives can talk to each other on site. As an international platform, Enforce Tac stands for professional exchange and a confidential environment."
The team from all4shooters.com will also be on site again to report on Enforce Tac 2023 and the latest developments for you. Many of our partners cover the LE/military sector in addition to the civilian sector, and we all know that many new developments that later hit the civilian markets originate there. So be curious... 
The next Enforce Tac will be held at the Nuremberg Exhibition Center, Germany, from February 28 to March 1, 2023. This is a pure trade fair, which may only be visited by legitimate authority representatives or security forces and accredited journalists.