U.S. firearms manufacturer Barrett Firearms of Murfreesboro, Tennessee, which celebrated its 40th anniversary last year, is probably more associated with heavy .50 BMG rifles than any other. Founded in 1982 by Ronnie Barrett, the family-owned company is best known for its sniper rifles in .50 Browning Machine Gun (12.7x99 mm) such as the M107 A1 and M82A1 semi-automatics or M95 and M99 bolt-actions. The company also manufactures the MRAD ("Multi Role Adaptive Design") multi-caliber sniper rifle, the REC7 series semi-automatic rifles with direct or indirect gas impingement systems in 5.56x45 or the REC10 in 7.62x51. In 1989, the company entered the military business for the first time when the Swedish Army ordered the first 100 M82A1 models. Many government orders around the world were to follow. 
Barrett's sniper rifles: international LE/military successes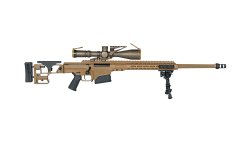 Recent major successes in this area include the introduction of the Barrett MRAD to the U.S. military. Like a whole series of modern, modular sniper rifles with caliber/barrel interchangeability from prominent manufacturers, the Barrett MRAD came about as a result of the United States Special Operations Command (SOCOM) Precision Sniper Rifle (PSR) program launched in early 2009. As is well known, the Remington MSR (Modular Sniper Rifle) emerged as the winner of this competition in 2013. After PSR, the follow-up "Advanced Sniper Rifle" (ASR) solicitation appeared in 2016. For this, the U.S. Department of Defense announced on March 11, 2019, that SOCOM is procuring an improved sniper rifle under the ASR solicitation with the special Barrett MRAD MK 22 ASR in .338 Norma Magnum with interchangeable kits in .300 Norma Magnum and 7.62x51 mm
NATO. For Barrett, the award means a five-year contract running through 2024 worth nearly $50 million.
2023: manufacturer Barrett now in Australian hands of NIOA Group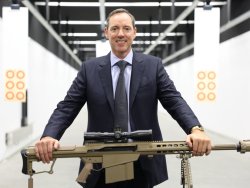 The U.S. company will continue to operate under the Barrett brand as a stand-alone business unit within the NIOA Group alongside NIOA Australia, NIOA New Zealand, Australian Missile Corporation and the NIOA Group's interest in the Rheinmetall NIOA Munitions joint venture. All management and personnel of the Barrett production facility have been retained to continue manufacturing in the usual manner. It is expected that production activities in Murfreesboro will be further expanded over time. 
There were no details on the financial terms of the transaction. Current Barrett chairman Sam Shallenberger has been promoted to chief executive officer, while longtime Barrett chief operating officer Bryan James will now become chairman. 
---
Company founders Ronnie Barrett and Chris Barrett will continue to serve Barrett and the NIOA Group in an advisory capacity. For more info: www.barrett.net.