Fans of the classic Beretta 92-M9 pistol platform can rejoice: Taurus is bringing back its own 917C model. Returning to the U.S. market from a long hiatus, the gun is a (slightly) compact variant of the PT92 model, in turn developed from Beretta's extremely successful 92/M9 pistol series. Chambered for the 9mm cartridge, the 917C retains an aluminum full-size frame, but coupled with a shorter 4.30"/109 mm target crowned barrel for concealability. In its latest iteration, the 917C also features an improved grip with finger grooves and 18+1 round flush-fit capacity (the 917C is in fact compatible with all Taurus 92 style magazines). Thanks to a full-length accessory rail, it is capable of mounting full size weapon mounted lights and other accessories.
Taurus 917C, improved features
Described as "the perfect CCW option for discerning users who prefer a double-action/single-action hammer-fired semi-auto pistol", the Taurus 917C also boasts a series of further improvements and useful details, including a flat-face serrated trigger for better comfort and control, magazine and grip cuts to aid in magazine stripping if required, reversible magazine release, and signature indexing and recoil management pad.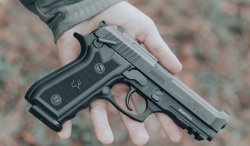 The manual safety is ambidextrous; other important safety features are the firing pin block, the striker block and the visual loaded chamber indicator. 
The combination of  decocker and safety allows the pistol to be carried cocked and locked or hammer down. Front sight is fixed and integrated, rear sight is drift adjustable.
The Taurus 917C comes standard with two 18-round magazines and a suggested retail price of $599.99. 
Taurus 917C specs and price
| | |
| --- | --- |
| Caliber: | 9mm |
| Action Type:  | DA/SA |
| Frame Material:  | Aluminum |
| Barrel Length:  | 4.30 "/109 mm |
| Overall Length:  | 7.90"/200 mm |
| Overall Height | 5.50"/140 mm |
| Overall Width:  | 1.30"/33 mm |
| Overall Weight (Unloaded):  | 33.50 oz/950  |
| Magazine Capacity:  | 18 rounds |
| Sights: | Front fixed Integrated, rear drift adjustable |
| Price (MSRP in the U.S.):  | $599.99  |