Taurus keeps on expanding the GX4 family that was presented a couple of years ago. After the original GX4, the GX4 T.O.R.O.and the GX4XL models we already introduced here on all4shooters, now it's the turn of the Taurus GX4 Carry T.O.R.O. Turus's fans already know that T.O.R.O. (which incidentally means "bull" in Spanish) stands for "Taurus Optic Ready Option". And that's exactly what you get with the GX4 Carry T.O.R.O..: an optic ready 9mm EDC carry pistol. Red dots with the Holosun K-series footprint and similar can be fitted on the gas-nitride coated carbon steel slide. Moreover, unlike previous GX4 pistols, the GX4 Carry also features a MIL-STD-1913 Picatinny accessory rail, perfect for mounting gun lights or lasers.
Taurus GX4 Carry T.O.R.O., a compact 9mm EDC with 15+1 capacity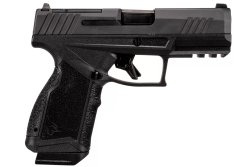 The GX4 Carry T.O.R.O.. is a single-action only (SAO), striker-fired gun. In terms of size, is just slightly higher than the sub-compact GX4 T.O.R.O. model (overall height 5.15"/131 mm vs 4.4"/112 mm). Its polymer frame ergonomics are enhanced by three available backstrap options, also including a high palm swell backstrap for those who prefer it like that. In detail, Taurus claims that "the grip balances comfort and contact area crating a comfortable and efficient grip for performance shooting". To further improve accuracy and predictability, the flat face and serrated target trigger with short and tactile reset allows quick follow-up shots. The DLC coated barrel is 3.06"/78 mm long, and a visual loaded chamber indicator enhances awareness. Safeties include the usual one on the trigger and a striker block.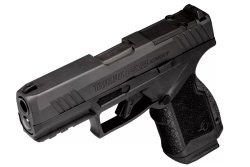 The GX4 series' easy take down pin for disassembly simplifies maintenance while the magazine release is reversible.
The grip also houses the 15-round magazine, a capacity that makes the GX4 Carry equal to much larger and harder to conceal pistols, as the manufacturer proudly points out.
Standard iron sights include a fixed front sight and an adjustable rear notch
The new Taurus GX4 Carry T.O.R.O. is offered at a MSRP of $:504.99 with 2 magazines included.
Taurus GX4 Carry T.O.R.O. specs and price
| | |
| --- | --- |
| Caliber: | 9mm |
| Magazine Capacity:  | 15 rounds |
| Action:  | SAO |
| Overall Length:  | 6.4"/162 mm |
| Barrel Length:  | 3.06"/78 mm |
| Width:  | 1.08"/27 mm |
| Overall Height:  | 5.15"/131 mm  |
| Weight (Unloaded):  | 21.51 oz/610 g |
| Sights: | Fixed steel white dot front, serrated drift adjustable rear |
| Safety:  | Striker block, trigger safety |
| MSRP: | $504.99 |