Taurus continues to expand its revolver line. After the 605 Defender model in .357 Magnum introduced a few months ago, now it's the turn of the 856 Executive Grade chambered in .38 Special.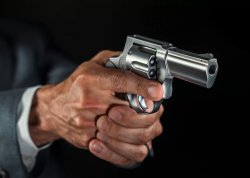 Refined aesthetics and functionality – that is, "function as well as form" – is the name of the game here: deriving from the 856 Defender, the new Taurus revolver features an all-stainless-steel construction with a silky hand-polished satin finish. While the latter is pleasing to the eye, the stainless steel construction guarantees corrosion resistance, easier maintenance and a smoother draw through leather and clothing. This, combined with a small frame similar to most J-Frame revolvers, 3-inch barrel, DAO trigger and snag-free concealed carry hammer (what they once called a "bobbed hammer"), make the  856 Executive Grade a true carry handgun. Because in case it is still not clear, this is not conceived as a target gun, but as a defensive tool – for those who have no bias against revolvers as carry/back-up guns, of course...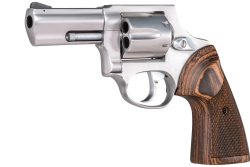 Even nice details like the Altamont walnut grip are not there just for the sake of aesthetics: the checkered panels and contoured profile are in fact designed to improve positive handgun retention and control in stressful conditions, so that the new revolver is claimed to comfortably manage .38 Special +P defense cartridges providing fast sight picture reacquisition. (Even if the square butt may turn up the noses of those who prefer round butts for carry and concealment, it undoubtedly helps tame muzzle flip and overall control when firing.)  
The six cylinder chambers are chamfered – still, not a mere show of refinery, but a functional improvement to facilitate faster and seamless reloads especially in case of defense scenarios. In our opinion, the problem here is that the grips are wide and have no "speedloader cut", so that using a speedloader will be impossible. A bit strange, since other Taurus models, even in the 856 series, are fitted with more functional grips.

The first model of Taurus's new Executive Grade line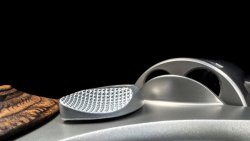 With the 856 Executive Grade Taurus is actually inaugurating a new  Executive Grade line of guns, with its own production room and dedicated product specialists. The goal is to offer models that are "finely tuned to exude the highest levels of style, quality and innovation". The custom double action only trigger system of the 856 Executive Grade, along with an improved trigger guard and backstrap, show what Taurus means.
The Taurus 856 Executive Grade revolver comes with a premium Pelican Vault TSA-approved hard case. The case in unmarked, so you can covertly transport your 856, ensuring safe, secure carry and storage.
All the improved features of the Taurus 856 Executive Grade boost MSRP to a little under the $700 mark, at $689.
Taurus 856 Executive Grade specs and price

| | |
| --- | --- |
| Caliber:  | .38 Special +P |
| Action: | DAO |
| Sights: | Fixed rear, serrated and removable front |
| Grip: | Altamont,walnut  |
| Barrel Length:  | 3" |
| Overall Length:  | 7.50" |
| Overall Height:  | 4.80" |
| Overall Width:  | 1.41" |
| Weight: | 25 oz |
| Frame Material:  | Stainless steel |
| Barrel Material:  | Stainless steel |
| Cylinder Material:  | Stainless steel |
| Finish:  | Hand-polished satin |
| Price:  | $689 |