The name says it all: Defender. The latest Taurus addition to the 605 revolver line is in fact "finely tuned to deliver the ultimate peace of mind for home and personal defense situations".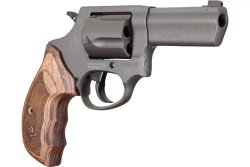 And to confirm that claim, the all-new Taurus Defender 605 comes with those special features so dear to defensive gun users, such as night sights and special wood grips from Altamont (a Hogue rubber grip is also available as optional), plus a clean barrel and frame profile for not only comfortable carry but also for smooth draw and re-holstering from IWB or OWB positions. 
But in contrast to previous 605 models that are equipped with a short 2" barrel, the latest iteration boasts a longer 3" barrel – "making it short enough for deep concealed carry while delivering a sight radius for accuracy at distances beyond the personal space zone," as specified by the manufacturer. The caliber? Like all its siblings, the Taurus Defender 605 is chambered in .357 Magnum – but can also fire .38 Special ammo of course, including +P loads.
Defender 605, four models available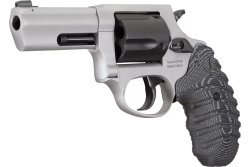 Based on the 605 platform first introduced in 1995, the 605 Defender is a hammer-fired DA/SA revolver with stainless steel frame, cylinder and barrel that has been specially developed "for personal defense practitioners who desire the solid performance and simplicity of a revolver".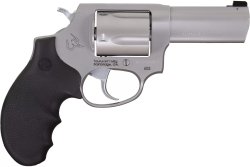 Cylinder capacity is 5 rounds. The longer 3" barrel also allows better accuracy and increased muzzle velocity compared to 2" barrels for more decisive terminal performance – ejector rod is extended for easier manipulation and quicker reloads. 
The factory-installed tritium front night sight with an orange outline combined to a rear sight groove provide fast sight acquisition even in  low-light conditions.
Four Defender models are available, featuring different grips and finish combinations:    
Altamont wood grip with Tungsten Cerakote finish (MSRP $517.33)
Hogue rubber grip with matte black finish on a stainless steel frame (MSRP $472.63)
VZ black/gray grip with matte stainless steel and matte black cylinder finish (MSRP $540.68)
Hogue rubber grip with matte stainless steel finish (MSRP $472.63)
The Taurus Limited Lifetime Warranty is always included.
Taurus 605 Defender specs and prices
| | |
| --- | --- |
| Caliber: | .357 Magnum |
| Cylinder Capacity:  | 5 rounds |
| Action Type:  | Double action / single action |
| Sights: | Night front sight with orange outline, fixed rear |
| Barrel Length:  | 3"/76 mm |
| Overall Length:  | 7.50"/190 mm |
| Height: | 4.8"/122 mm |
| Width: | 1.41"/36 mm |
| Weight:  | 24 oz/680 g |
| Prices: | from $472.63 to $540.68, depending on the grip/finish combination |