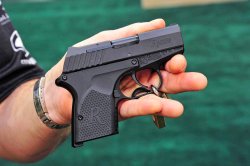 First announced in late 2015 and finally introduced in January at the 2016 SHOT Show, the Remington RM380 semi-automatic pocket pistol is now heading to European shores.
The Remington RM380 is a double-action semi-automatic subcompact pistol conceived for concealed carry purposes, as a primary defensive pistol for civilians or as a backup weapon for law enforcement or private security personnel. 
The RM380 is built around a steel machined slide and a lightweight alloy frame, and sports a DA trigger with a long travel, which also dubs as the only safety system of the design. The single-stack, detachable magazine holds six rounds of .380 ACP ammunition.
The Remington RM380 is 13,3cm long overall, sports a 2,9-inch tilting barrel and a Browning-type locking system, and weighs barely 345 grams when unloaded. The RM380 is comes factory-equipped with a set of low-profile fixed iron sights, but a dedicated Crimson Trace laser pointer is also available.