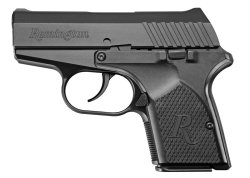 Remington Arms Company, LLC.
In 2010, the Remington Arms Company − "America's oldest gunmaker" − re-entered the handguns market after a decade-long absence with the introduction of the 1911-R1 semiautomatic pistol, the Company's own take on the most popular and quintessential American handgun design. Quickly establishing itself as a top seller between civilian shooters and local law enforcement agencies in the United States and all through north America, the Remington 1911-R1 pistol line is currently offered in a dozen of variants.
The Company's later attempt to revive a history classic and a peculiar design (the Pedersen system) with a twist of modernity, in 2014, was much less successful: the 9mm caliber R51 subcompact pistol, a reportedly flawless design in pre-production stages, was plagued with a plethora of issues in its first production run, which prompted Remington to halt production for a year in order to redesign the R51 from the ground up − and exchanging the pre-owned, defective R51s with new-manufacture, perfectly working samples.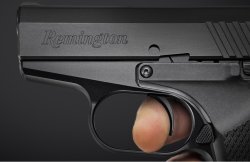 Remington Arms Company, LLC.
Undeterred in its attempt to become once again a well-established name in pistol manufacturing, Remington Arms Company introduced a new handgun at the 2015 edition of the NRA Annual Meeting & Exhibits − held in Nashville (Tennessee, U.S.A.) from April 10th thru 12th − once again with the U.S. concealed carry market in mind, an astounding opportunity at profit given how all 50 States now have concealed carry provisions and many of them are currently in the process of relaxing their defensive carry laws, while at the same time the sales of compact handguns are at an all-time high in the United States.
Dubbed the RM380, Remington's new pistol is a pocket design conceived to fill the roles of primary or backup defensive carry firearm for civilians, and to act as a secondary or emergency weapon, and as an off-duty or undercover option for law enforcement personnel.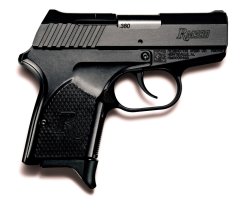 Remington Arms Company, LLC.
Remington RM380 is entirely manufactured out of metal: it is built around a hard-anodized black machined 7075-T6 aluminum frame and a satin black oxide-finished stainless steel slide with rear serrations. Only the grip panels are synthetic in manufacture, and are replaceable for comfort and style.
The new Remington RM380 features a long and smooth "light double action only" trigger with a bobbed hammer, whose weight ranges around 8-9lbs (3.6 to 4 kilograms); it feeds through single-stack metal magazines, holding up to six rounds of .380 ACP ammunition. The magazine release catch is ambidextrous, while the fully functional slide stop lever is located on the left side of the frame only.
The Remington RM380 features the longest possible barrel for its overall lenght (a 2.9"/7,3cm 410 stainless steel barrel), with a precise slide-to-barrel lock-up and a light dual recoil spring system.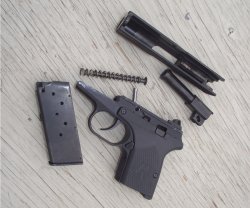 The Remington RM380 semiautomatic pistol is 5.¼"/13,3cm long overall, 3.86"/9,8cm high and barely 0.94"/2,4cm wide. Its overall weight stands at 12.2oz (345 grams) when empty, and its overall design and contour, down to the rugged fixed sights, has been conceived to improve concealment, minimize print, and ensure a smooth and snag-free drawing from either a holster, a pocket, or a purse,
Above all, the Remington RM380 semiautomatic pistol has been conceived to be viable for all customers, being priced at barely $417.
As of today, the Company didn't provide any indication concerning possible or planned availability or pricing of the Remington RM380 pistol outside of the United States.