Johannes Heinrich Deringer was born on October 26, 1786 in Pennsylvania, the son of a German-born gunsmith who emigrated to the American colonies before the Revolution. Like his father, "Henry" Deringer worked as an apprentice for other gunsmiths, then in 1806 he opened his own shop in Philadelphia manufacturing short and long guns for the US army.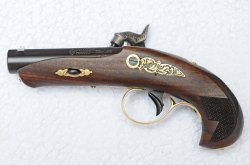 Deringer's name could have followed the same destiny of dozens of other contemporary gunsmiths – that is, to be forgotten. But in 1825 Henry had the intuition to make a pocket defense pistol but in a large caliber, which could be kept comfortably in a jacket pocket or in a handbag. Initially fitted with a flintlock and inspired by the "Queen Anne" models, Deringer's pistol had an extraordinary success that grew further with the introduction of the percussion version a few years later. 
The gun was greatly welcomed on the civilian market and became very popular among army officers, who purchased it privately (sometimes in pairs) as a last ditch defense weapon. 
Henry Deringer never patented his pistol and this contributed to the spread of imitations of all kinds, with quality ranging from good to poor, while the original Philadelphia Deringer were all built in an excellent way and often embellished with engravings and details in precious metals. Over the years the name Derringer (with two R's) became synonymous with pocket pistol and big companies like Remington and Colt had Derringer-type pistols in their catalog for decades. In the meantime, the gun had become a breech-loader.
In the US in particular, this small pistol is well known by guns and history enthusiasts because a Philadelpia Deringer in .44 caliber was used by John Wilkes Booth to assassinate President Abraham Lincoln in 1865. Recently, a US auction house sold a specimen in good condition for more than $3000.
The Philadelphia Deringer by Pedersoli
Pedersoli has four different Derringer pistol models in its catalog, including the one with a single R, the Philadelphia Deringer with percussion lock, chambered in .45 caliber.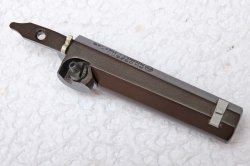 The Philadelphia Deringer features a 3 1/16" (78 mm) octagonal barrel, with a 6-groove rifling, on which a fixed rear sight and a laterally-adjustable front sight are fitted.
The lock is color-case hardened and the steel lock bears the inscription "Deringer/Philadelphia" on two lines. The trigger guard and other fittings are brass. The ramrod is a separate piece from the gun and is made of steel. In spite of the small size and the relatively short barrel, the Philadelphia Deringer by Pedersoli is capable of holding its own in informal and recreational shooting also thanks to the sights that are small, but effective.
The gun can be easily disassembled for maintenance and to appreciate the remarkable fitting job into the grip, which is walnut wood.
Pedersoli's Philadelphia Deringer comes in an elegant wooden case that contains a powder flask and ramrod.  The case can also be purchased separately. 
Pedersoli Philadelphia Deringer specs and price
| | |
| --- | --- |
| Model: | Philadelphia Deringer |
| Type: | Muzzle loading pistol |
| Lock: | Percussion |
| Caliber:  | .45 |
| Barrel Length:  | 3 1/16" (78 mm)  |
| Sights: | Fixed rear notch, adjustable front  |
| Weight:  | 8.71 oz/247 g |
| Price: | From 525 euro |