The Le Page brand is one of several adopted over nearly two hundred years by the firearms factory founded in Paris in 1717 by Louis Pigny, arquebus and sword maker. From its founding to its closure in 1913, the company always belonged to the same family, changing its name from time to time to Le Page, Moutier Le Page and finally Fauré Le Page. Highly esteemed by King Louis XV, who named him his favorite supplier, Pigny started a successful craft business that received further boost in 1730, when he took on as an apprentice Pierre Le Page, who was born in Normandy and like so many young men of high hopes moved to Paris in search of opportunity. Pierre had already worked for other famous Parisian gunsmiths such as Jean Baptiste Mazillier (also known as Mazier), and was distinguished by his skill and in-depth technical knowledge of weapons.
In 1743 Pierre Le Page officially received the title of arquebus maker, gunsmith, and artificer, and he took over the leadership of the factory after marrying Louis Pigny's niece. Upon Pierre's death in 1783, the reins of the firm passed to his grandson Jean Le Page, who was the real architect of the prestige the workshop would enjoy, competing eternally in quality and innovation with that of Nicolas-Noël Boutet based in Versailles.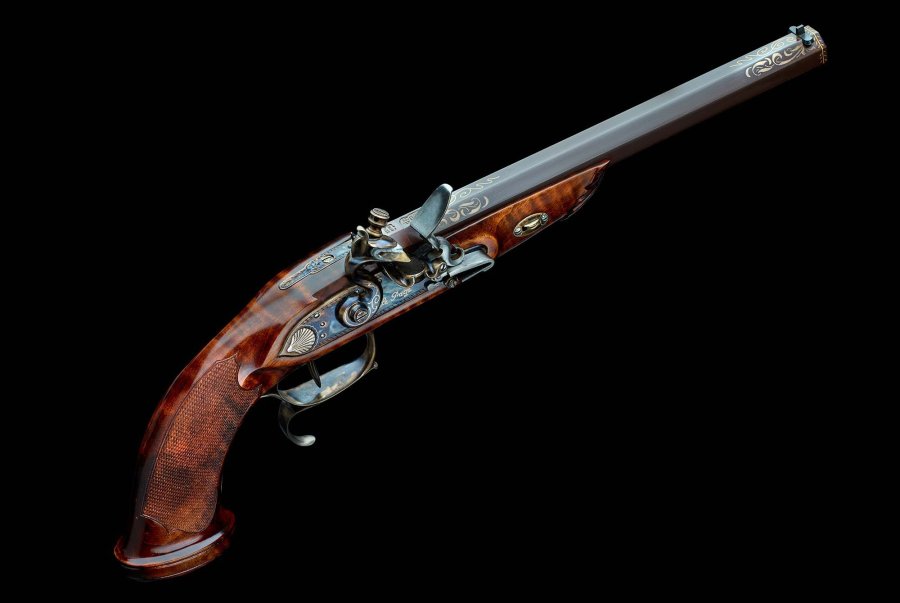 Pierre Le Page passed unscathed through the French Revolution, and openly supported it, taking an active part in the storming of the Bastille and providing arms and assistance to the insurgents. This gave him the peace of mind he needed to perfect his patents, which essentially involved increasingly sophisticated flintlocks. With the Restoration, the fame of the Le Page manufacturing business did not stop growing. In 1822 Jean André Prosper Henry, Pierre's son, joined the company, continuing his father's work with unaltered passion. The company won numerous awards at the International Exhibitions in Paris, Vienna, and London, events that were held in high regard at the time in building the reputation of nascent industries.
Throughout the 19th century, the Le Page factory remained firmly in the hands of the family and supplied refined and technologically advanced guns to nobles throughout Europe, including the court of the Tsar, who awarded Emile Henry Fauré Le Page (Henry's grandson) the warrant as official supplier to the Imperial Court. After being made first a Knight of the Legion of Honor, and later an Officer (in 1894), in 1913 a now-satisfied Emile Le Page sold the family business, which survived a few years as a company. By this time the Le Page brand had entered the public imagination and is certainly the one most frequently cited in nineteenth-century literature: it appears in the works of Chateaubriand, Dumas, Hugo, Balzac, Puskin, and Goetz.
Pedersoli's Le Page pistol, refinement and accuracy
The gun manufactured by Davide Pedersoli is a replica of a dueling pistol made by Henry Le Page between 1840 and 1850 and puts accuracy first, which is particularly exploitable thanks to details such as the set trigger (stecher) and the elevation adjustable rear sight. Pedersoli's Le Page pistol is available with either a flint- or percussion lock, in standard or deluxe versions. The stock is made of checkered, oil-finished European walnut, but a "Maple" version is also available with a stock made of maple wood featuring the characteristic tiger-stripe grain, oil-polished by hand.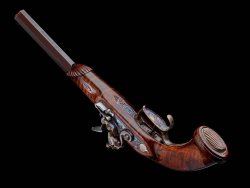 La pistola Le Page di Pedersoli monta una canna ottagonale rigata lunga 250 millimetri ed è disponibile nei calibri .31, 36, 38 e .44. È disponibile anche in una versione a canna liscia in calibro .45 in modo da poter partecipare alle gare di tiro MLAIC nella categoria "Cominazzo". In ogni caso la pistola è classificata di libera vendita ai maggiorenni. Lqa lunghezza totale della pistola è di 425 mm per un peso di 1,100 grammi.
Pedersoli's Le Page pistol is fitted with an octagonal rifled barrel 250 millimeters long and is available in .31, .36, .38 and .44 calibers. It is also available in a smoothbore version in .45 caliber so that it can participate in MLAIC shooting competitions in the "Cominazzo" discipline.
The barrel is damascus-finished or in white. In the special Deluxe percussion version, all metal parts have an engraving with a floral pattern, and the barrel is damascus-finished with gold inlays. On the flint version lock-plate, on the other hand, we find a silver inlaid shell silhouette. To keep true to the original model, Pedersoli has also added to the catalog a case containing two pistols, as in the original dueling sets – obviously with only aesthetic intentions.
One of the features that make Pedersoli's Le Page more elegant and at the same time more effective is the "curl" on the trigger guard which, together with the flared grip, provides a solid support for the middle finger and hand, aiding in aiming and controlling the gun when firing. The lock is equipped with an anti-friction roll on the hammer spring, and all its parts are mirror-finished and hand-adjusted to achieve the level of accuracy and reliability needed to excel in competitions.
Pedersoli's Le Page pistol is a favorite among sport shooters, and thanks to its extraordinary qualities it can boast 17 world gold medals and 12 European gold medals in MLAIC championships, a record that is certainly difficult to break.
Pedersoli Le Page pistol specs and price
| | |
| --- | --- |
| Model:  | Le Page |
| Ignition:  | Flintlock/percussion |
| Calibers: | .31, 36, 38 and .44 and .45 |
| Barrel:  | Rifled/smooth |
| Barrel Length:  | 250 mm |
| Overall Length:  | 425 mm  |
| Weight:  | 1,100 g |
| Stock: | Walnut/maple |
| Trigger: | French-style set trigger |
| Price: | 3,426 euros with case (flintlock Deluxe version) |
---
To learn more please visit the Davide Pedersoli website.