Early this year Brownells delighted vintage guns fans with its Retro Line, reproducing AR-10 and AR-15 rifles of the 1950s and 1960s. Now they are adding the first pistol to the line – and being a "Retro" one it could only be a 1911-style gun. Brownells' BRN-1911 is a classic .45 ACP semi-auto developed in partnership with Ed Brown. This two-tone handgun is "intended to replicate the look, feel and performance of custom 1911 pistols made in the 1980s through early 1990s". 
A "Retro" hand fitted 1911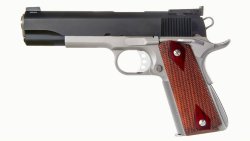 In the words of Brownells Director of Product Management Paul Levy, "the BRN-1911 is inspired by the custom builds produced by gunsmiths for years, which Brownells has been proud to support." "In particular, Brownells and Ed Brown referenced features found on classic builds from the 1980s, such as the two tones, Bo-Mar sights, 25 lpi front strap and above all a clean appearance."
The Retro Line BRN-1911 is a classic, full-sized Government Model with a 416 stainless steel frame and a blued 4140 carbon steel slide with match-grade 5-in barrel, Colt-style slide serrations, adjustable BoMar sights and checkered double-diamond cocobolo wood grips.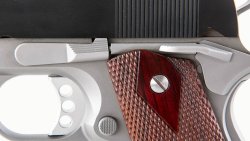 Hammer is a "skeleton" type, coupled with an adjustable "three-hole" target trigger. Hammer, trigger, sear, disconnector are all Ed Brown parts. The high-grip extended beavertail grip safety protects your hand from the dreaded 1911 "hammer bite".
All internal parts are fully CNC-machined with no MIM and no cast parts used. At 2,499 USD the pistol, which is fully hand fitted, also comes with a Brownells Signature Series case and a pair of Ed Brown 7-round magazines.