Brownells had been selling "retro" AR-15 furniture sets for some time when they decided to introduce a full "Retro" line of complete AR-15 rifles that replicate Eugene Stoner's iconic designs in their original form. After a short wait, we at all4Shooters have been able to get our hands on these "retro rifles" and finally take our travel back in time. Brownells chose in fact to faithfully replicate the much sought-after AR-15 models of the 60s, from the early AR-15s adopted by US military to the M16A1 version that was used from the Vietnam War until the 1980s.
Brownells Retro Line, the history of AR-15
Brownells introduced the following models: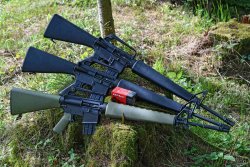 BRN-601 Rifle, that recreates the classic design of the original Model 601 issued to the US Air Force in the early 1960s. It features a lower receiver with slab side, a slickside upper receiver (no forward assist), a matte gray anodizing, "Duckbill" 3 prong flash hider, green buttstock, pistol grip and handguard assembly.
XBRN16E1 Rifle, that replicates the design of the first AR-15 to be issued in mass numbers to US Army on the ground in Vietnam. It features a XM16E1 style lower receiver with partial "magazine fence", matte gray anodizing, 3 prong flash hider, black buttstock, pistol grip and handguard assembly.
BRN-16A1 Rifle, that replicates the classic M16A1 rifle issued to thousands of US troops and characterized by a M16A1 style lower receiver with full "magazine fence", a M16A1 upper receiver, a matte gray anodizing, black buttstock, pistol grip and handguard assembly, and A1 "birdcage" style flash hider.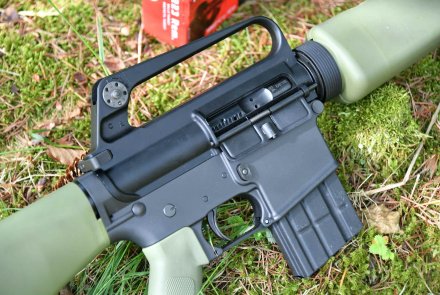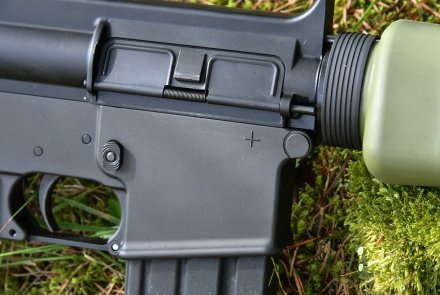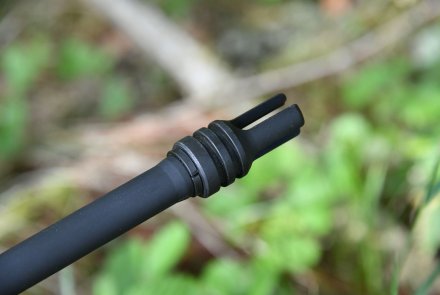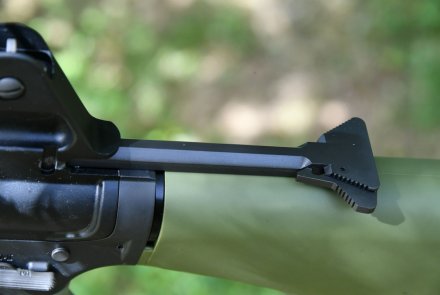 All these rifles are chambered in 5.56x45mm NATO caliber and sport a 20" barrel with 1-12 twist.
For the sake of completeness, it mus be added that Brownells's Retro Line also includes a XBRN177E2 version, which replicates the rare Colt CAR-15 Commando assault carbine, and the very early AR-10 models, with the typical trigger style charging handle underneath the carry handle. These models, anyway, were not included in our test.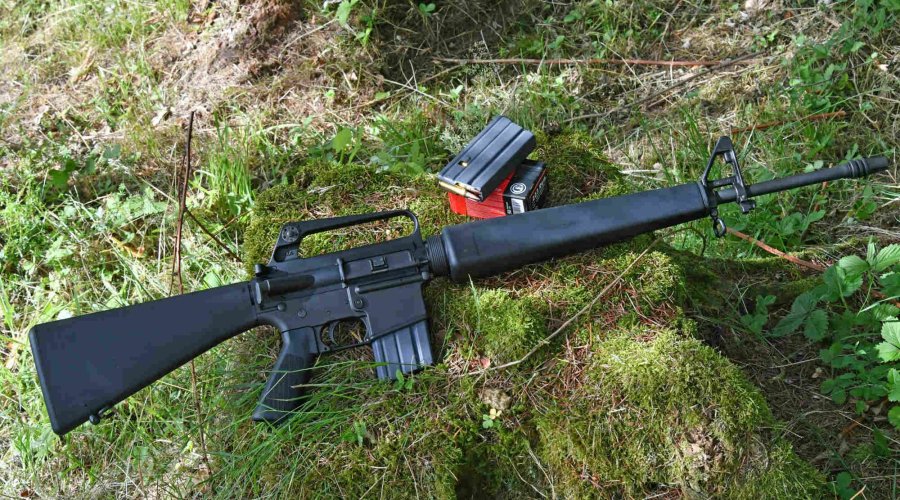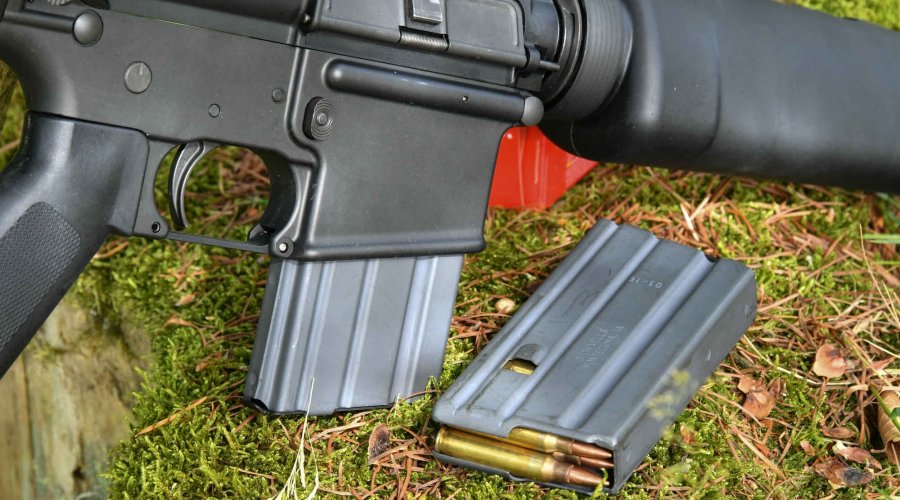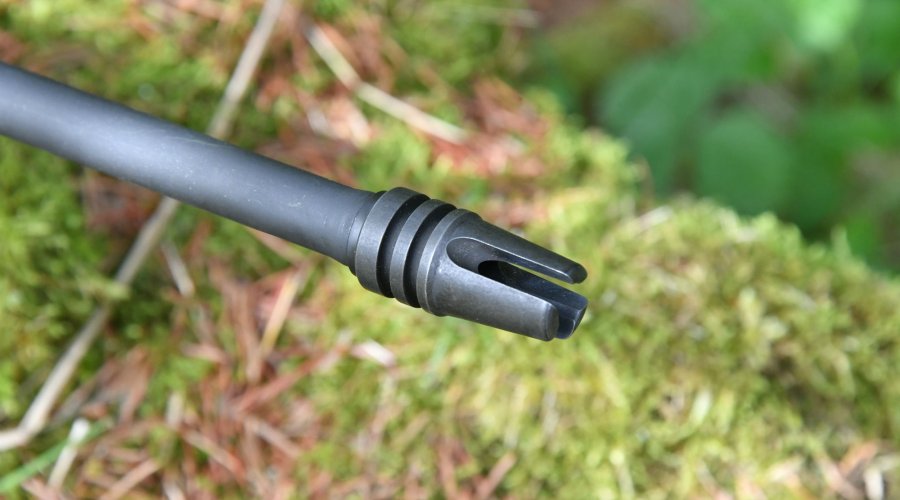 Compared to originals, Brownells Retro Line rifles will show some minor differences: they are modern industrial products and not relics from a time capsule, after all. Yet, the attention to details is nonetheless exceptional. Just to give some examples, we could mention the triangle charging handle (different from the later T-handle), the cross mark on the receiver below the ejection port and the correct "waffle" 20rd magazine of the BRN-601 Rifle, replicating some features of the real Model 601. It's clear that the guys at Brownells went the extra mile to warm the heart of AR-15 fans.
Video: shooting the Brownells Retro Rifles
This video has been hidden because of an external service (YouTube) that could potentially collect personal data.Allow video services for the duration of the visitAllow video servicesStop allowing video services
Brownells Retro Rifles: enjoying the test fire
"Sweet" is probably the best way to describe the feelings we received during our test-fire session. We shot the BRN-601, XBRN16E1 and BRN-16A1 Model rifles and all flawlessly cycled full 20-round magazines out-of-the-box. We also had some fun "dumping" full magazines, i.e. shooting as fast as we could. Frankly, in such cases the only real hard thing with these Retro Rifles is to resist the ramboesque - or better, childish – temptation to feel and act like the heroes of so many Vietnam War films we all saw at the movies or on TV, from "Green Berets" to "Full Metal Jacket" and "Platoon" to name a few. This can be a bit embarrassing at times, even if nobody can read your mind... The fact is that these rifles with their large and distinctive carrying handle are much more that simple guns: they can be rightfully defined as pop icons, evocative of an entire era and inextricably linked to modern popular culture.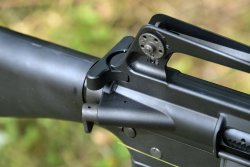 Technically speaking, our test was satisfactory too. Spent cases were ejected with machine gun-like regularity, falling in the same spot, and sights are adequate for military use. The latter consist in the classic L-type flip, aperture rear sight, coupled with a post front sight. Rear sight is windage adjustable and with two range settings (0-300 meters and 300-400 meters), while the front sight can be adjusted for elevation. (Out of the box the sights were fairly accurate on all rifles, with no big need of adjustments.) 
But it's when you pull the trigger that you see the difference: balance is always exceptional and recoil almost negligible especially if compared with other semi-auto issue rifles, which makes you think how incredibly advanced these guns were in their day. Actually, after almost 60 years their look still has something "sci-fi esque".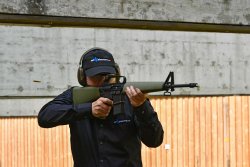 At the end the question arises: who needs "Retro Rifles" that reproduce decades old  military guns? First of all, original AR-15s feature full-auto capability, making them out of reach for civilians almost everywhere in the US and Europe. Besides this even when turned into semi-autos, some of these rifles are now rare and expensive collectors' pieces that no sane person will ever shoot for fear of breaking or wearing them down. Some later versions are more common, but not so easy to find in perfect condition after a life in the military. Brownells Retro Rifles are the ideal way to experience the same feelings but with a safe, modern-built and relatively inexpensive rifle without spoiling historical guns. Which, we think, is more than enough.