Is it possible to manufacture rifles that are new and old at the same time? Brownells did it, introducing its Retro line of AR-15 and AR-10 rifles that replicate Eugene Stoner's iconic designs, the first complete firearms ever produced by this well-known company. Brownells had been selling "retro" AR15 furniture sets for some time now, so the transition to complete guns was already in their minds.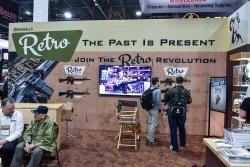 The new-old rifle series – which is made of entirely newly-made products, of course – already includes two 308/7.62 variants and four 5.56mm variants. The latter include the M16, M16E1 and M16A1 replicas, respectively with correct slab side, partial magazine fence and full "magazine fence"  lower receivers. The flash hiders are the correct ones too, from the first 3 prong models to the "birdcage" flash hider of the M16A1. The fourth 5.56mm AR-15 replica is nothing less than the rare and sought-after Colt CAR-15 Commando (XM177) assault carbine. 

Brownells Retro Rifles: the .308 AR10 models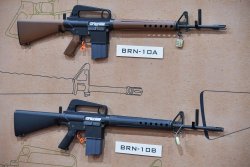 Even more exciting are the two rifles chambered in 308/7.62, since they replicate the early AR-10 models, with the typical trigger style charging handle underneath the carry handle. One of the replicas sports the brown furniture of the "Sudanese" AR-10As and the original 3-Prong, "Dutch style" flash hider, while the other variant mimic the details of the "Portuguese model" AR-10Bs.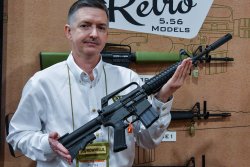 Brownell Retro rifles shares some features like the 20" barrel (12.7" for the carbine model) and are compatible with standard modern components. The effort put in reproducing the old designs is praiseworthy, even if the level of detail is not "philological" - e.g., the AR10 front sight assembly and windage knobs are modern components, different from originals. There are also some lovely touches, like the AR-15s manual reproducing the illustrated US Army manual created back in the '60s by cartoonist and graphic artist Will Eisner.

Retail prices for the Brownells' Retro AR-15s are the same for all versions - 1299.99 USD. The Retro AR-10s are at 1699.99 for the brown furniture version and 1599.99 for the other one. All Retro rifles are already available on Brownells website.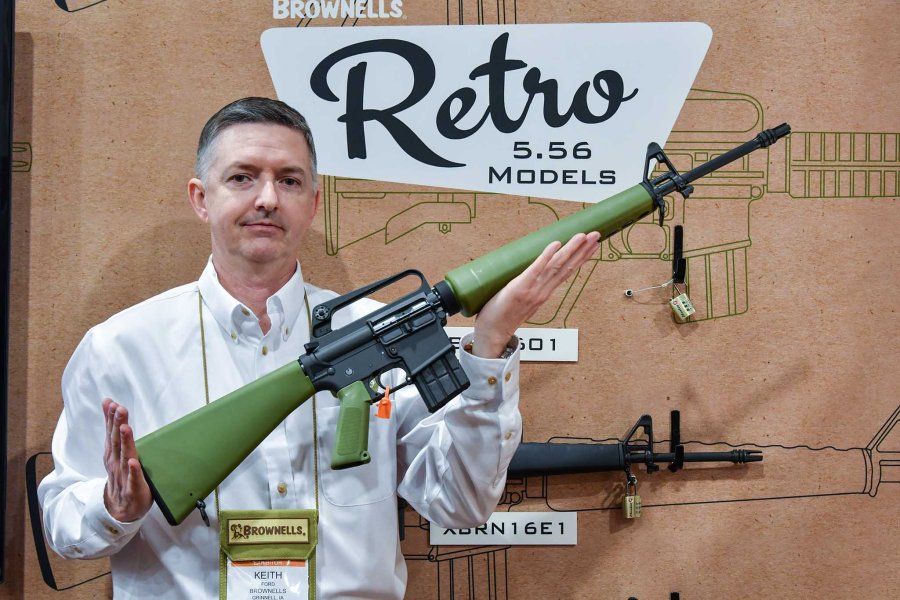 Brownells Retro rifles - available models and specs
| | | |
| --- | --- | --- |
| Model: | BRN-10A | BRN-10B |
| Caliber: | 308/7.62mm | 308/7.62mm |
| Barrel: | 20 in / 508 mm heavy contoured with aggressive fluting underneath the handguard | 20 in / 508 mm lightweight barrel in 308 with 5/8"-24 threads & 1-10" twist, nitride finish |
| Flash hider: | 3-prong, Dutch style with nitride finish | Portuguese-style closed-prong with nitride finish |
| Furniture: | brown  | black   |
| Receivers: | billet 7075-T6 aluminum | billet 7075-T6 aluminum |
| Charging handle: | trigger style underneath the carry handle | trigger style underneath the carry handle |
| Price: | 1699.99 USD | 1599.99 USD |
| | | | | |
| --- | --- | --- | --- | --- |
| Model: | BRN-601 Rifle | XBRN16E1 | BRN-16A1 | XBRN177E2 |
| Caliber: | 5.56mm | 5.56mm | 5.56mm | 5.56mm |
| Lower receiver: | Model 601 Style with slab side | XM16E1 Style Lower Receiver with partial "magazine fence" | M16A1 Style lower receiver with full "magazine fence" | M16A1 Style Lower Receiver with full "magazine fence" |
| Upper receiver: | slickside | XM16E1 Upper Receiver | M16A1 Upper Receiver | M16A1 Upper Receiver |
| Barrel: | 20 in / 508 mm with 1-12 twist & chrome bore | 20 in / 508 mm with 1-12 twist & chrome bore | 20 in / 508 mm with 1-12 twist & chrome bore | 20 in / 508 mm with 1-12 twist & chrome bore |
| Flash hider: | duckbill 3-prong  | 3-prong  | birdcage A1 | XM177 flash hider with grenade ring (pinned and welded to meet legal length) |
| Buttstock, pistol grip & handguard assembly: | green | black | black | black, with CAR buttstock |
| Notes: | includes 20rd magazine, GI Operations Manual & chamber flag | includes 20rd magazine, GI Operations Manual & chamber flag | includes 20rd magazine, GI Operations Manual & chamber flag | includes 20rd magazine, GI Operations Manual & chamber flag |