Brownells extends its "Retro Rifles" line by adding an interesting accessory for "old-style" AR-15 rifles: introduced early this year, the Retro 4x Carry Handle Optic is in fact a little, 6.1" / 155 mm long scope that can be easily attached to most AR-15 carry handles thanks to an integral mount. No tools are required.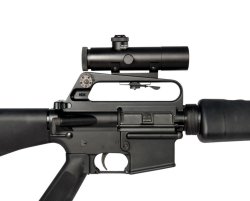 Brownells "Retro" line consists of complete AR-15 rifles that replicate Eugene Stoner's iconic designs in their original form ( we thoroughly examined and tested them here ). It includes the BRN-601 Rifle (a replica of the original Model 601 issued to the US Air Force in the early 1960s), the XBRN16E1 Rifle (a copy of the first AR-15 to be issued in mass numbers to US Army in Vietnam), the BRN-16A1 Rifle (the classic M16A1), and the XBRN177E2 (a replica of the Colt CAR-15 Commando carbine).
You can now equip all these models with a pretty faithful replica of the original Colt Carry Handle Optic used in the 1970s .
Retro looks, modern function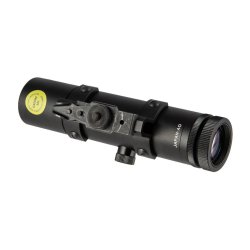 "Retro Looks, Modern Function" is Brownells claim. In fact, they  "actually tracked down the original company that manufactured the Colt AR-15 optics of the 1970s and asked them to build a new one for us as close to the original as possible - right down the yellow inspection stickers".  Manufactured in Japan with high quality internals and lenses, the Retro 4x Carry Handle Optic sports a simple, intuitive fine duplex reticle with fixed focal plan and, like the original, an elevation turret with BDC (ballistic drop compensated) clicks that closely match modern .223/5.56 55gr and 62gr ammo. Main tube diameter is 35mm and eye relief is 3.11" / 79 mm. The scope weighs 12.7 oz / 360 g. 
But the Brownells Retro 4x Scope is a modern product featuring updated technology, with much better optical performances than original, 50-year old scopes. Improvements include fog and waterproof, fully multicoated lenses, and the scope is backed by Brownells's Forever Guarantee. Brownells Retro 4x Carry Handle Optic in the US is now shipping at a price of 299.99 USD. 
The ideal finishing touch for your Vietnam Era M16, whether original or replica.