Praising the Company that introduced the Modern Prism binocular to the world in 1894 and thus written history, cannot be avoided. Zeiss was involved in every innovation concerning binoculars ever since.
Keeping this in mind, we approach the test of the Zeiss Conquest HD 8x42 binocular with interest, eager to find out whether the instrument will live up to our expectations, especially after we took note of the manufacturer's specifications.
Unpacking the box is an experience in itself. It is origami-like, unfolding over itself, and it contains the binocular, a very well made Cordura case that features a Fastex latch and its own carry strap, a Neoprene-padded sling for the binocular, two sets of lens covers, a very through instruction manual and cleaning tissue.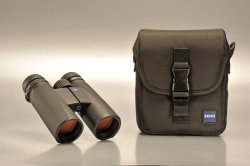 The binocular are based upon a Schmidt-Pechan roof prism scheme, HD lens system with full multi-layer coatings and Zeiss' Lotu-Tec T* treatment on the objective lenses; prisms are dielectric coated and phase corrected.
Feeling reassuringly solid but at the same time reasonably light, the ergonomic and very comfortable Conquest HD binocular are also rugged and durable, thanks to their Aluminum alloy internal structure body that is carefully rubber armored with a very pleasant to the touch and highly "grippable" material.
The Conquest HD is made in Germany, and it shows in the care devoted to each detail. The instrument is sealed and Nitrogen filled, and declared to be waterproof down to a depth of 4m.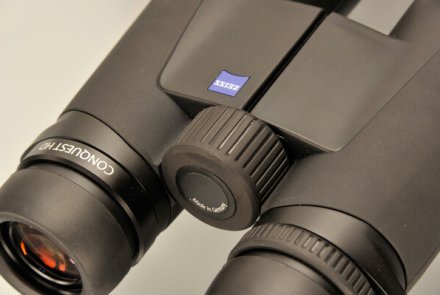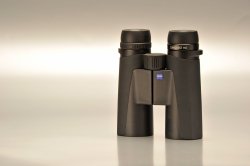 We are impressed with the product design, extremely streamlined and elegant, modern and also stylish; in a word, we believe that they are one of the best looking instrument in its price range, in our personal opinion.
Looks are not all, though; hands both large and small easily wrap around the binocular body, which is then effortlessly and confidently held to the user's eyes with one hand.
The index finger naturally rests over the well placed large focusing knob, which also offers an excellent feedback; operation of the knob is very precise and light, travel from nearest focusing distance (a decent 2.3m, vs. 2m advertised) and infinity is short, just a bit over a full revolution.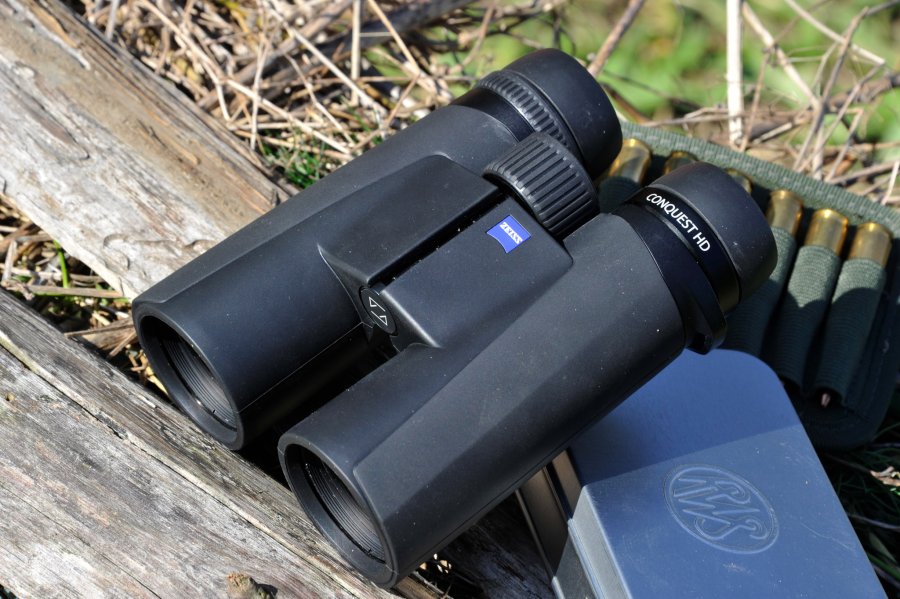 Eyepieces are equipped with a pair of soft rubber armored twist-up eyecups, which can be adjusted in four click-stops.
Eyeglasses users will appreciate that the eyecup rubber is very easy on the delicate surface of their prescription lenses, and that 100% of the measured FOV – 123m at 1000m - is still available with spectacles. Measured eye relief is shorter than spec – about 17,4 vs. 18mm – but is still a respectable value, as is the measured exit pupil diameter: 5.23.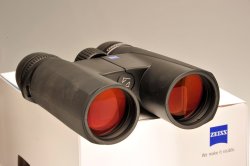 Diopter adjustment is on the right eyepiece, in the form of a rubber armored ring that can be turned smoothly and accurately but with just enough friction so that it does not need a locking feature.
The Conquest HD feature an amazing, for this class of equipment and price point, daytime light transmission: 91.3-90.4%, with night time Tau of 88.2-87, although we noted this Zeiss binocular has quite a wide measured difference between each single telescope, 0.9% daytime and 1.2% nighttime Tau.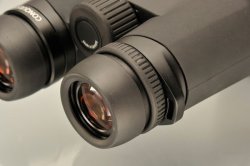 We were not disappointed with the Conquest HD performance. Our subjective testing of this Zeiss instrument actually turned out to be a very pleasant experience, and the Conquest HD… conquered us; the image quality is magnificent, bright and clear with natural and vibrant color rendition (only a touch warm), excellent contrast and sharpness.
Coma is visible only at the very edge, and coupled with the 90+% light transmission, makes it an excellent stargazing binocular.
Geometric aberrations are low but not absent, and can be easily perceived observing buildings and such artificial objects.
Chromatic aberrations are almost nonexistent, softness of the FOV comes into play only at the very edges, so is the very limited fall of brightness. 
Binocular roundup
The Minox HG 8x43

The Leica 8x42 Trinovid

The Docter Optik 8x42 ED

The Leupold 8x42 McKinley 

The Meopta Meostar B1 8x42

The Nikon 8x42 Monarch 7