When hunting, whether during the day or at night, it of the utmost importance for the hunter to be able to clearly recognize the game standing in front of him/her, even at greater distances than can be see with the naked eye. For this purpose, hunters need optics that can provide images that are as detailed as possible. Only in this way they can differentiate between the usually very small game species-specific detail features that tell them whether they are looking at a boar or a sow, a young boar or an already fully grown piece. More and more hunters are therefore turning to thermal imaging cameras or monocular thermal imaging devices for night hunting. The German premium optics manufacturer Zeiss is now supplementing its DTI 3 thermal imager series with the brand new DTI 6 series.
High image quality and intuitive operation are the hallmarks of the new Zeiss DTI 6/20 and DTI 6/40 thermal imaging cameras  
With the DTI 6 thermal imaging camera, which was completely designed and also manufactured in Wetzlar, Germany, Zeiss says it is now setting new standards in terms of image quality. Even in various light and environmental conditions, the new DTI 6 still offers exceptional detail recognition and thus allows reliable game detection and identification.
The manufacturer relies on a new image processing algorithm developed in-house called ZSIP Pro. Tammo Lücken, the product manager responsible for hunting at Zeiss, tells us what is behind that: "ZSIP stands for Zeiss Smart Image Processing and represents the image processing algorithm developed by Zeiss itself, which optimizes the sensor thermal images in a three-stage process. This results in a particularly detailed and high-contrast image for hunters."
In addition to pre-processing the sensor signal, the algorithm also provides noise reduction and optimizes the contrast to achieve high image quality. For this purpose, the complete image is divided into several sections, which are then individually optimized. In addition, the algorithm performs an adaptive image sharpening of the heat sources so that  game stands out more clearly from the background.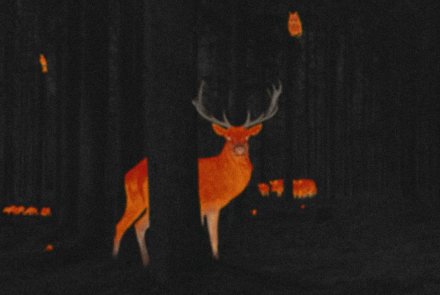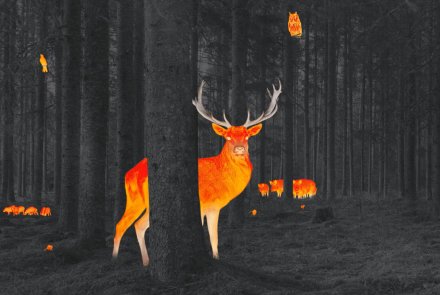 This, in conjunction with the 640×480 sensor with a  12 µm pixel pitch and a high-resolution 1024×768 HD AMOLED display, as well as the new DynamicZoom Concept, ensures a particularly precise display of details. By the way, in addition to the 1.5x (DTI 6 /20) and 3x optical zoom of the DTI 6/40, DynamicZoom Concept means that there is also up to 10x digital zoom here. When using the digital zoom, the magnification steps between 0.1x and 1.0x can be individually selected and adjusted to the respective observation distance.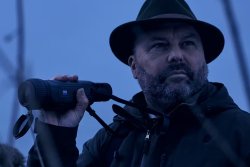 To make it as easy as possible for the hunter to operate the DTI 6 in the dark, Zeiss relies here on intuitive and ergonomic operating concept called ErgoControl Concept. For this purpose, the manufacturer uses a precise scroll wheel in conjunction with an easy-to-navigate user interface. The various zoom levels or individual menu items can thus be easily accessed and selected. This allows fast and intuitive handling even in stressful hunting situations. The scroll wheel is designed in such a way that it can be operated comfortably by both left- and right-handed users, even when wearing thick gloves. The eyepiece has been perfectly matched to the display. The field of view is almost completely filled by the screen, so that even eyeglass wearers get the impression that they are completely immersed in the picture. Gamers and cineastes speak of an immersive effect in this context.

Further important features of the new Zeiss DTI 6 thermal imagers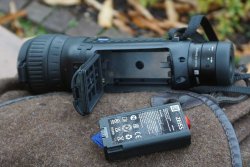 The DTI 6 models also come with a recording function for photos and videos. An internal 16 GB memory is available for this purpose. Data can be conveniently transferred to your smartphone using the free Zeiss Hunting App via Bluetooth or, in the case of larger data volumes, also via WLAN. This allows the DTI 6 to be customized thanks to a wide range of configuration options, such as setting the preferred zoom speed or different observation modes. This app can also be used to download the firmware updates regularly provided by Zeiss and install them independently, so that the DTI 6 can always be kept up to date.
The replaceable Li-Ion battery has a runtime of up to 6.5 hours. A replacement battery is available from specialist dealers for 140 euros (RRP), and a separate charging station for 80 euros. In addition, the DTI 6 models have an intelligent standby mode that automatically deactivates and reactivates the device when the thermal imaging camera is raised and brought to the eye.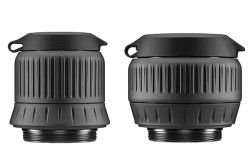 The requirements for a thermal imaging camera depend heavily on the terrain and hunting situations in which it is to be used. This is why Zeiss offers a flexible solution here. If you hunt mostly in open field areas, you should rather pay attention to a long focal length and opt for the DTI 6/40. Although this has a smaller field of view of 19 m at 1,000 m, it allows you to detect heat sources up to a distance of approximately 2,000 m. If, on the other hand, you hunt mostly in the forest, you should choose the DTI 6/20, which is very well suited for detection in forested areas thanks to its field of view of 38 m at 100 m, which is twice as large. Here, the detection range of a maximum of 1,000 m plays a rather subordinate role, since there you usually can't see that far anyway. If you want to play it safe and be optimally equipped for both hunting situations, Zeiss has a very special feature in store for you with the DTI 6 series. The lenses of the two thermal imaging cameras are designed to be interchangeable, are also offered individually and can be swapped out (without tools) in seconds.
Availability and prices of the new Zeiss DTI 6/20 and DTI 6/40 monocular thermal imagers
The two new Zeiss DTI 6/20 and DTI 6/40 thermal imaging cameras are already available from specialist dealers. The recommended retail price for the DTI 6/40 is 4,800 euros and for the DTI 6/20 it is 4,500 euros. The interchangeable lens with 20 mm focal length is available for 600 euros and the 40 mm lens for 900 euros. This means that for 5,400 euros each, you can buy the device together with both interchangeable lenses and thus quickly have the ideal thermal imaging camera at hand for both field and forest hunting.
In the models of the DTI 6 thermal imager series from Zeiss, all controls are ergonomically located on the top of the housing. The digital zoom can be set here, as can navigation through the menu with the scroll wheel.
Zeiss DTI 6/20 and DTI 6/40 thermal imaging camera specs and prices
Model:


Zeiss DTI 6/20


Zeiss DTI 6/40


Focal Length:


20 mm


40 mm


Aperture:


f/1.0


f/1.0


Field of View at 100 m: 


38 m

19 m


Objective Viewing Angle:


22° x 16°


11° x 8°

Maximum Detection Range:


1000 m


2000 m


Sensor Resolution:


640 x 480 px


Pitch:


12 μm


Display:


1024 x 768 px, HD AMOLED


Frame Rate:


50 Hz


Optical Magnification:


1,5x


3x

Maximum Digital Zoom:


10x (optionally in 0.1x to 1.0x steps)


Battery Runtime:


6.5 h (Li-Ion battery)


Internal Memory:


16 GB


WLAN:


2.4 Ghz


Bluetooth:


Yes


Livestream Function (Video & Photo):


Yes


Operating Temperature Range:


- 20°C to + 50°C


Dimensions (LxWxH):


230x62x 68 mm


228x69x73 mm


Weight:


690 g


755 g


Price:


4,500 euro


4,800 euro