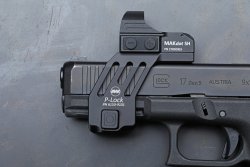 If there's been a trend in handguns in recent years, it's certainly been the use of Mini Red Dot Sights (MRDSs) on the top of the slide of semi-automatic pistols. Many manufacturers offer their latest gun models for easy MRDS mounting directly from the factory with cutout in the slide – these models are then called "MOS" (Modular Optic System) or "OR" (Optics Ready), for example. Specialized gunsmiths and tuners subsequently mill a corresponding MRDS cutout in pistol slides, but this is associated with corresponding costs and re-zeroing. So the "hardware" is becoming more sophisticated as well as more versatile, and sporting organizations are offering many disciplines created for iron sights beside optics classes. In this way, the industry and the sport are mutually stimulating each other. But not everyone has the latest sports equipment or wants to have a pistol slide retrofitted with such an MRDS milling. MAK now has a solution for this.
P-Lock: MAK's alternative for mounting red dots on many common pistol models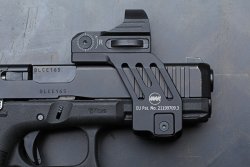 Kilic Feintechnik GmbH, better known under the brand name MAK, is taking a different, albeit not entirely new, approach with the P-Lock mounting. It is simply pushed onto the dust-cover accessory rail available on many pistol makes until it clicks into place. While the first models relied on one lug engaging transversely to the direction of fire, the final series version for our test gun in the form of a Glock G17 Gen5 now features two locking lugs, which should accordingly ensure a bombproof fit. As we learned from MAK, there are more or less large tolerances among the gun manufacturers that need to be compensated for. On the underside of the mount, which is made of high-strength 7075-T6 aluminum, there are two M4 threaded holes to which an included MIL-STD-1913 Picatinny rail can be screwed. Since the manufacturer from Bavaria is also internationally oriented, this serves to attach gun lights or lasers.This interface could also be used for mounting additional weights, for example. To achieve the lowest possible "offset" between iron and reflex sights, the mount is guided very close over the slide. In order to provide the appropriate clearance for somewhat taller front sights, a recess has been made in this area in the longitudinal direction.
MAK P-Lock is available for the following self-loading pistols: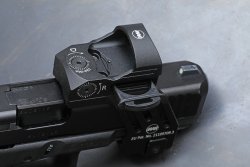 Right from the start, the P-Lock is available for a number of pistol models including CZ Shadow I and II, Heckler & Koch P30/SFP9, Walther Q5, SIG Sauer X-Five/X-Six, Glock 17/19 Gen 4/5, Steyr L9, and Canik Elite. However, the mount can currently only be used in combination with the in-house MAK Dot SH or Burris Fast Fire MRDSs. The MAK Dot SH features a 3.5 MOA dot, manually selectable brightness adjustment, a scratch-resistant glass lens, and an easily accessible battery compartment on the side. Admittedly, this method of attaching a red dot sight to a gun is not as elegant as a slide mount, but it does have its advantages.

The mechanical stress on the red dot sight is much less and the 95 grams of additional weight also somewhat reduces the muzzle flip because the unit is mounted relatively far forward. This was also confirmed in the test. Any point of impact shift was not discernible.

This video has been hidden because of an external service (YouTube) that could potentially collect personal data.Allow video services for the duration of the visitAllow video servicesStop allowing video services
Interestingly, the red dot was quickly and intuitively picked up in our test despite its higher position.

By the way, for those who want to constantly switch between iron and optical sights, this solution is more practical than constantly screwing an MRDS on and off the slide or relying on more expensive interchangeable systems. Therefore, the P-Lock could also be interesting for guns that are already equipped to accept an MRDS. However, the mandatory use of a holster in some sporting disciplines is likely to be a disadvantage. MAK has recognized this, however, and has had the German company Gear Maniacs manufacture a holster for the best-selling Glock in right-handed and left-handed versions, as well as for the HK SFP9 in a right-hand version. The price here is 129 euros. The complete unit, consisting of MAK P-Lock mount and MAK Dot SH, costs 531 euros. The mount alone is priced at 258 euros.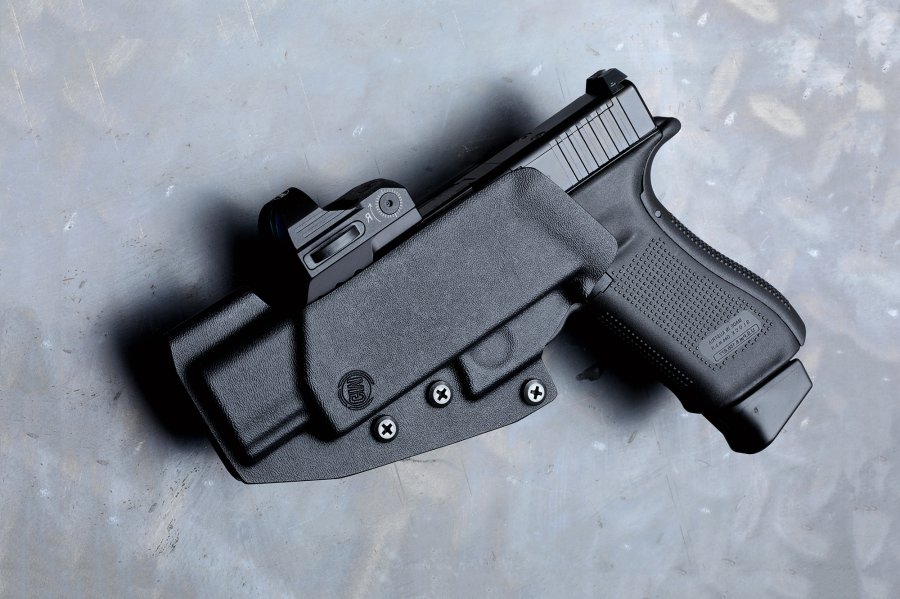 ---