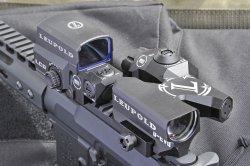 First showcased at the 2015 edition of the SHOT Show in Las Vegas, the Leupold D-EVO ("Dual Enhanced View Optic") gunsight is finally available in Europe, and was on display at the 2016 edition of the HIT Show through its Italian importer, the Paganini company.

The D-EVO is a completely novel concept of interpreting the idea of add-on magnified optics; although designed to be used in conjunction with Leupold's very own LCO carbine optic, the D-EVO is compatible with most available red dot, holographic or reflex sights out there, delivering 6X magnification without the need for the operator to move his or her head or change cheekwelds. The operator simply looks down a few inches for a clear, 6X sight picture featuring Leupold's CMR-W reticle. Nothing to move, except the eye.
The z-shaped D-EVO features a 6x20mm optics package, and is designed to "look around" the CQB sight. The eyepiece is situated just below the red dot window. The D-EVO is 117mm long, 51mm tall and 84mm wide, and weighs 391 g. The scope takes up just 82mm of rail space, allowing for additional accessories. D-EVO is rugged and reliable; it can be used on its own as a primary optic. The D-EVO features 50 MOA of adjustment for both elevation and windage, with 0.1 mil adjustment dials.