Leupold & Stevens is an American manufacturer that built optics for the last century and has its roots in German ingenuity – Frederich Leupold immigrated in the US and started the company in 1907. The company built its first binoculars in 1992, and today the McKinley HD line, named after the highest mountain in North America, represents the manufacturer's flagship binocular.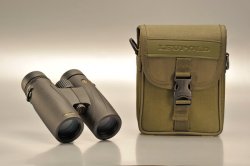 Manufacturer's specs for the 8x42 McKinley HD are impressive. Leupold claims the use of an advanced HD Lens System, comprising Extra Low dispersion glass objective lens elements with hydrophobic coatings and rare earth coated eyepiece lenses, phase-corrected BaK-4 roof prisms, full multicoating on each lens element, a rugged Magnesium alloy chassis that is rubber armored, extended 20mm eye relief with an 8° angle of view, and a completely sealed body that is nitrogen filled.
The colorful thin cardboard box (very American in its graphics!) contains the binocular, manual, a decent quality and internally padded green Nylon carry case with Fastex latch and its own sling, a Neoprene padded carry strap, removable lens covers and a rubber Bikini rainguard.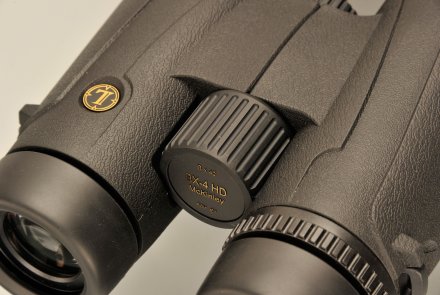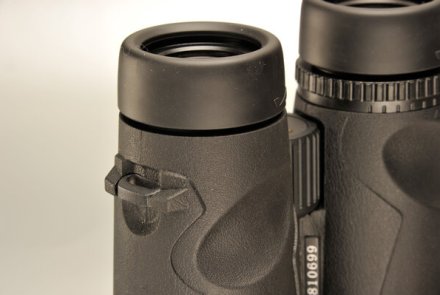 We must admit that the design of the McKinley binocular does not scream originality or creativity, being somewhat somber in its lines; the build quality is very good, as is the rubber material of the armor. Ergonomics are also good: the thumb cuts and the well placed and large focusing knob allows comfortable single-hand use by customers with both small and large hands, although with 822g the McKinley is quite hefty.
The focusing knob is extremely smooth and accurate, and quite fast as slightly over a full revolution is needed to focus from the exceptional 1,5 m to infinity.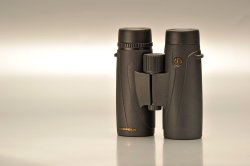 In the low temperature test, at -20°, the bridge hinge locked up.
Rubber covered, three-position twist-up eyecups are large and reasonably comfortable; the right hand eyepiece features the hard plastic dioptric adjustment ring, smooth to operate but stiff enough to not need a lock feature.
Lab results showed a 7.8° wide angle of view, translating to an excellent 136m at 1000m, with 100% of this value available to prescription glasses users, and a really exceptional 22mm eye relief.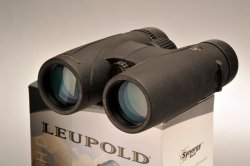 In the field, the 8x42 McKinley HD proved its worth with excellent image quality, but before we delve into more details, we immediately noticed a dimmer image overall as we carried out our first test with this Leupold binocular in the late afternoon.
The lab report indeed confirmed a low light transmission value for this binocular, about 85,5% (83% at night), and the image, especially at dusk, is very clear but dimmer than most of the competitors in the same price range.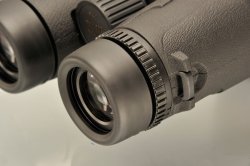 Sharpness and contrast are excellent, the image is flat and softness on the peripheral area near the edge is almost absent, as is darkening around the rim – worth noticing considering the wide angle of view.
A bit of image wash-out occurs in some light conditions, due to some veiling glare.
Chromatic aberrations are limited to very high contrast situations, e.g. a TV antenna against the sky in a bright day. Color rendition is very neutral, and overall geometric distortions are extremely limited.
Binocular roundup
The Zeiss Conquest HD 8x42
The Minox HG 8x43

The Leica 8x42 Trinovid

The Docter Optik 8x42 ED

The Meopta Meostar B1 8x42

The Nikon 8x42 Monarch 7