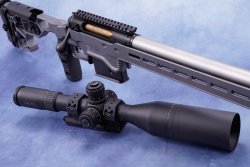 The Polish company Delta Optical, founded in 2002, has its optics manufactured in Japan according to in-house specifications, as do so many other companies in this market sector. The Stryker HD series, which was introduced four years ago and is primarily designed for tactical and sporting long-range use, consists of the following models: 1-6x24 HD SFP, 4.5-30x56 FFP and 5-50x56 HD SFP. The latter, like the 4.5-30x56 FFP presented here, is also available with three different reticles, which are placed in the second image plane instead of the first. It is primarily intended for sporting F-class and benchrest shooters and has a particularly fine ⅛ MOA or 0.05 mil = 5 mm/100 m adjustment. Of course, the design and equipment of the series meet current standards: 34-mm main tube, large elevation adjustment range of 300 centimeters, zero-lock function on the adjustment turrets, parallax compensation and illuminated reticle.

The Delta Optical Stryker HD 4.5-30x56 FFP in detail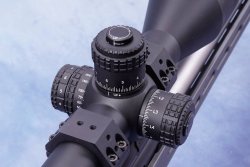 If you compare the compact riflescope from Poland with a Schmidt & Bender 5-20x50 PM II Ultra Short, for example, it becomes clear that at 29.27 oz/830 g and 11.77"/299 mm the top German product is lighter and shorter than the 4.5-30x56 Stryker HD, which weighs 35.76 oz/1014 g and is 14.37"/365 mm long,. However, you also have to spend about 1100 euros more for the aforementioned German riflescope if you want to call it your own.
The purpose of such lightweight compact optics is primarily to gain more space on the rifle's optics mounting rail, for example to better mount additional equipment such as night vision attachments, which is also becoming increasingly important for hunters. In addition, the barrels on hunting rifles are also becoming shorter and shorter, which makes them easier to handle in the field, even with a suppressor mounted. A compact riflescope then also fits better on a leading hunting rifle in terms of aesthetics and dimensions.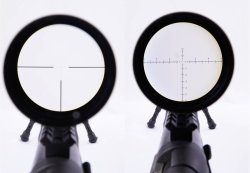 In the Delta 4.5-30x56 Stryker HD FFP (First Focal Plane), the reticle is in the first image plane and thus gets larger with a change in magnification. Our selected "tactical" LRD-1P reticle, with marks for estimating distance and target media size, as well as holdover points for crosswind corrections, is also ideally suited for sporting use with its fine dot in the center that allows even small targets to be perfectly centered. All three reticles available (LRD-1P, LRD-1T and DLR-1) are graduated in milliradians (MIL) and easily converted to metric units (1 MIL = 10 cm at 100 m). They correspond to the clicks of the scope – 1 click equals 0.1 MIL (1 cm).
We mounted our test scope from Delta on a Savage 110 Elite Precision in .300 Winchester Magnum and were highly satisfied with the mechanical and optical quality of the Delta Optical 4.5-30x56 Stryker HD FFP throughout testing, which also passed the well-known "box test" with flying colors. Due to the large overall elevation adjustment range, it is long-range capable and due to the parallax freedom from 23 meters, it is also fully usable at short ranges, such as rimfire precision shooting.
Delta Optical Stryker HD specs and price
| | |
| --- | --- |
| Model: | Stryker HD 4.5-30x56 FFP |
| Price (MSRP):  | 1749 euro  |
| Magnification:  | 4.5-30 |
| Objective Lens Diameter:  | 56 mm |
| Main Tube Diameter:  | 34 mm |
| Reticle: | DLR-1, LRD-1P, LRD-1T (illuminated reticle in the first image plane) |
| Parallax:  | 23 m to infinity |
| Adjustment (100 m):  | 1 cm / 0.1 mil |
| Total Adjustment Range:  | Elevation 30 mil, windage 15 mil |
| Field of View at 100 m:  | 8.3-1.2 m |
| Exit Pupil Diameter:  | 8.8-1.9 mm |
| Interpupillary Distance:  | 81-97 mm |
| Diopter Range:  | -2 to +3 |
| Length: | 14.37"/365 mm |
| Weight: | 35.76 oz/1014 g |
Delta Optical Stryker HD 4.5-30x56 FFP: test conclusion

With the 4.5-30x56 Stryker HD FFP, Delta Optical definitely offers "a lot of optic for little money". The high-performance riflescope has practically designed features that are on the cutting edge. It almost goes without saying that the mechanical repeatability as well as the image quality with brilliance, contrast strength and color fidelity are also convincing. Therefore, the purchase price of 1749 euros is completely acceptable in our opinion. We would summarize it like this: the Delta Optical Stryker HD is inexpensive and thus worth its price – the established competition is usually a thousand euros more expensive. Everyone has to decide for themselves whether the weight savings and the brand image of the premium brands are worth the extra price.

Text: Stefan Perey/Michael Fischer