Founded in 2002, Delta Optical from Mińsk Mazowiecki in Poland has its optical equipment manufactured to its own specifications in Japan. And since they are quite confident of their own products also in the international comparison, they had some models thoroughly tested even by DEVA, the German test and research institute for hunting and sporting firearms. With success, as the test results confirm. Here is a brief introduction to the young Titanium HD and Stryker HD riflescope lines.
Delta Optical Stryker HD - Lots of value for little money
Considering that the imposing Stryker HD 5-50x56 flagship is already available for around 1750 euro, it becomes clear that Delta Optical offers "a lot of value for little money". After all, other riflescopes in this performance class go for twice as much and far beyond. In the meantime, the Stryker HD series, which was first introduced in 2017 and is primarily designed for tactical and long-range sporting use, now consists of the following models: 1-6x24 HD SFP, 4.5-30x56 FFP (3 different reticles in the first focal plane, 0.1 MIL = 10 mm / 100 m adjustment) and 5-50x56 HD SFP. The latter model is also available with 3 different reticles, that are placed in the second focal plane. It is intended primarily for F-Class and Benchrest shooters and features a particularly fine 1/8 MOA or 0.05 MIL = 5 mm / 100 m adjustment. Of course, construction and equipment correspond to today's standards or requirements: 34 mm main tube, wide range of reticle vertical adjustement of 300 cm, turrets equipped with Zero Lock mechanism, parallax compensation and illuminated reticle.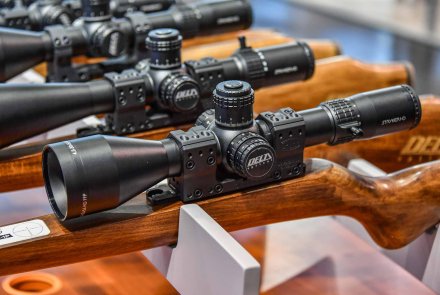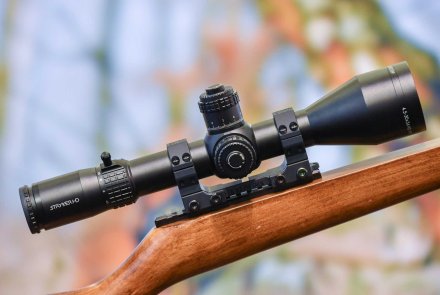 Perfection from Poland: Delta Optical Titanium HD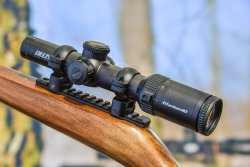 Franco Palamaro, © F.PALAMARO
Delta Optical Titanium HD riflescopes are equally popular with hunters and shooters alike. This is justified by the high mechanical robustness and light transmission. The high light transmission values ​​of 92% for the entire optical system and 98% for individual components / layers were tested by the German DEVA Institute. The riflescopes have been able to withstand recoil forces of up to 6,500 joules (1000 G) and typical features include: illuminated reticles, adjustment turrets with zeroing mechanisms or parallax compensation on the SF models. The extensive series now consists of 10 models: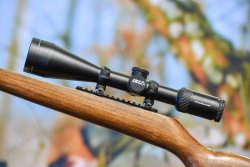 Franco Palamaro, © F.PALAMARO
1-6x24
1,5-9x45
2,5-10x50
2,5-10x56
2,5-15x50
2,5-15x56
4-16x42
6-24x42
4-24x50 HD
4,5-30x50
Most of the models are also available with different reticles, which shows that  the Polish company can boast a broad catalog. The high-performance 4-24x50 HD all-rounder riflescope with illuminated reticle, parallax compensation from 10 m to infinity is lately also available with interchangeable turrets. Models with 4A SB and Di SB reticles (in MOA or MIL version) come with two interchangeable elevation turrets in the set. For example, the 4A SB reticle with ballistic bullet drop compensation is calibrated for the 12x magnification and a distance of 100 m. The markers are located under the central illuminated dot and the distance between each marker is 7 cm. They allow for making quick and fine adjustments when shooting at ranges from 150 to 300 m with a muzzle velocity of 800 to 900 m/s. When firing with a rifle in .308 Win. with 165 gr / 10.7 g bullet and 820 m/s at 100 meters, you choose the second marker below the target point  (14 cm compensation) to hit at 200 m. Reticle markers for holdover / wind drift correction complete the system. At 8x magnification virtually makes the reticle a MIL cross (graduated in milliradians) with markers spaced  every 10 cm (1 MIL / 100 m), while at 17x magnification the markers are spaced every 5 cm.
Incidentally, the Delta Optical Titanium HD binoculars 8x42 and 10x42 won  the Red dot Design Award last year. They also offer five different red dot sights in micro and classic tube design (www.deltaoptical.eu).