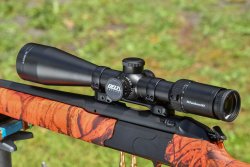 Since its foundation in 2002, the Polish manufacturer Delta Optical has made a name for itself not only because of its excellent price-performance ratio. Also qualitatively, the products of Delta Optical we tested so far were beyond any doubt. By the way, Delta Optical's production is located in Japan - from where top-class optical products have always come.
This has already been confirmed by the DEVA (the German agency responsible for testing weapons and ammunition). Here, a light transmission value of 92% was measured for the entire optical system of the Titanium HD series. A total value of 98% was even measured for individual components and multi-layer coatings.
Delta Optical Titanium 4-24x50 HD reticle versions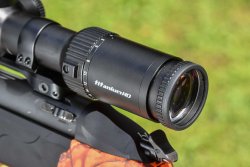 The scope is available in 2 reticle versions: the first is a more hunting-dedicated version with the designation 4A-S. The reticle is reminiscent of the German no. 8 reticle. The second version is the 4A-SB reticle. This is tailored to the needs of sports shooters and all long-range applications.
The 4A-SB is essentially similar to the 4A-S, but has 5 additional ballistic markers. Since they are in the second focal plane, the markers are calibrated for a magnification of 12x and a distance of 100m. The top, shorter marker corresponds to a length of 9 cm, the longer markers to 18 cm. In the case of a rifle in .308 Winchester, for example, zeroed at 100 m and with a bullet weight of 10.7 g and an E0 of 820 m/s, you'll need to use the second marker to shoot at 200 m (14 cm compensation).
Alternatively, the magnification can also be set to 8x: here the distance between the markers corresponds to one MIL at 100m.
Delta Optical Titanium 4-24x50 HD: price and technical data
| | |
| --- | --- |
| Manufacturer: | Delta Optical |
| Model: | Titanium 4-24x50 HD |
| Price: | 990 euro |
| Magnification: | 4-24x |
| Objective lens diameter: | 50 mm |
| Reticle: | 4A-S or 4A-SB, each in second focal plane (SFP)  |
| Illuminated reticle: | yes |
| Field of view at 100 m: | 9.3 - 1.5 m |
| Exit pupil diameter: | 7.6 - 2.1 mm |
| Eye relief: | 80 - 98 mm |
| Water proof: | 0.3 kg / cm2 |
| Weight: | 678 g |
| Length: | 360 mm |
| Adjustment per click: | 0.25 MOA |
| Max. windage/elevation adjustment: | 100 MOA |
| Tube diameter: | 30 mm |
| Shock resistance: | 6.500 Joule |
| Parallax setting: | 10 m - ∞ |
| Temperature range: | -20 - +71°C |
| Nitrogen filling: | yes |
| Warranty: | 10 years |
The Delta Optical Titanium 4-24x50 HD in video:
This video has been hidden because of an external service (YouTube) that could potentially collect personal data.Allow video services for the duration of the visitAllow video servicesStop allowing video services
New Titanium 4-24x50 HD: wrap-up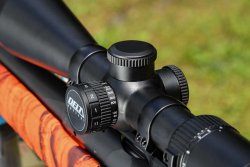 The Titanium 4-24x50 HD is an interesting riflescope. Not only because of its favorable price of 990 euro, but above all because its all-round capabilities suited to almost every hunting application – even over long ranges – make this riflescope a real bargain. With the 4A SB reticle, it is even ready for sports use.
Japanese manufacturing quality and DEVA test results also speak for the Delta Optical Titanium 4-24x50 HD, making it almost unbeatable in its price-performance ratio.
---