The enthusiastic shooters can be found on Instagram, Facebook and their Weblog and have already become a household name for many fans. Elegantly clad in an evening gown at a military ball or getting all dusty during dynamic shooting courses – the "Tactical Fairies" feel comfortable in a variety of scenarios. They are down-to-earth, natural next door girls who like to take their firearms to the range and clearly convey the concept "shooting sports are for everyone".

Please, tell us something about you: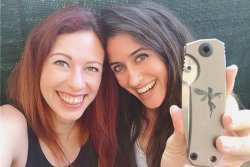 Tactical Fairies, © Tactical Fairies 
We've both always been interested in firearms. Gwen started shooting in 2018, the idea for the blog was born after participating in the Girlscamp of the Austrian Armed Forces later that year. For three days young women could get to know the Armed Forces and experience the life of recruits, use firearms and training simulators. Gwen wanted to share her experiences not only with her friends but also with the Instagram world – "Tactical Fairies" went online.
Pamela found her way to shooting through her work in a marketing agency. She designed a catalog for an arms-producing company and her gun ownership license and her own guns followed soon afterward. Pamela started her own business last year, her area of expertise is digital marketing. She built and designed the Tactical Fairies website and logo herself.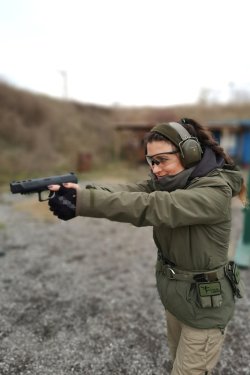 Tactical Fairies, © Tactical Fairies 
What is your motivation for and what are the goals of your gun blog? What are your current favorite guns?
We'd like to inspire others to make new experiences and to discover the joy of shooting. Another goal of our growing online presence is to resolve prejudice and wrong or negative ideas about firearms. But above all, we want to motivate women to discover this "male dominated domain".
Even if you happen to be a very delicately built person like me, you can still enjoy shooting. You simply choose lighter guns. Like Gwen's new rifle from the Oberland Arms Custom Shop – a superlight 10.5" OA-15 semi-automatic rifle weighing only 5.7 lb/2.6 kg. Pamela has the same gun in 14.5" – both OA-15s have the Tactical Fairies logo engraved on them. For handguns, we have chosen a Walther PPQ M2 Q4 TAC and a Walther Q5 Match COMBO – pistols that are partly sporty in design, but are also well-suited for defensive shooting (which is important to us) and sit very well in one's hand due to the ergonomic grip design and the deeper undercut.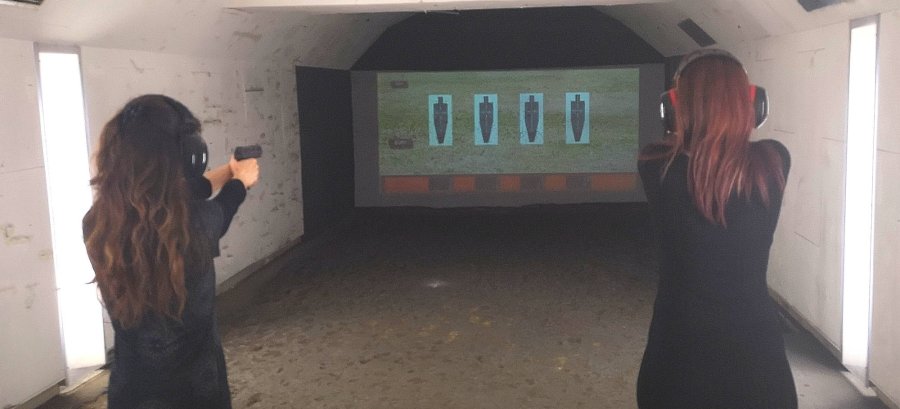 Tactical Fairies, © Tactical Fairies 
It's forbidden in Germany, but very popular in Austria: what do you think about defensive shooting?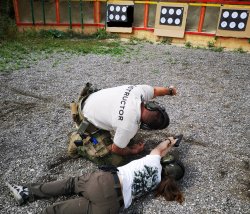 Tactical Fairies, © Tactical Fairies 
Defensive shooting is our focus and main area of interest. That's why we have chosen our guns with this purpose in mind, e.g. the trigger weight of the pistols or the barrel length of the rifles. CQB training is currently more interesting to us than long-range shooting, but of course this can change in the future and then we will add other firearms. Sadly, our German neighbors do not have the possibility to attend tactical shooting courses, which teach defensive shooting. Luckily here in Austria we do have this opportunity. We have very good defensive shooting instructors in Austria. On our blog we share pictures and reports of what we experience and practice in the courses or write reviews on our website.
What other content can we find on your "Tactical Fairies" blog?
Neither one of us is a firearms expert, a soldier, or an operator – we represent ordinary civilians who are interested in shooting as a craft and hobby. In our blog we show shooting courses and trainings, as well as equipment we like to use ourselves, and we share related information and events. It's important for us to convey our content as authentically as possible. If we have trouble with new exercises or equipment, or if we do badly in a shooting competition, we share that, too.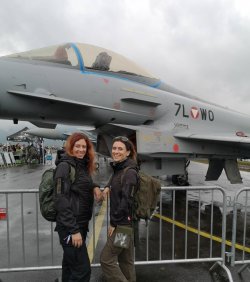 Tactical Fairies, © Tactical Fairies 
What social media channels do you use and where can people meet you?
You can meet us in person at various gun shows, including IWA, at military balls and public events of the Austrian Armed Forces, at shooting competitions and shooting courses, which we attend regularly.
Online you can find us at:
We wish you all the best and great success with your projects. See you soon!